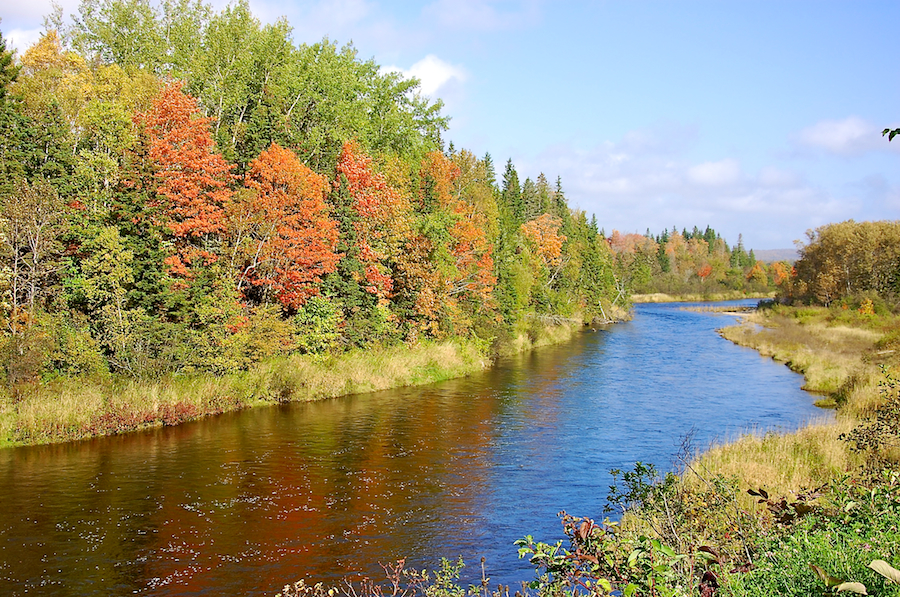 The concert in Terre-Noire Thursday night was wonderful. Gervais and Maxim Cormier (father and son) gave us some fine guitar pickin'; it was the first time I'd heard either play and it made up for not being at the Guitar Summit in Judique. Then Dwayne Côté and Duane Andrews gave us mostly traditional sets, exceptionally well played, of course. The last segment was Kinnon and Betty Lou Beaton's—I was in heaven as we got five great sets of the very best Cape Breton music, the last one a long and fantastic set with incredible playing by both that won them a standing ovation. Then, it was on to Glencoe Mills for another well-attended dance with Howie MacDonald and Hilda Chiasson. Yet more great music and a perfect end to another wonderful Celtic Colours festival day!
Friday was rainy, so I went to the Celtic Music Interpretive Centre for the lunchtime cèilidh. Kinnon Beaton and Allan Dewar started things off; then Rodney MacDonald and Allan; then Glenn Graham and Allan; then Kinnon and Betty Lou Beaton. Fabulous music from all! After another tour of the back roads around Glencoe Station, where the fall colours were now really out, I went back to my motel room to rest up for the evening's concert in Inverness, a tribute to Alice Freeman, a great-hearted lady who, in addition to being a fine singer in her own right, has done so much for the younger musicians, giving them a place to play each Thursday night in the summer at the Inverness Fire Hall. It started with a massed group of fiddlers who had played at Alice's Inverness cèilidhs from their beginnings: Andrea Beaton, Glenn Graham, Margie Beaton, Gillian Boucher, Douglas Cameron, Ashley MacIsaac, Rodney MacDonald, and Dawn Beaton on fiddles accompanied by Barbara MacDonald Magone and Isaac Fraser on dual pianos first gave us a great blast of tunes. As the concert proceeded, we heard tributes from most of the participants; a common theme was how strong a motivation for improving their performance skills was provided by that check for ten dollars that Alice saw each player at her cèilidhs got. *After plenty of fine tunes by the musicians in various combinations, including a surprise appearance by Robbie Fraser, whom even his parents didn't know was coming home, step-dancing, and Gaelic songs by Joanne Rankin MacIntyre and Ronald MacKenzie, Alice took the stage with her thanks, including a remembrance of the late Maureen Mackenzie's importance in kicking off the Inverness cèilidhs (her influence lives on in so many ways in Cape Breton music). She then sang the verses to the anthem Òran do Cheap Breatainn, while Joanne and Ronald led the audience in the choruses. A grand finale ended a magnificent concert, filled with emotion. Then, it was on to Southwest Margaree for a square dance; Mike Hall was finishing up as I arrived (split gig) after which it was Glenn Graham on fiddle and Joël Chiasson on piano. I was very late to bed after the long drive back to Mabou! But what a fine day in spite of the rain!
Friday's rain gave way to blue skies and sun on Saturday, though with a lot of haze and humidity in the air; it was warm and pleasant. I drove through a blaze of colours in the back country around Glencoe Mills and along the Trans-Canada Highway to St Anns for the Pipers' Cèilidh, with several stops for photos along the way, of course! It's amazing how rapidly the colours have changed, with abundant brilliant reds everywhere south of Humes River — further north, though, remained much less colorful.
Since I was in Baddeck well before the start of the concert, I detoured, as I often do whenever I have the time, turning on to the Cabot Trail at Buckwheat Corner and following it 1.8 km (1.1 mi) to the Old Margaree Road, along which I then drove to Baddeck Bridge, from which the photos on this page were taken. Although its course is parallel to the Baddeck River, the Old Margaree Road offers few views of it until one approaches Baddeck Bridge.
Photo #1 looks upstream along the Baddeck River. In addition to the trees on the west bank of the river, the colours of the grasses on both banks attest to the advent of fall. Photo #2 is a detail of these trees; they are actually reds, not oranges, though, with the exception of a couple of branches, they are of a darker hue than the bright reds seen elsewhere; moreover, there is still so much green surrounding them that they do not jump out at one, even given the fine sun shining so warmly upon them.
[continued below]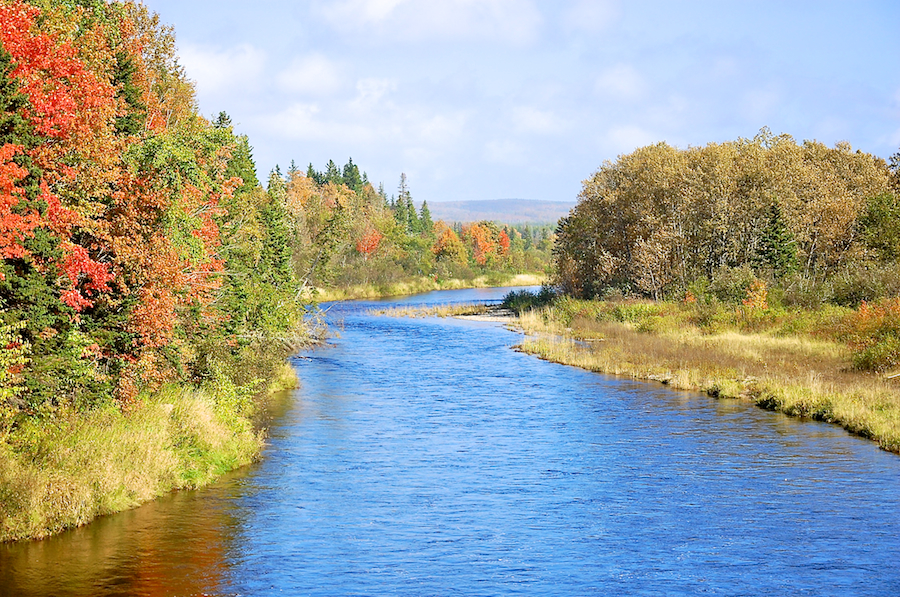 Photo #3 is much the same view as photo #1, but from a slightly different angle, further west along the bridge; it shows the Cape Breton Highlands in the far distance, which look from this remove to be exhibiting a considerable amount of colour. The blue of the river's water here makes a perfect contrast to the yellows and browns of the adjacent grasses. It is definitely a lovely early fall scene.
Photo #4 looks further to the east than the other views, showing the mouth of a brook, unnamed on the topographical maps, which enters the Baddeck River on the northeast side of the bridge. Again, it is the Cape Breton Highlands in the far distance. This view, however, shows relatively little colour in the trees, compared to the previous views; a few yellows and that is about it.