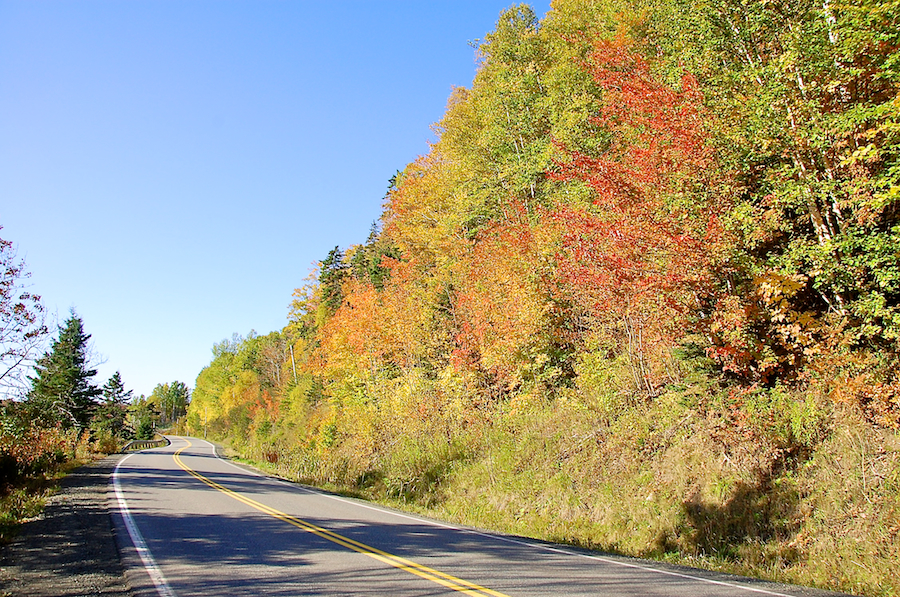 The Pipers' Cèilidh in St Anns on Saturday was wonderful, though it was hard to believe that this was already my last official Celtic Colours concert of the year. We enjoyed superb performances from Ryan MacDonald (originally from the North Shore, but now living in Victoria) on both highland bagpipes and small pipes; Paul K MacNeil on highland bagpipes and Tracey Dares-MacNeil on keyboards, including Paul's gorgeous slow air Farewell to the Glen and a guest appearance by their daughters, singing and step-dancing; Scott Long (from New Glasgow) on bagpipes; and Angus MacKenzie on highland bagpipes, brother Kenneth on highland bagpipes and fiddle, brother Calum on keyboards, and Darren McMullen on bouzouki. It was a fantastic show; I can't conceive of a proper Celtic Colours festival without a great helping of pipe music and this concert certainly delivered that!
I drove back to Mabou on a beautiful evening, grabbing a few photos in the declining light (they didn't turn out well enough to include in this essay). Pat Gillis on guitar joined the MacKenzie brothers at the Red Shoe, where I got another blast of great music (Angus on border pipes and Kenneth on fiddle); later, I went up to West Mabou where Howie MacDonald and Hilda Chiasson played for the dance. Robbie Fraser spelled Howie for one set on the fiddle and then Hilda for the rest of the evening on piano. What another fantastic day!
Sunday, the weather continued gorgeous, so, right after breakfast, I set out on a back country tour, which, alas, was to be my last in beautiful weather. The area along the Mabou River on Highway 252 turns into a blaze of glory every fall. As the photos on this page shows, it was still fairly early days for the colours along this pretty stretch of road at the base of Mabou Mountain. Photo #1 shows some reds in this view to the southwest (the Mabou River is at the left of this photo and outside its scope), but it is not yet the "blazing forest" that I remember from other years.
Photo #2 looks across the Mabou River, divided in two by an island here, to some fine limes on the knoll above the river, with some reds (one hiding in the shade at the far right), oranges, and yellows. It is quite a bit closer to the "blazing forest" than the other side of the road, but it is still a bit too early. The bushes closest to the river are still mostly green, though with a strong hint of changes to come, while the grasses have definitely assumed their fall colours.
[continued below]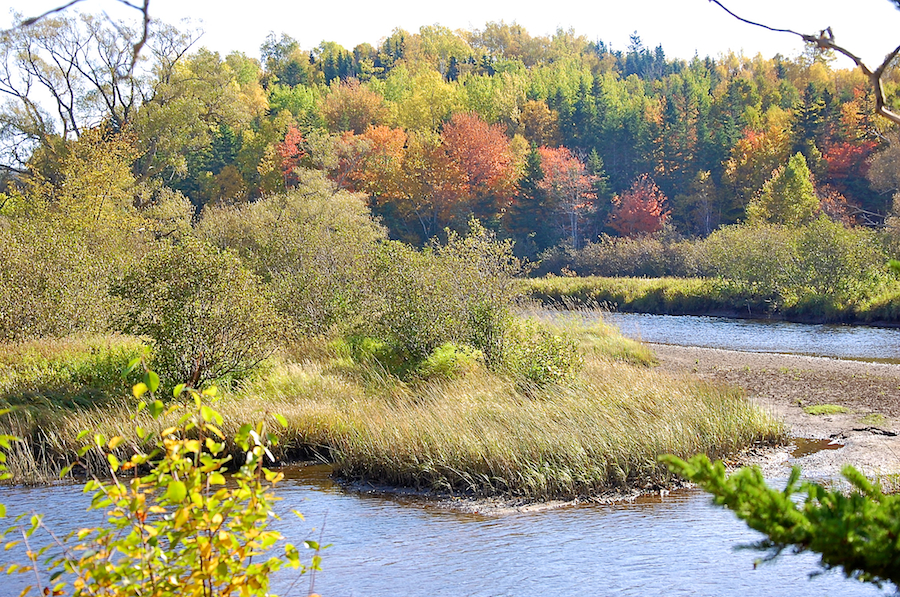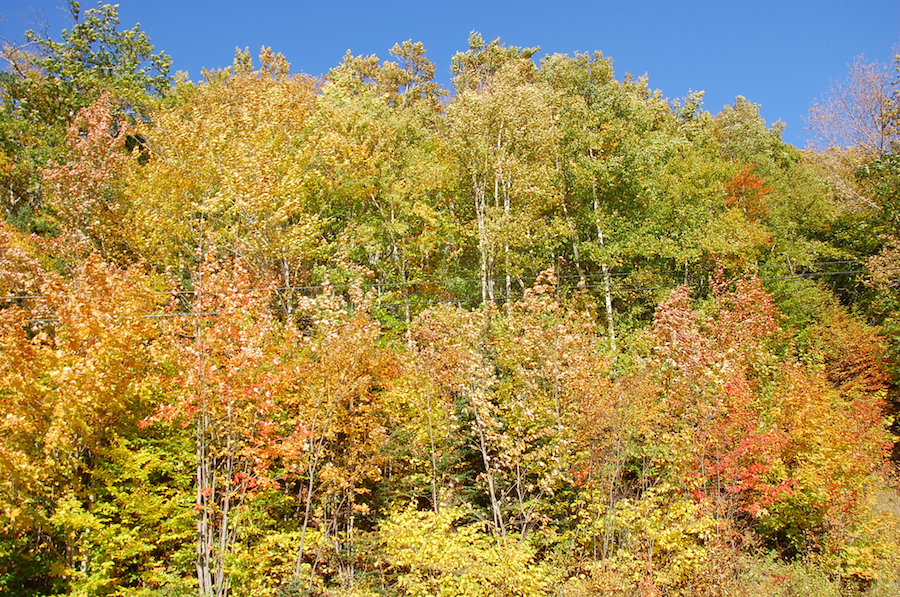 Photo #3 looks up from the road below to the tops of the trees and the lovely deep blue sky above; a lot of colour, with much orange, yellow, and green, but only a bit of bright red here and there. Very pretty all the same…
Photo #4 again looks at the Mabou River and the hills that rise behind Glendyer Station as Highway 252 rounds a bend of the Mabou River, makes its way past the gravel pit at the far left, and continues on up to Hillsborough. The deep red leaves just above the grassy vegetation across the river, which give it an unusual hue, are remarkably pretty together. And, oh that blue sky reflected in the river! Perfection! Again there are colours showing, but again they are early; in a week, they should be at their peak, though I won't, sadly, be here to see them then. They are not as late coming as they were last year, but it seems that they delay their arrival a little more each year. The weather, folks, is a-changin'.
What a struggle it is to get the blazing colours, the bright sun, and blue skies to all coïncide with my free time! It was much easier this year than in previous years and it would have been easier still had I not been at concerts on sunny days, but I'm there for the music just as much as for the glorious fall colours and scenes. So, the battle goes on…