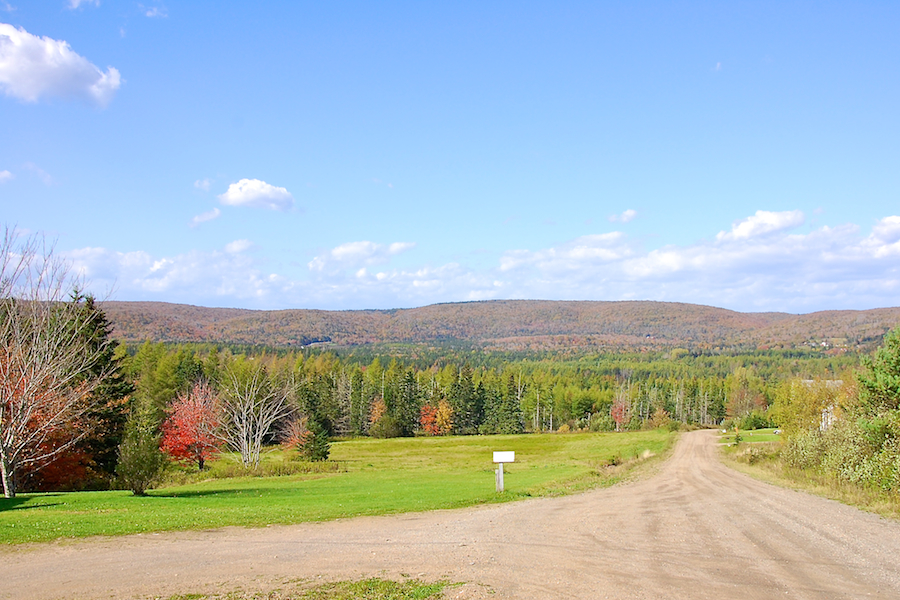 At the end of June, on an exploration trip that took me past Glendale, I drove out the Maple Brook Road from its intersection with the Trans-Canada Highway east of the church in Glendale to its intersection with Mason Road; I turned right there as it looked to be the better road and followed it to its effective end (at least for my Prius) on a hill. I turned around and drove back down the hill, where I encountered the fine scene shown in photo #1; it was not a particularly nice day, so I took no photos, but filed the location away as one I wanted to revisit when a fine day offered itself.
From Waycobah, I set off down the Trans-Canada Highway (my destination for the afternoon was Judique and I had still had time to explore the back country). As I drove south, the white cloud overcast gave way to fluffy white clouds and the lovely blue sky at Smithville reäppeared. I therefore retraced my steps to this point, whereupon I took the photos seen on this page. The Big Ridge runs across the width of photo #1, with Camerons Mountain lying in the centre and to the right of centre; some of River Denys Mountain is at the far right (with a bit of it also visible behind the right end of Camerons Mountain). The mountainsides are full of fall colours all the way to the top, though very little has changed closer at hand; the red of the tree in the yard at the left and those at the edges of the forest show the most colour, while many others still retain their summery greens or have just started to change. Notice, too, the two bare trees in this yard, their leaves blown off by the winds of the previous week.
Photo #2 is a telephoto view of Camerons Mountain, taken from the same place as the previous one. Quite a bit of green is evident above the house on the side of Camerons Mountain and much of it is not the darker green of the evergreens; it darkens the overall hue of the mountainside, making one think the colours there are not as advanced as they are.
I hope to return next year in both summer and fall to this fine view for more photos and to explore more around Glendale, an area in which I have not spent as much time as I should have.