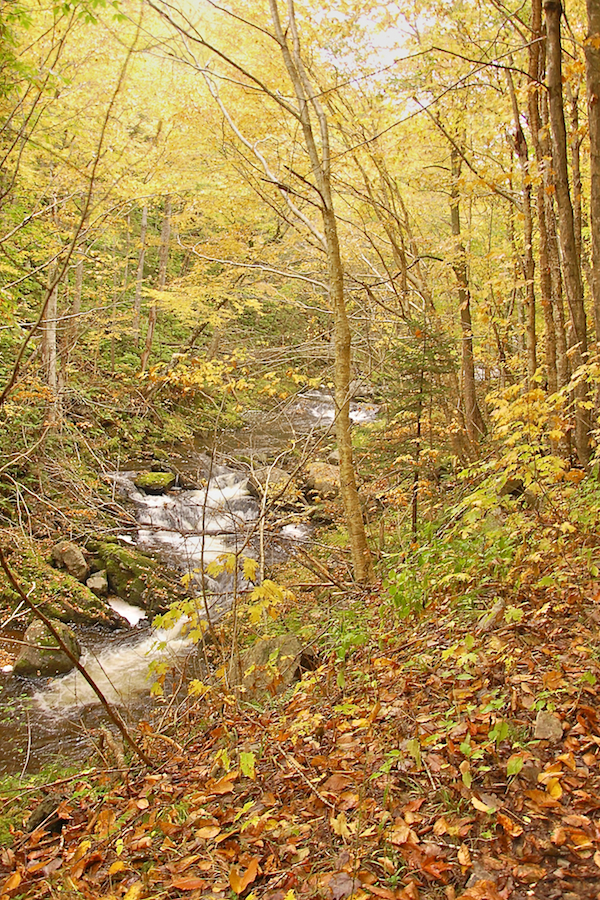 The Sunday afternoon cèilidh at Judique was fantastic with great company and great food and great music: Rodney MacDonald and Glenn Graham on dual fiddles for most of the afternoon, Joël Chiasson on piano, and Sandy MacDonald on guitar. The visiting Jeff Gosse (he grew up in the Toronto area, but has roots in Cape Breton) took the stage for a couple of sets and then played for a square set for the dancers: he's a master and it was a delight to hear him again after far too long; his music is the purest of pure Cape Breton music and he's a powerful and energetic player — just unalloyed joy to the ear.
Then, it was off to the Buddy MacMaster School of Fiddling Grand Finale Concert at the Judique Community Centre, ably emceed by Bob MacEachern. Twelve of Cape Breton's finest fiddlers performed with various accompanists: Stan Chapman with Troy MacGillivray and Sandy MacDonald; Andrea Beaton with Tracey Dares-MacNeil and Sandy MacDonald; Kinnon Beaton with Allan Dewar and later Andrea step-dancing; Donna Marie DeWolfe (this year's Jerry Holland Bursary winner) with Allan Dewar and Sandy MacDonald; Colin Grant with Troy MacGillivray; Rodney MacDonald with Allan Dewar and Sandy MacDonald; Brenda Stubbert with Tracey Dares-MacNeil, Sandy MacDonald, and Cheryl Smith; Shelly Campbell with Allan Dewar, Sandy MacDonald, and Cheryl Smith and later Rodney step-dancing; Mike Hall with Allan Dewar; Gabrielle MacLellan with Tracey Dares-MacNeil and Tom Daniels; Glenn Graham with Allan Dewar, Sandy MacDonald, and Cheryl Smith; Troy MacGillivray with Tracey Dares-MacNeil and Cheryl Smith. Each played great sets making for one incredible evening of music. And the finale had them all on stage at once! Truly an amazing end to a great festival (which officially ended Saturday, but nevermind).
The fine weather came to an end on Monday, but that was just fine, as I was badly in need of a day of rest and recovery from a great twelve days of nearly non-stop music and travel. If you've never taken in a Celtic Colours festival, you most surely should! It is a fantastic experience!
Inverness County's great central plateau, whose boundaries are the Trans-Canada Highway from Whycocomagh to Buckwheat Corner, along the Cabot Trail to Margaree Forks, along the Cèilidh Trail (Highway 19) to Southwest Margaree, and along Highways 395 and 252 back to Whycocomagh, again excluding settlements, homes, and farms below the plateau along the highways, has never had much population, unlike the county's southern plateau. The one outpost on the plateau, Lewis Mountain, long since abandoned, and the interior valley communities of Pipers Glen and Keppoch near Scotsville, which are still hanging on, are the only exceptions of which I am aware. As recounted in a previous essay here, a few years ago, I became aware of Lewis Mountain Road through a trail description I stumbled across on the internet while researching an essay; I have been looking for it ever since. This summer, I discovered its eastern end right where it should have been, behind the electrical substation at Exit 6 on the Trans-Canada Highway. Given the atrocious weather of this spring and summer, it was easy to find, as the weather had severely limited the growth of the high grasses which had hidden it from my sight on the previous occasions when I had stopped there looking for it.
Tuesday, the rain had stopped and the morning was overcast, though promising, as the sun was attempting to break through. A friend who can tolerate my slow hiking pace and I had arranged to try to hike up Lewis Mountain Road, weather permitting, so out we set. The photos on this page come from that hike (described in more detail here), which ended at the Four Corners (Lewis Mountain Road, Geldart Road, and Trout Brook Road) on top of the plateau to which I had previously driven in 2005 and 2009. The lower portion of the road, on the east side of MacPhersons Brook (which rises on the plateau and parallels Lewis Mountain Road on its way through the valley it has carved to Whycocomagh Bay) is actually along the western edge of Northside Mountain; it ascends gently alongside and often high above the brook — since I had not done any climbing in over six weeks, I was amazed to find I didn't often have to stop to catch my breath as I usually do. Unfortunately, in hindsight, that meant I didn't get as many photos on the ascent as I'd have liked: the never good but better light of the morning disappeared on the way back and it was spitting rain on the lower part of the descent. So, I don't have many photos from this hike from which to choose; the ones here are the best of the lot.
MacPhersons Brook is close by the trail during the first third of the ascent, often well below it, and always gaily singing as its waters bounce over and around boulders and rocks, course through rapids, and tumble over waterfalls, some a couple of metres/yards high. Photos #1 and #2 were taken from about 850 m (0.5 mi) up the road, and show the brook flowing under a canopy of yellow leaves. Above this point, the brook's course becomes steeper as it spills down through rapids and waterfalls well below the road, which, alas I did not stop to photograph.
[continued below]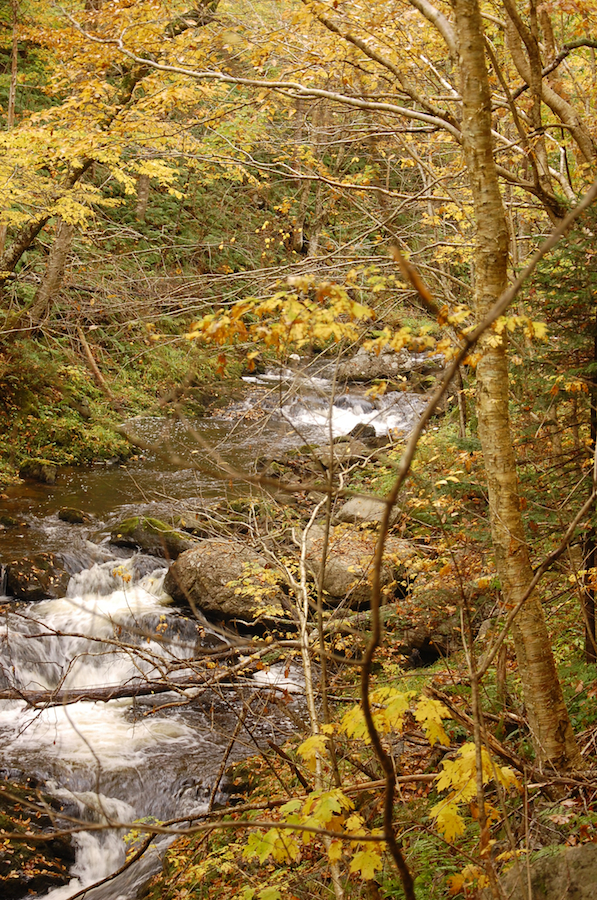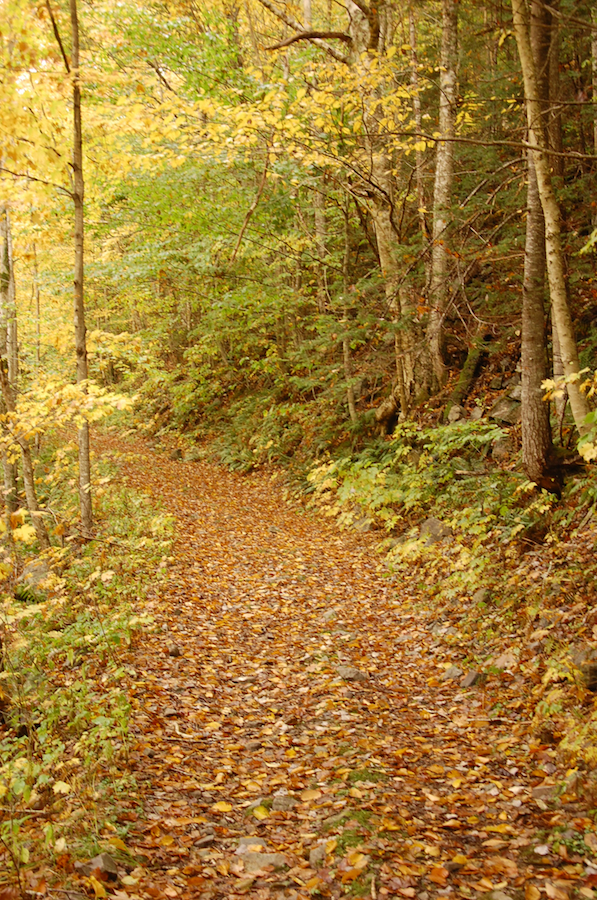 Photo #3, taken at the same time as the first two photos, shows the excellent state of the trail at this point. It deteriorates further up, where the old wooden sluices installed by the pioneers have become blocked by leaves and silt, causing the water that they used to carry under the road to run down the road instead. The middle third of the road is not in very good shape at all, at least not after a rainy day: it has many muddy and mucky spots, more than a few slippery, and lots of standing water, in some of which my friend noticed fingerlings, a sign that fish have made it up the brook and spawned high up on the plateau. After two hours and ten minutes of hiking, not including photo stops and stops to rest, the road turned into a gravel logging road in excellent shape.
Photo #4 was taken along this gravel road, about 1.9 km (1.2 mi) southeast of the Four Corners; it shows some mountain ash trees on either side of the road, obviously in fine shape here, and a patch of beautiful ferns off to the side of the road.
[continued below]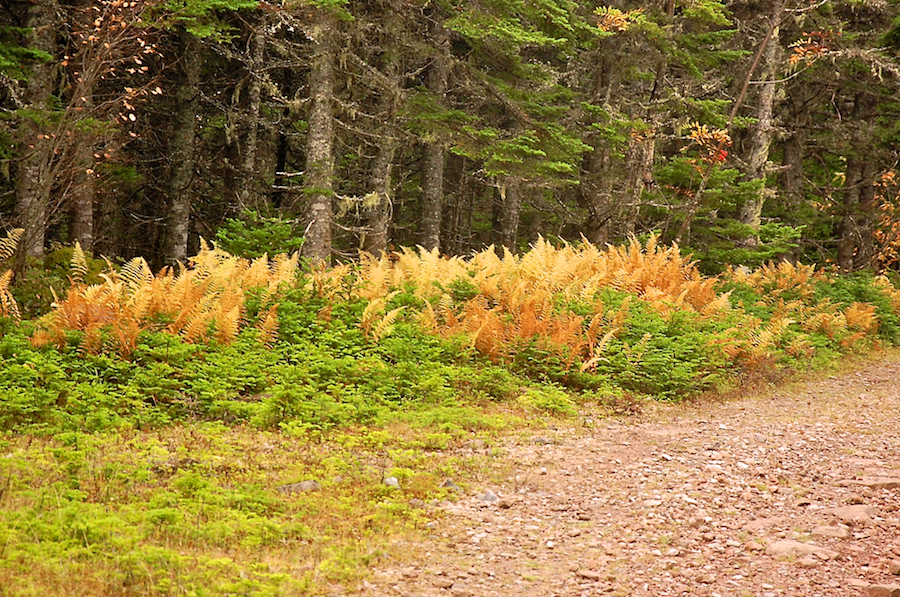 Photo #5 is a close-up view of these colourful ferns, clearly hit by the frost, nestled amongst young evergreen trees sprouting up from the seeds dropped by their parents above. Their pretty fall colours simply demanded that I record their beauty.
After a stop for lunch near the where The Nova Scotia Atlas places the pioneer locality of Lewis Mountain (though previous and current logging activities hide any evidence of the pioneer settlement at least along the road), we followed the gravel road on to the Four Corners, whereupon, after a brief rest, we turned around and retraced our steps. On the way back, I stopped not far from where we had lunch to capture the scene shown in photo #6, where the descending road offers an open view of the slopes of Northside Mountain in the far distance. Piles of wood are waiting to be loaded onto a logging truck; it was beside such a pile a bit further down the road where we had eaten lunch. Most of the deciduous trees here have been stripped bare, as apparently have those on Northside Mountain, though it is a bit hard to say for sure at this distance and in this light.
The hike back was harder on me than the surprisingly easy hike up; my calves, unused to walking downhill after a long hike were screaming and I twisted my back trying to prevent a fall in a mucky spot where I slipped, but the joyous song of the brook and the beauty of the scene could not be dampened by any physical discomfort nor by the drizzle on the final third of the descent. This is a superb hike and one I will surely repeat again, at least up to the end of the water falls (about GPS 46°00.248'N 61°01.454'W), a hike of only about forty-five minutes up from the Trans-Canada Highway. Other than the one aforementioned trail description, I have found no information about this gorgeous hike. It has to count as another of the many unsung and generally unknown beautiful hikes in Cape Breton. Fortunately, that will change, as Lewis Mountain Road will eventually be incorporated into the Trans-Canada Trail, making it deservedly much better known than it currently is.