I dedicate this final page of the essay to all of the many splendid red trees I saw during this fall trip, many of which I did not have time to stop to photograph but enjoyed none the less as I passed by. Of the numerous ones I did photograph, only a very few have been included in this essay. Not that red trees have been lacking in its previous pages! On the contrary, as I'm sure you'll agree. But I had so many more to share — the sun and the colours coïncided so much more frequently this fall than in recent years — that it seems fitting to share more of the bounty I captured. I'm not going to offer many words and will mostly let the trees speak for themselves. My brief comments follow each photo.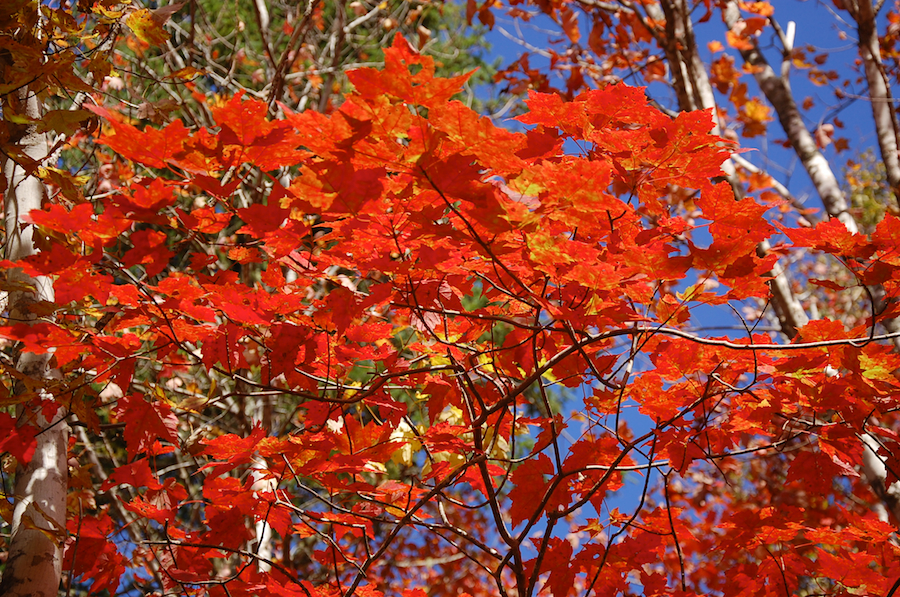 I have awarded this year's first prize (a red ribbon, of course) to the lovely tree along the Rosedale Road seen in photo #1, gorgeous in the afternoon sun of my last Sunday on the island. Its vivid reds give this photo a brilliance and special glow that are simply spectacular.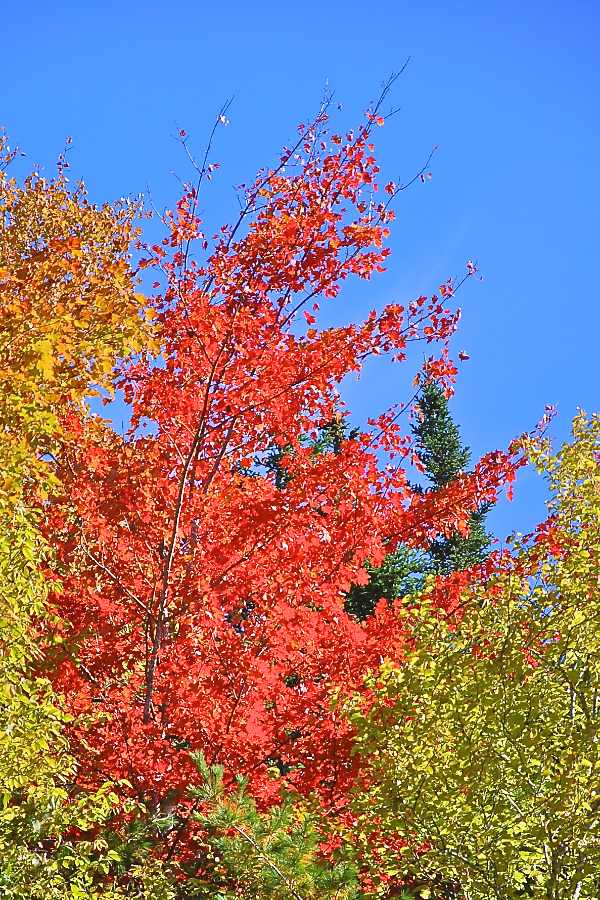 The trees above the guardrails at the edge of the Whycocomagh Road above the Indian River are known for their spectacular colours: photos from there have nearly invariably appeared in my previous fall colours photo essays. Here is a gorgeous one against an equally gorgeous blue sky for this year's essay. By the way, a word to the Virginia Creeper I saw along the guardrails in the shade nearby: keep up the lovely work — next year, I will make a special effort to get you in the sun!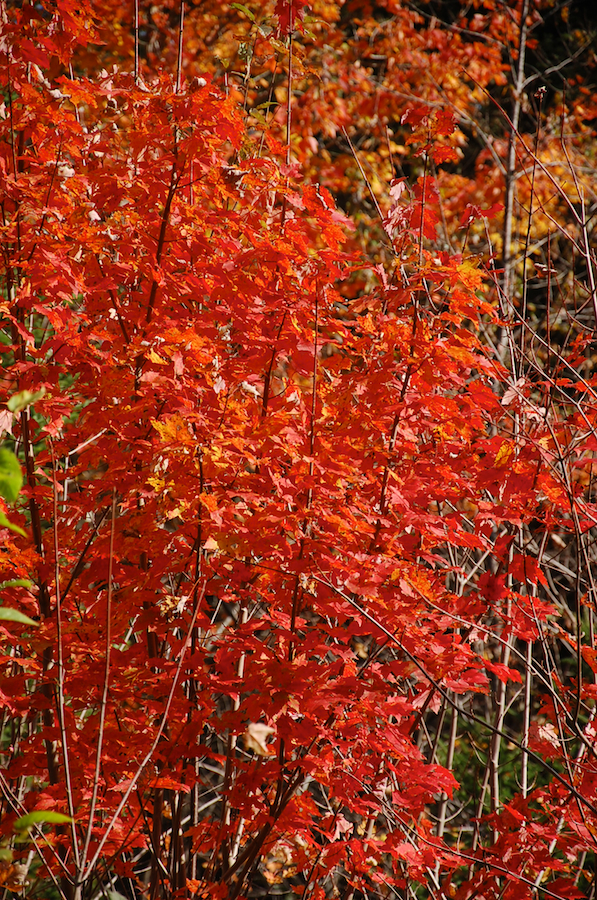 I had to walk back uphill from where I stopped to capture this one, but it was well worth it! What a beauty!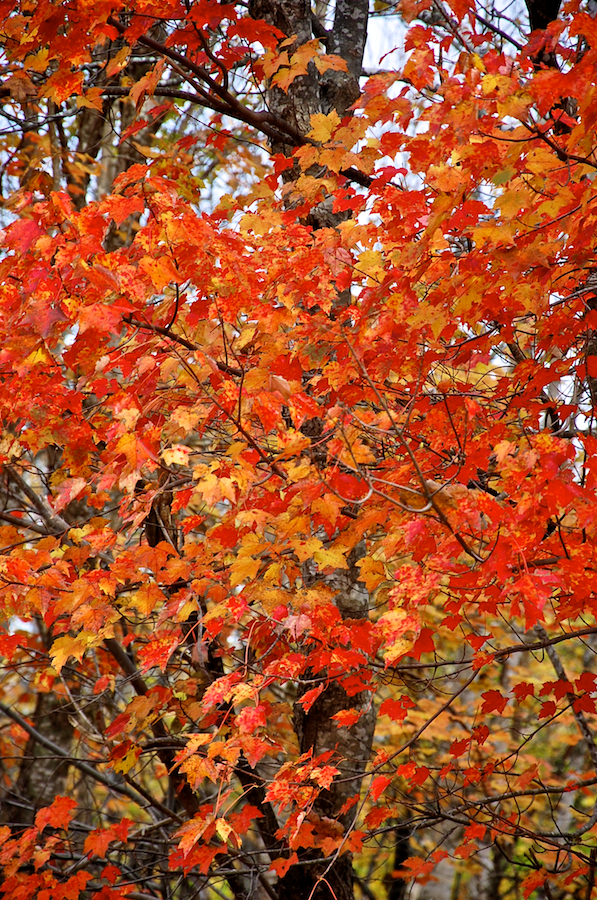 Even without the benefit of sunlight, this lovely red/gold mix was so stunning I just had to stop to photograph it on my final backcountry trip of this year as I was starting home. No, that is not sunlight on the leaves: it is the brilliance of the leaves themselves!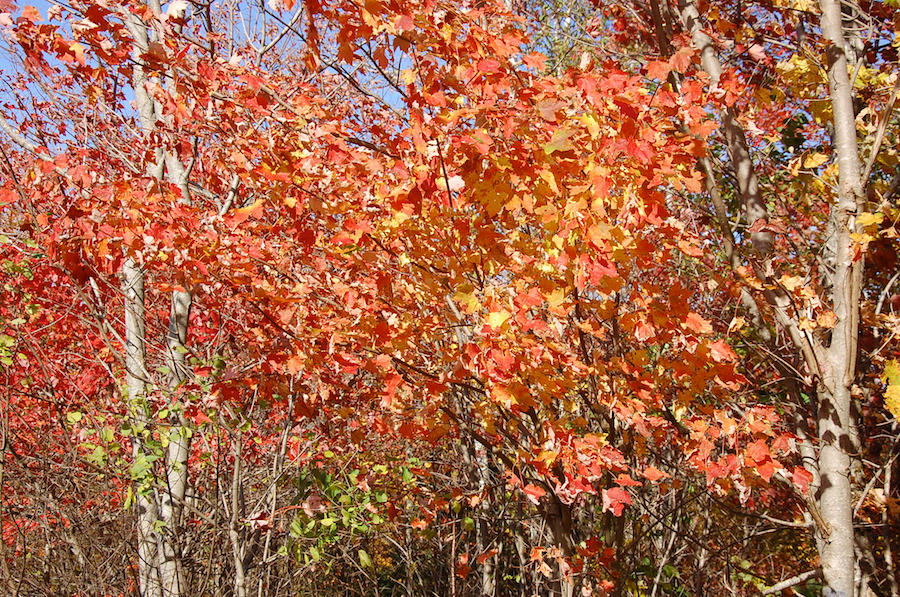 Another very pretty red/gold mixture from along the Rosedale Road, just east of its junction with the MacLellan Road in Rosedale. The golds rather overpower the reds, but they make a brilliant pairing for sure!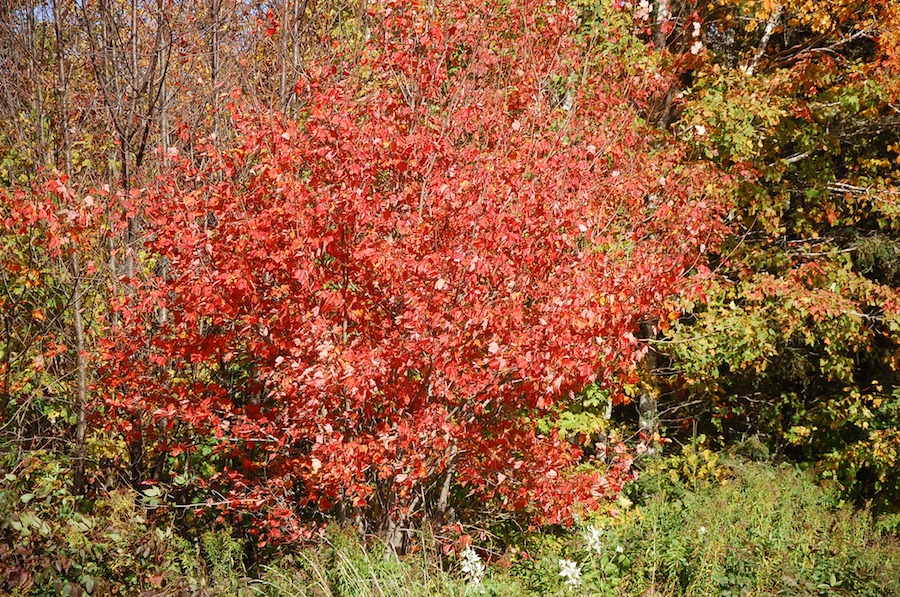 This one was basking in the sun on the side of the mountain as one descends the Whycocomagh Road to the bridge over the Kewstoke Brook, smiling in the sun. I selected it for this essay because it sports a considerable variety of different reds all at once, some deep, some light, and all shades in between.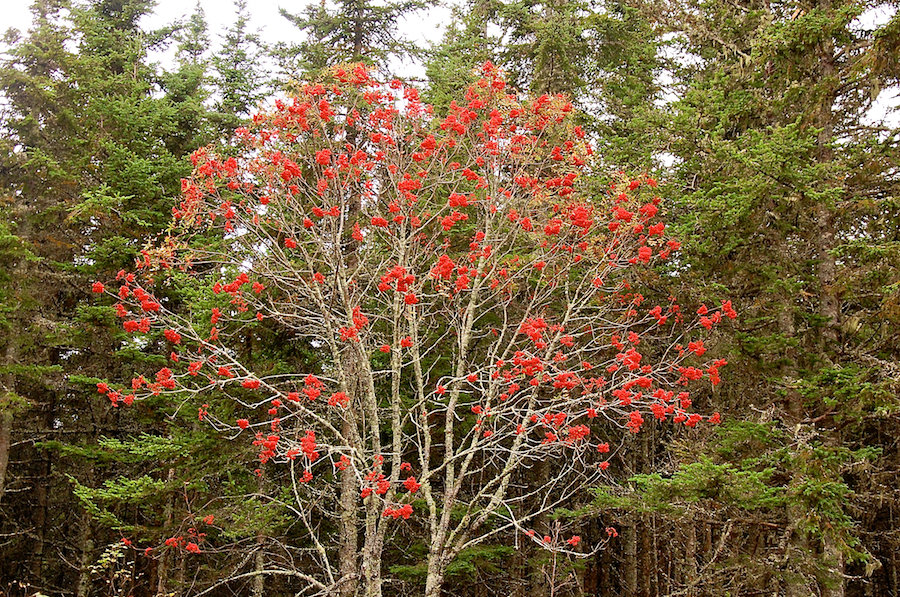 Seen during the Lewis Mountain hike, this beautiful mountain ash tree, without any leaves left, still held on to all of its berries, a winter feast for the birds.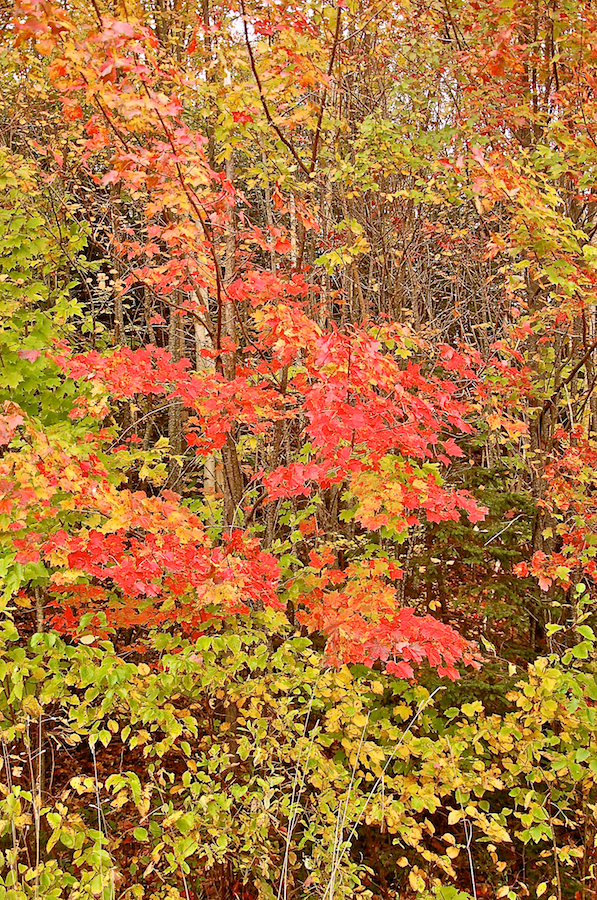 Another beautiful red tree shining brightly with no sunlight to help it along; what a glory it would be were it to be lit up!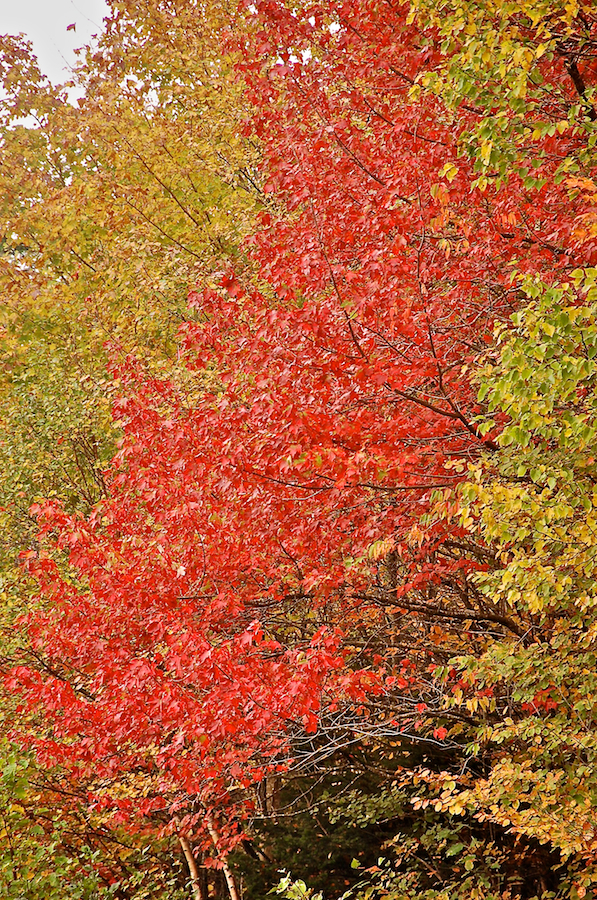 And yet another from the Northeast Mabou Road; what a glorious stand of trees this red one belongs to: it is almost as bright as if it had the benefit of sunlight.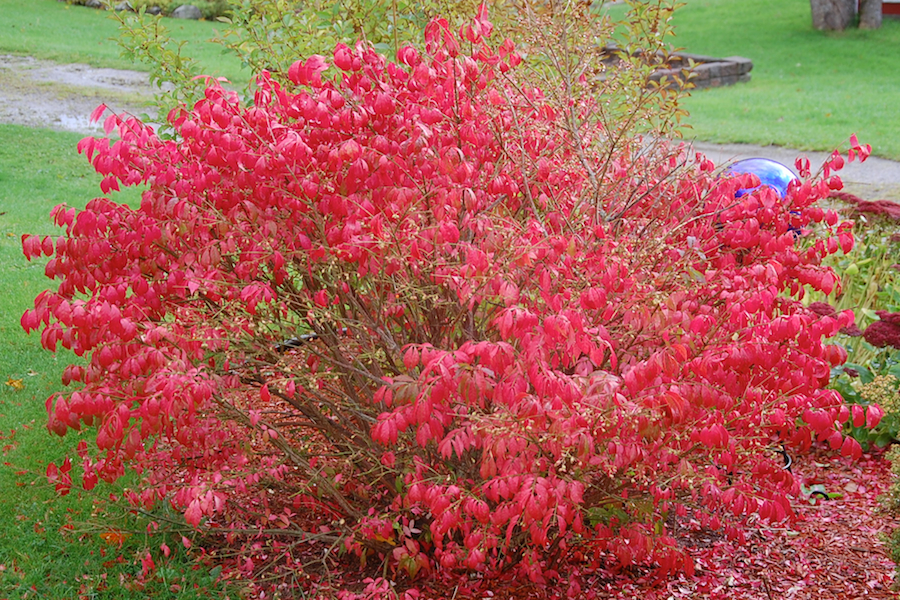 I noticed burning bushes in full bloom all over Cape Breton during Celtic Colours, but none was more beautiful than this lovely one. Its red is different from the reds of maples, veering close to magenta, but oh how lovely to look at!
With this final photo, this very long photo essay has come to its end. I hope I have conveyed something of the flavour of the Celtic Colours Inter­na­tional Festival while also showing some of the glories of the landscape and of the vegetation in this most beautiful of islands. I invite you to join me in Cape Breton next year for Celtic Colours, when there will surely be some more great music and marvellous colours and, let us also hope, lots of sun to enjoy them and the beauty arrayed everywhere one goes.