As I passed through St-Joseph-du-Moine, La Pointe on Chéticamp Island was basking in the sun, so I drove over there after a side trip down the Old Cabot Trail in Grand-Étang. A family was already trekking across the dunes to the Plage-St-Pierre for a day of swimming and sun. For cars, the end of Chéticamp Island Road is above the small fishing harbour at La Pointe. Since today was Landing Day, which marks the end of the lobster season in this part of Cape Breton Island, all the traps had to be out of the water by the end of the day. Photo #1 shows le Havre-de-la-Pointe with its piles of pulled lobster traps sitting on the wharf waiting to be transported to storage for the year.
Photo #2 is a close-up of the right part of photo #1, better showing the stacked traps and, to the right of the white boat, the floats which mark them when they are submerged. The land across the water is near Margaree Harbour.
A friend of mine from Hillsborough posted on Facebook his amazing photos from before Setting Day, the opening day of lobster season, proving that great art is often to be seen in the neatly coiled ropes and floats that go with the orderly rows of stacked lobster traps, with their repeating lattice work patterns. My photos don't even begin to convey the mathematical precision and beauty his fine eye captured, but there are hints of both in the photos I got, and they sure taught me to keep my eyes open for such beauty.
[continued below]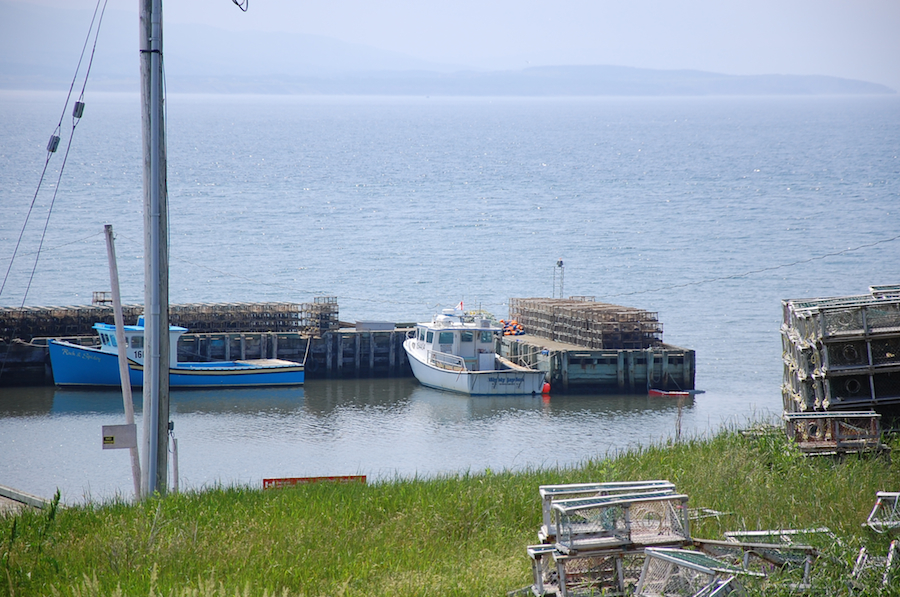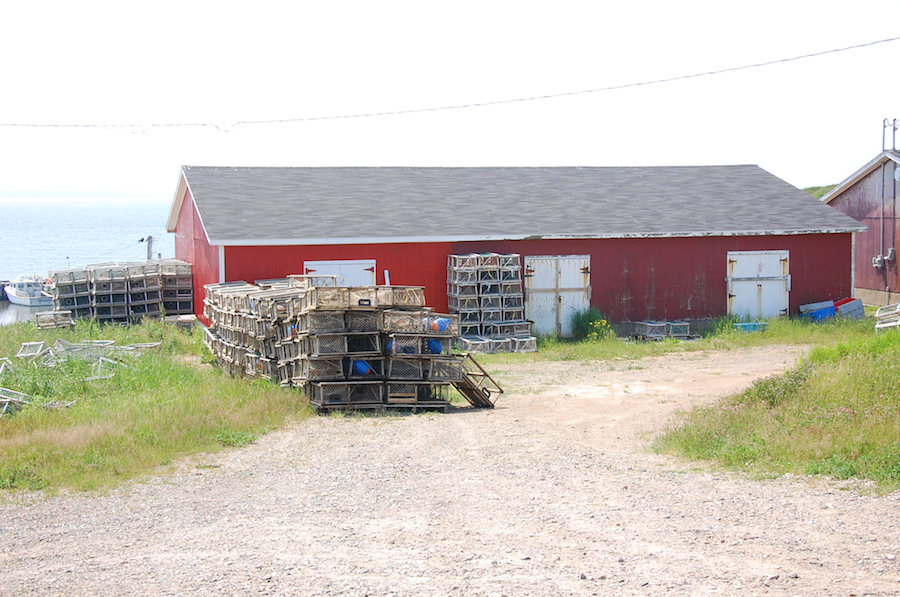 Photo #3 looks a bit to the right of the harbour and picks up the red storage barn above the harbour where more pulled lobster traps are stacked. Notice the floats stored inside some of the traps left of centre. The traps on the ground at the far left appear to be discarded traps or perhaps traps requiring mending, a job for the winter months.
Photo #4 looks at the driveable end of Chéticamp Island Road. One continuation, seen in the left foreground, is an access road which descends to the wharf at le Havre-de-la-Pointe; the other is seen at the far left of the photo and continues well beyond le Havre-de-la-Pointe where Chéticamp Island tapers to the very narrow point that gives La Pointe its name (see, e.g., this photo). That part of the road is much too rough for my Prius; I have, however, walked out along it to the end of La Pointe, from which, on a clear day, one has excellent views of the coast to the east and south as far as Sight Point.