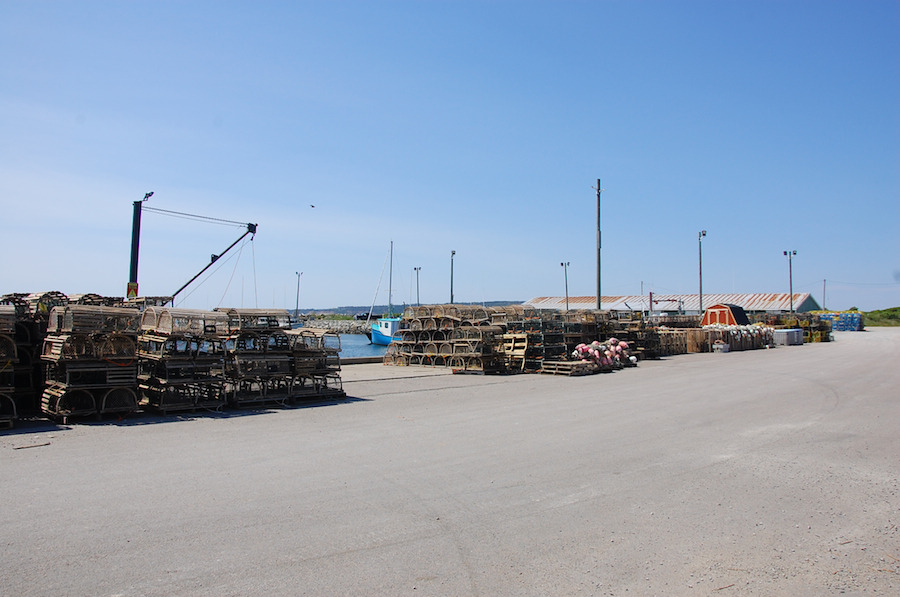 Canada Day follows Landing Day in Port Hood, as in the rest of Inverness County. It was a gorgeous, sunny, warm day, with some haze across the water, but very clear inland with a nice cooling breeze blowing off the water. After a late breakfast, I drove down to the wharves at Murphys Pond, where the view in photo #1 with its piles of stacked lobster traps greeted my eyes. Murphys Pond is where Port Hood's fishing fleet is based and is always an interesting spot to visit, with fine views of Port Hood Harbour and, from the look-off at the end of the road beyond the wharves, of Port Hood Island and the entire area.
Photo #2 looks towards the east side of the marina, with a pretty blue boat at the left and the buildings and facilities on the wharf and shore behind it. Not all of the lobster traps use wood lattices in their design; some have metallic grids, such as those yellow ones seen behind the boat and the blue ones seen at the far left of photo #1. It is, however, the floats dangling from the neatly coiled ropes on top of the traps in the centre of the photo which most catch my eye.
[continued below]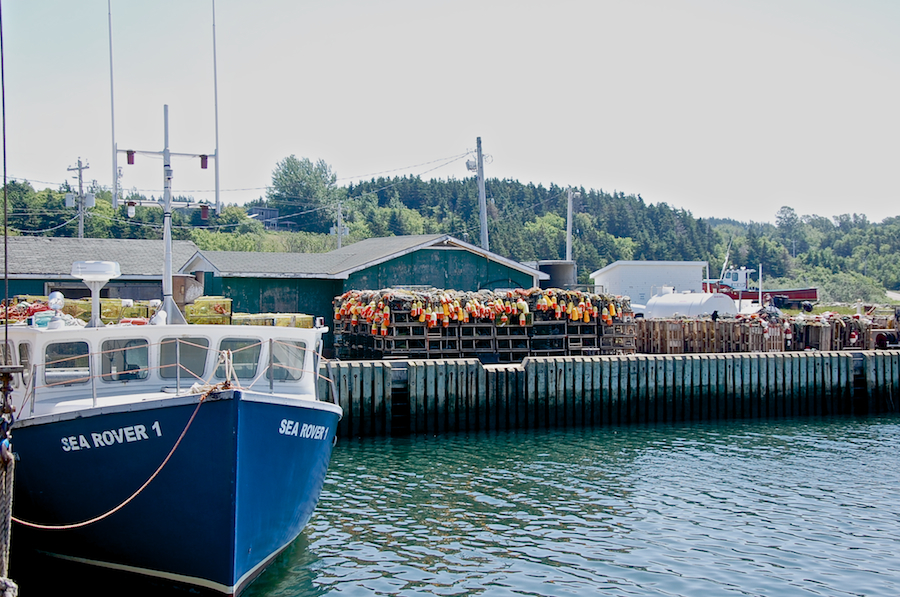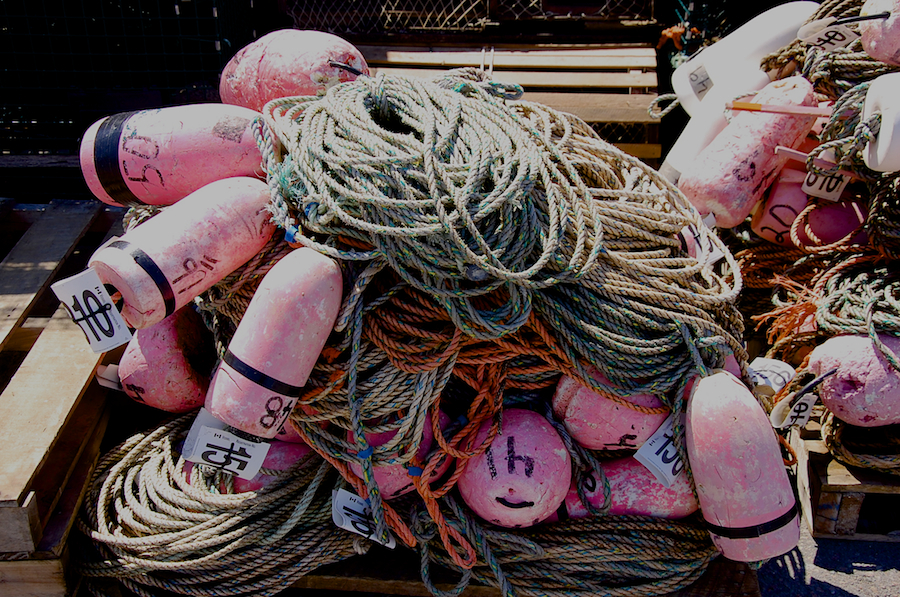 Photo #3 is a close-up look at some of the colourful coiled ropes and floats that were found on the wharves this day. They are certainly as essential a part of the lobster fishing equipment as the traps themselves.
Photo #4 looks out at the many boats tied up along the wharves at Murphys Pond; the breakwater on the west is visible all across the photo above and behind the boats. The vegetation at the right is on the hills of Port Hood Island across the harbour.
[continued below]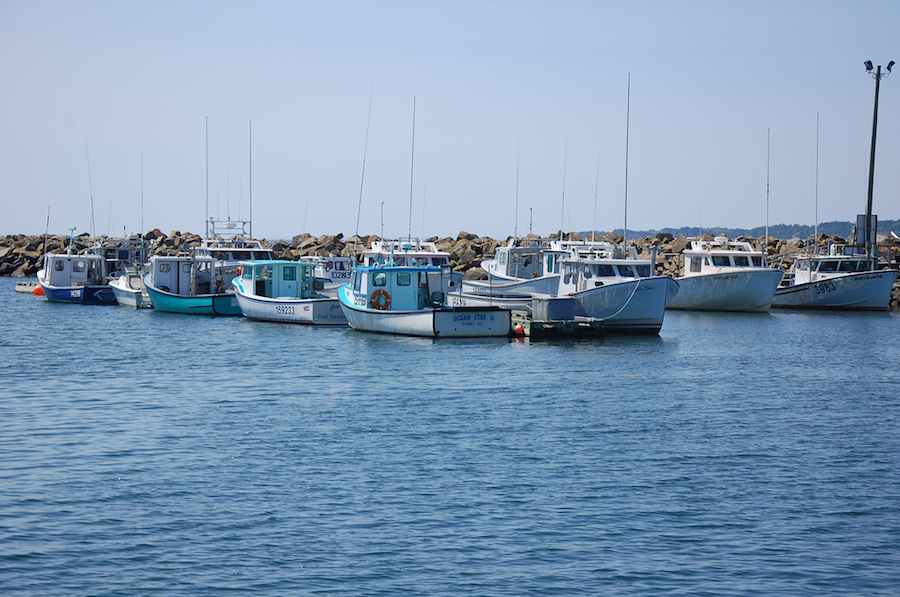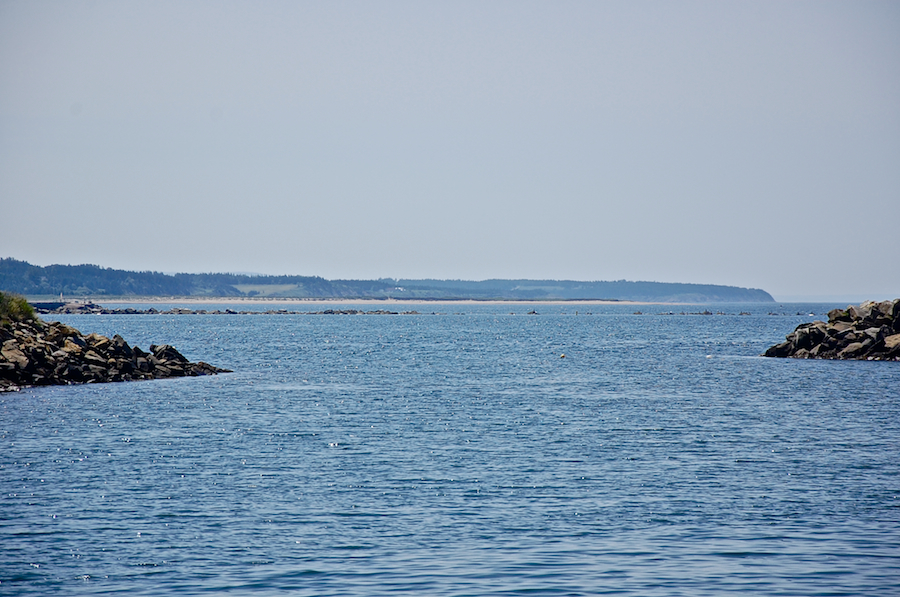 Photo #5 looks out between the two breakwaters at the Murphys Pond marina across Port Hood Harbour to the far shore. The municipal wharf, not now in very good repair, is at the far left of the photo. The rocks in a long, broken row are the remains of a causeway to Port Hood Island that was started and then abandoned instead of being completed. The fine white sand beach that runs all along the eastern side of Port Hood Harbour gleams in the morning's sun as it runs westward out to Shipping Point at the right of the photo and then turns south again. Beyond in the distance, Seonalds Point at Little Judique Harbour runs out to the right of the photo. Too much haze blurs the mainland in the far distance, which here appears as just a greyish-blue band at the far right of the photo. This photo gives a better idea of the terrain from a much higher vantage point; in it, Murphys Pond is to the far right and out of the scope of the photo.