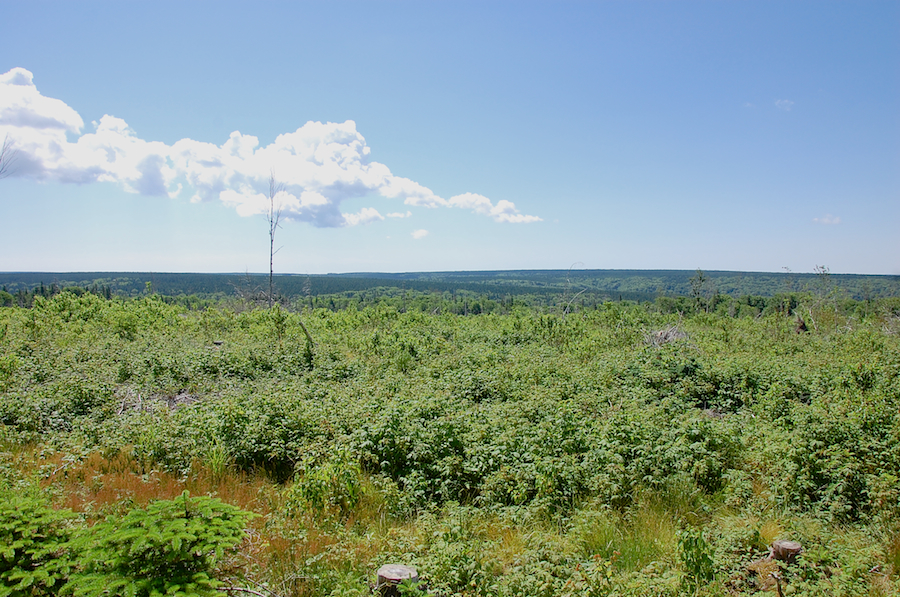 The area south of the Cape Breton Highlands National Park is a managed forest on crown land from which wood is constantly harvested on a schedule stretching over many years; a multitude of logging roads branch off the two main roads, Highlands Road and Fielding Road, and they in turn subdivide multiple times to provide access to much of the forest and to serve as fire breaks in the event a fire should start.
Photo #1 shows a wide-angled view of the Cape Breton Highlands Plateau from Fielding Road; I'm not positive of the precise direction here, since this spot along Fielding Road has a wide range of views, but it's likely either to the southeast or to the south. It's a vast area that looks almost flat, though it is criss-crossed by numerous deep ravines and canyons carved by streams. I call your attention to the bare slanting tree in the middle right of photo #1; it will help to orient you when you look at photo #2.
Photo #2 is a telephoto view of a portion of photo #1; it shows the forest below the ridge on which I was standing and gives a much better idea of the irregularity of the terrain. Among the many subjects on which I am uninformed is silviculture, the management of forests, so I can not suggest why one sees in photo #2 what appear to be alternating stripes of evergreens and deciduous trees; if anyone can enlighten me how they have come to be, please contact me at the address in the footer below.
[continued below]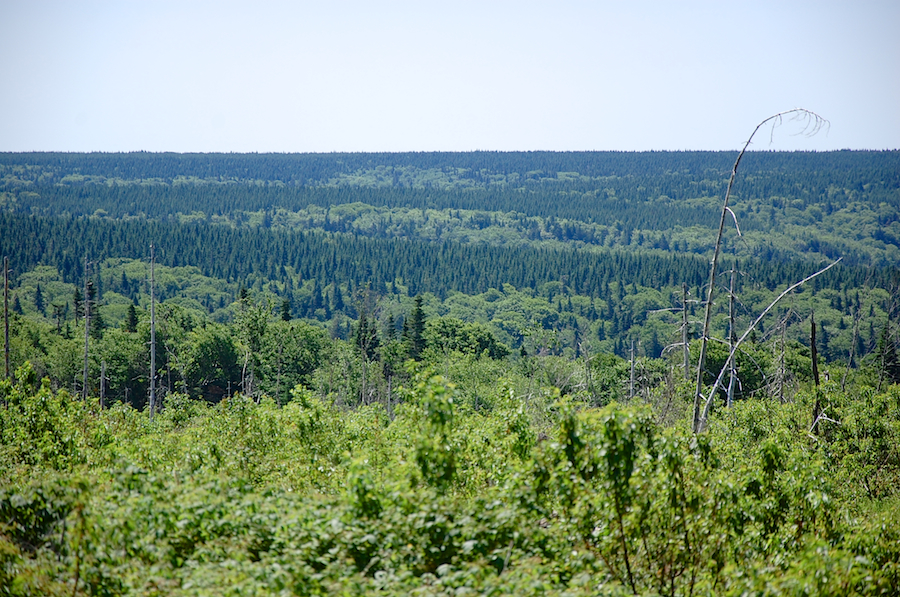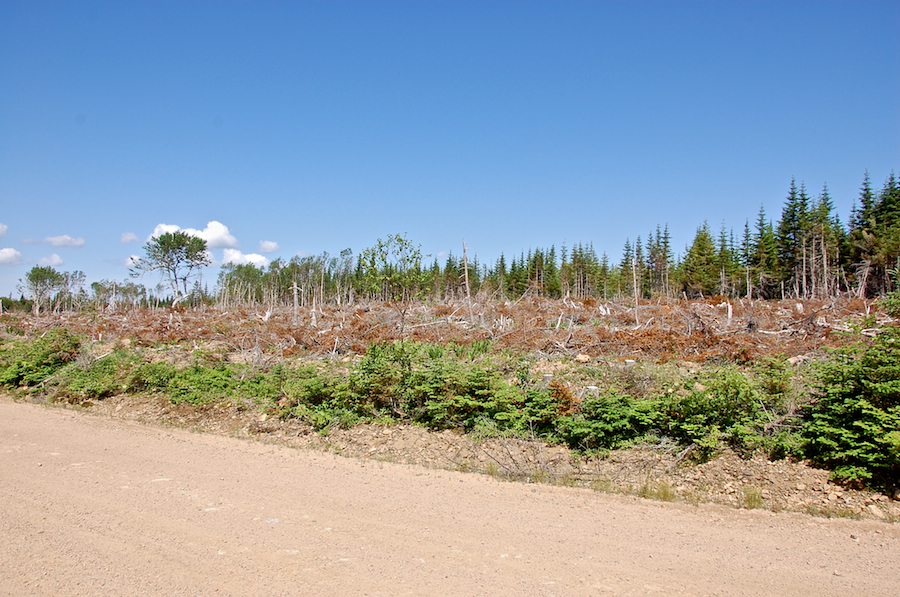 Photo #3, taken at the same location as the first two photos, looks across the road from where I was standing to an area that had been recently harvested, perhaps last year. The dead, reddish branches on the ground were left to decay and return their nutrients back to the soil as well as to provide ground cover for birds and small animals; other groups of larger trees have also been left to provide habitat for the plateau's animals. It will take a number of years for the forest to regenerate here, but it will soon begin to renew itself and many years hence will again undergo harvesting.
Photo #4, taken further down Fielding Road just before it reaches Egypt Mountain Road, looks off to the west of southwest towards the huge interior plateau on the west side of the Cabot Trail that runs from Margaree Forks to Whycocomagh. The ridge visible here is that which rises above the Cabot Trail in the Lakes O' Law area, one of the prominences along which is Twelve O'Clock Mountain. In the middle ground is another area that has been harvested, though not so recently as that in photo #3; new growth and small trees are now found over much of the area.
[continued below]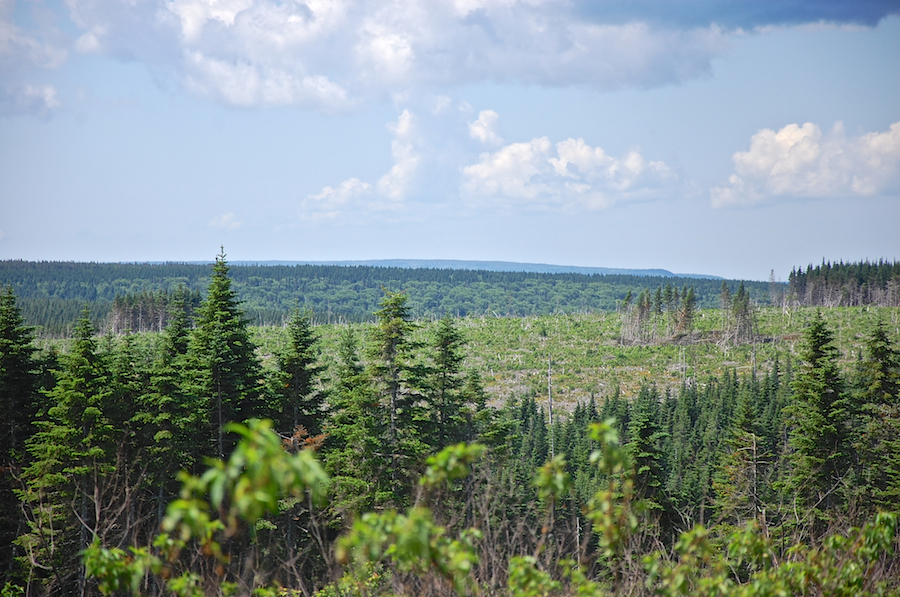 Further along Fielding Road, about 2.7 km (1.7 mi) from its junction with Highland Road, one comes to the top of the hill seen in photo #5, which should give you some appreciation of just how precipitous this terrain can be. Fielding Road is in fine shape along its entire length, but you had best have good brakes! The road one sees in the upper right is not Highland Road, as best as I can tell, but an unnamed logging road that splits off from it to the southeast.