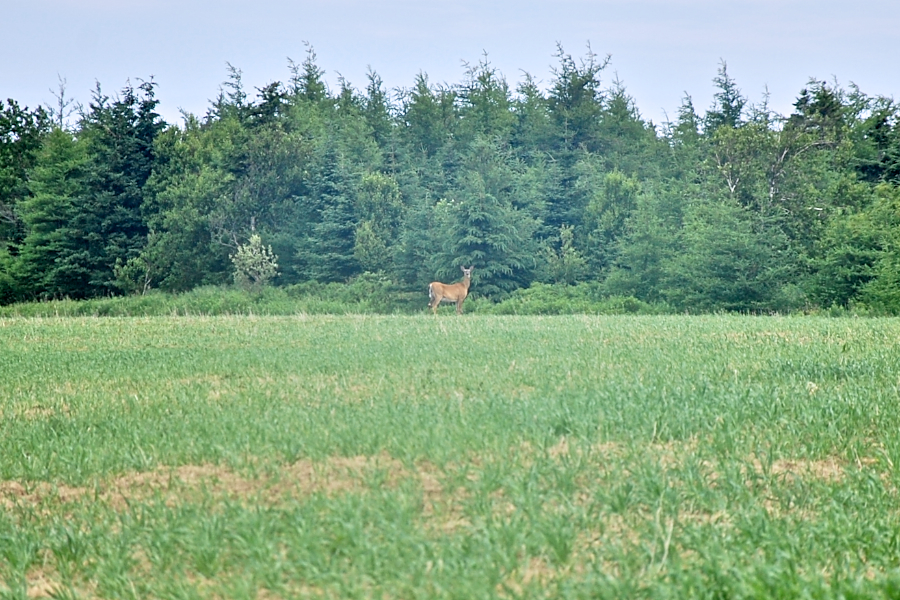 This page collects photos taken on different days towards the end of my trip and features not scenery, but wild things. I have collected them together here in a group as they didn't fit elsewhere in this essay, but still merited a place, at least in my judgement.
Photo #1 was taken on the east side of a large field off the Old Rocky Ridge Road during a drive in which a friend took me around to several different vantage points I hadn't known about on Rocky Ridge and in the country northeast of Port Hood. Alas, the weather was worse for photography than I realized, with thin fog and haze and the morning sun yielding to rapidly darkening skies (light rain fell that afternoon), which my camera captured faithfully as my eyes filtered these effects out, with the result that I got very few decent photos from those places, so I will have to go back and seek out the fine views another time. But I did get this portrait of a fine deer which, because it was not at all timid as we approached it in my friend's car, I first took for a buck, but after closer examination of the original, is clearly a doe. Eventually, we got close enough that she took a great and graceful leap over the bushes and off into the woods, where she disappeared from view, though I imagine she was not all that far away and would return to graze after we left. Because I am such a noisy hiker, I rarely see wild animals on my hikes, so this was an especial treat!
Photo #2 was taken earlier the same day on a walk around my friend's wood lots; I forgot to take my GPS with me on the walk, so I don't have precise coördinates of where this photo was taken. The flower belongs to the orchid family and is known as a pink lady slipper orchid Cypripedium acaule, also spelt as "lady's slipper orchid", which I've always heard pronounced with a single 's'. According to this Wikipedia article, lady slippers "are characterised by the slipper-shaped pouches (modified labellums) of the flowers – the pouch traps insects so they are forced to climb up past the staminode, behind which they collect or deposit pollinia, thus fertilizing the flower." It occurs widely, being "found across much of North America, as well as in parts of Europe and Asia." It is also the official provincial flower of Prince Edward Island. According to this Fairfax County Public Schools web page, it is endangered in some areas, as it takes a long time to grow. The plant has only two green leaves, which branch out from its centre, from which the single flower stalk also grows. The flower is about 7.5 cm (3 in) long and is tightly closed except for a small opening in the front. The plant grows in shady forests under pine trees, oaks, red maple, and sweet gum. It is also a food source for white-tailed deer and several insects. For more information on this interesting plant, which has an essential symbiotic relationship with fungus and which takes advantage of bumble bees, see the previously linked Fairfax County Public Schools web page.
[continued below]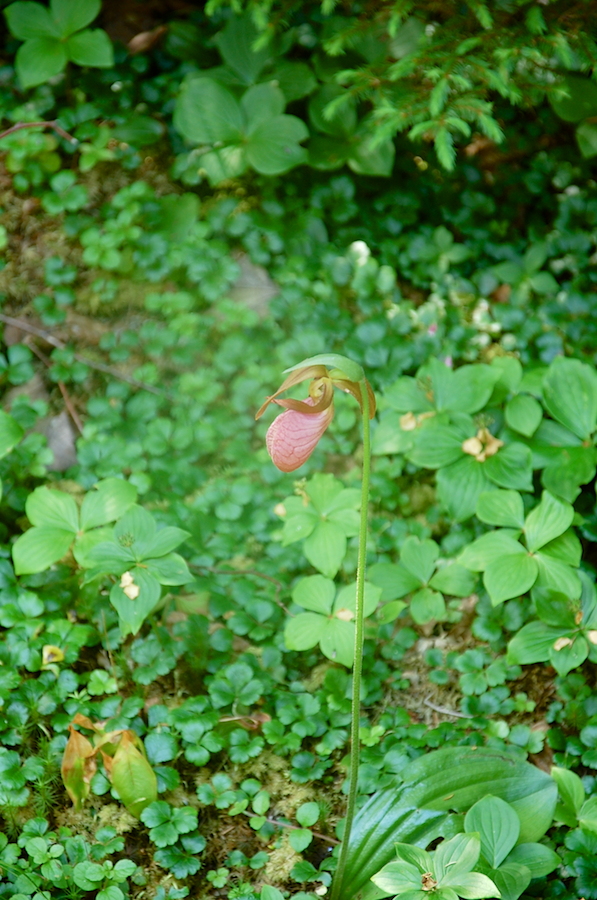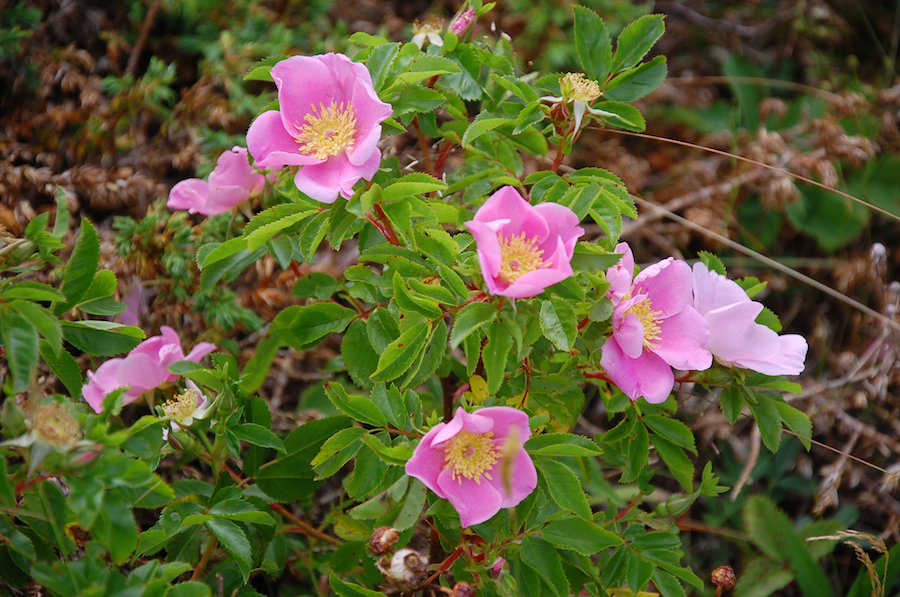 Photo #3 is of a lovely wild rose (Rosa acicularis) bush, which this Wikipedia article says reaches from 1–3 m (3–10 ft) high; it was found at the look-off at the summit of the Beinn Alasdair Bhain (Fair Alistair's Mountain) Trail. Because of strong winds off the Gulf of St Lawrence (notice the top right flower, whose petals have been blown off), the higher altitude, and the limited amount of soil, the wild rose bushes at the look-off are not much more than knee high. But, as this photo shows, they are as beautiful here as their more fortunate brethren are at lower altitudes. The pale wild rose is the official provincial flower of Alberta, but these I'd hardly call pale. According to the Wikipedia article, this rose species is the most abundant one that grows "in the boreal forests of northern Canada and Alaska." A post by "wildWoman" on this web site (accompanied by a photo of a much paler rose than those on the look-off) says that the "shoots, hips, petals and leaves are all edible, with 3 hips providing as much vitamin c as one whole orange, as well as a host of other vitamins and minerals. The hips make good tea, jam, jelly and syrup, as well as a tasty snack. Medicinal purposes include using an infusion of the petals as an eyewash and rinse for ulcerated skin infections. The tea from the hips is said to aid with menstrual cramps. Because of the moisturizing properties of the petals, these make a fine ingredient in salves, skin lotion and lip balm." Who knew that it was as useful as it is beautiful?
Photo #4 is of a flower I encountered in a field below Campbells Mountain along the Whycocomagh Road in Soapstone Mine west of Whycocomagh. Scads of these flowers were growing there, some pink like the one in this photo, but most white, though having the identical form. Thanks to the plant and flower identification skills of a good friend, who spent hours and hours identifying and cataloguing numerous flower photos I had taken in Cape Breton, I can state with confidence that this flower is that of the pink musk mallow (Malva moschata, which, according to this Wikipedia article, is originally a native of Europe but is now widespread in the world, having "become naturalised in several areas with temperate climates away from its native range, including Scandinavia, New Zealand, and North America." This PDF file, which should be read for more detail, indicates that its musk-scented flowers, leaves, and seeds are all edible. The leaves may be eaten raw or cooked (or used to brew a tea) and have a gluey consistency with a mild, fairly bland, pleasant flavour; they "can be used in bulk in summer salads" and "make a very good perennial substitute for lettuce in a salad, producing fresh leaves from spring until the middle of summer, or until the autumn from spring germinating plants." The flowers, which are eaten raw and have a very mild flavour, make a "very decorative addition to the salad bowl". The seed, which is "rather small and fiddly to harvest" is best gathered before it is fully mature and has "a pleasant nutty taste". All parts of the plant counteract inflammation and this property of the leaves and flowers make "them valuable as a poultice for bruise, inflammations, insect bites". "Cream, yellow[,] and green dyes can be obtained from the plant and the seed heads. A fiber obtained from the stems is used for cordage, textiles and paper making." Like the wild rose, this is one very useful plant!
[continued below]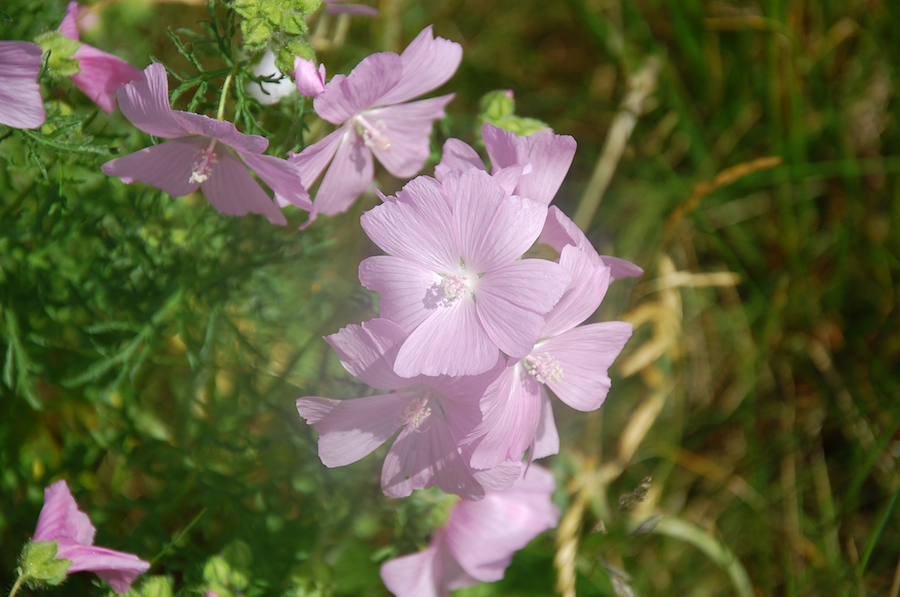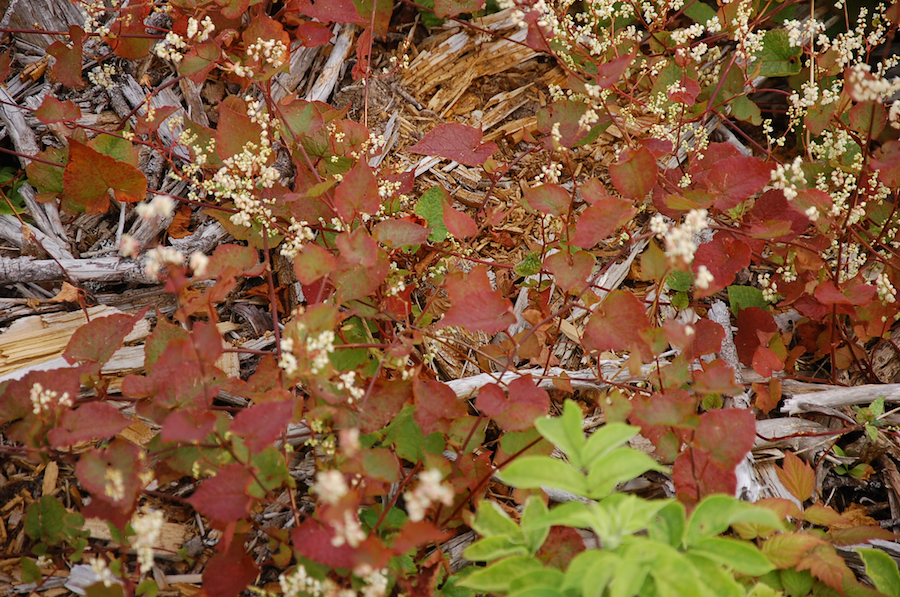 Thanks again to my friend's extensive knowledge, I can identify the beautiful plant in photo #5 as a foamflower (Tiarella cordifolia); she says that it "grows in damp and shady areas and the leaves look much like maple leaves." It came by its common name because its tiny flowers resemble foam. Underground stems allow it to spread out and form colonies, making it an excellent, deer-resistant, ground cover for shady, wooded areas. I was unable to find any information about its other utility to humans, but all agree that it is useful as a decorative and slightly aromatic ground cover that prefers shade and tolerates complete shade. And shade it had until the spruce above it were killed off by the spruce bark beetle, necessitating the clearing of the ridge along which the relocated Beinn Alasdair Bhain (Fair Alistair's Mountain) Trail now runs and on which the specimen seen here was photographed. The beautiful tiny white flowers were strewn with abandon all along this part of the ridge and the reddish tinge to the leaves made it extremely colourful and striking to the eye, a touch of autumn colour early in the summer!