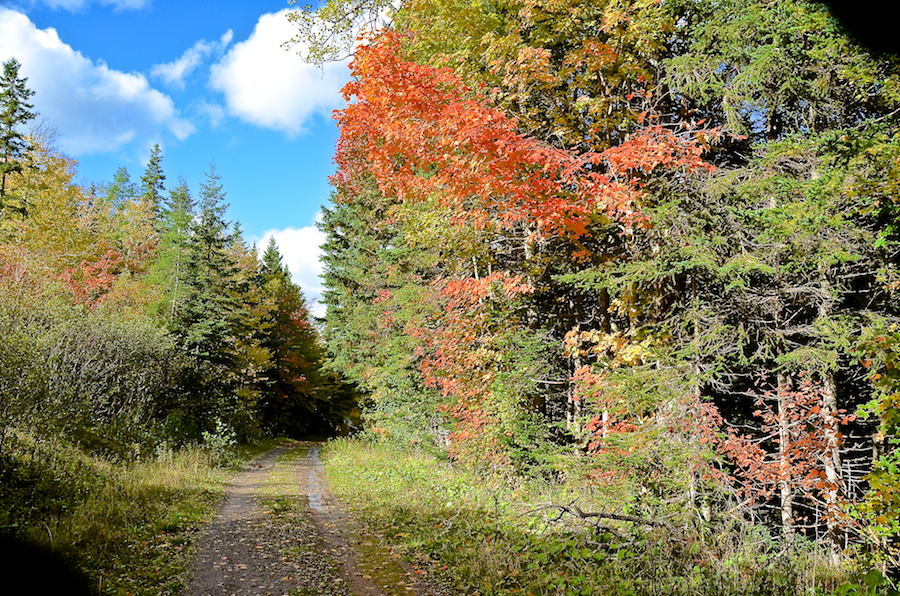 I continued on to the northwestern end of the MacLellan Road (at GPS 45°59.992'N 61°17.059'W) and turned right onto the Rosedale Road. The previous night's high winds and rain left most of the trees with their leaves intact, but two were brought down and jutted into the road leaving just enough room to squeeze by them.
Photo #1, taken on the Rosedale Road about 2 km (1.2 mi) southeast of the MacLellan Road, looks to the northwest at one of the several stops I made for photos along the way. It was, of course, the bright red branch in the tree at the right which caused me to stop, though the reds in the trees above the road in the shadows were also eye-catching.
Photo #2 was taken a few steps to the east down the road and shows the glorious reds in the bright sun that made it down to the side of the road. The golds nicely set off the reds; I can't tell whether these are two different intertwined trees or whether the differently colours leaves are all on one tree and I didn't think to look at the time.
[continued below]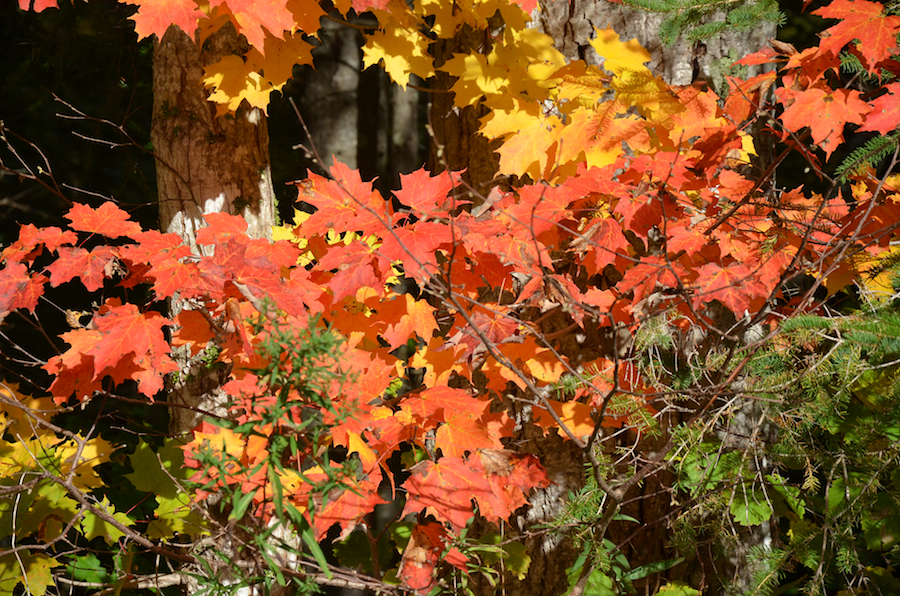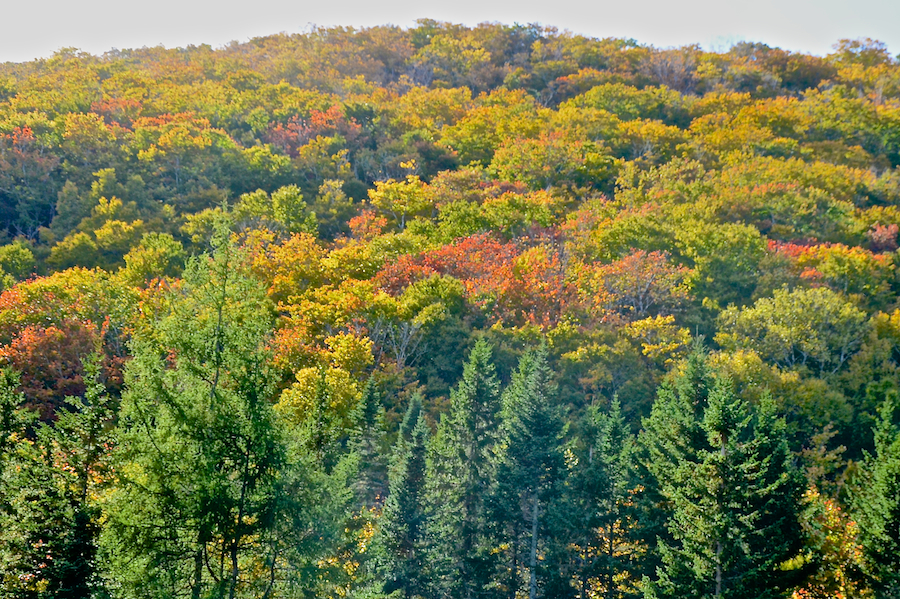 Further down the road, more reds forced another stop. While I was there, I photographed the hillside above the Rosedale Road, on the far side of which the Whycocomagh Road wends its curvy path "down the mountain" from Dunakin to Kewstoke. Photo #3 is one of the brighter shots I got there (the sun continued to be frustratingly in and out) and shows more fall colours than I had expected, with lots of yellows and not a few brilliant reds, along with oranges, greens, and browns.
Photo #4, taken on the bridge over Kewstoke Brook on the Rosedale Road a short ways from its junction with the Whycocomagh Road, turned out rather better than I had hoped in the tricky lighting. Kewstoke Brook, engorged by the previous night's rains, was much wider than usual here and served as a lovely reflecting pool, mirroring back the colours in the trees that overarch the brook. The predominant colours are yellows and oranges, but there are definitely some reds too, some of which can be seen at the upper right of the photo.
[continued below]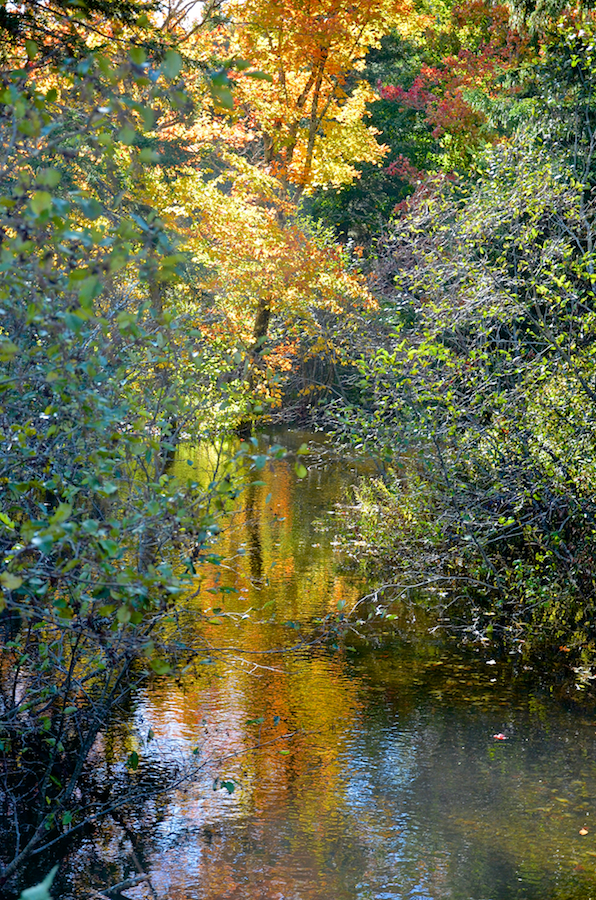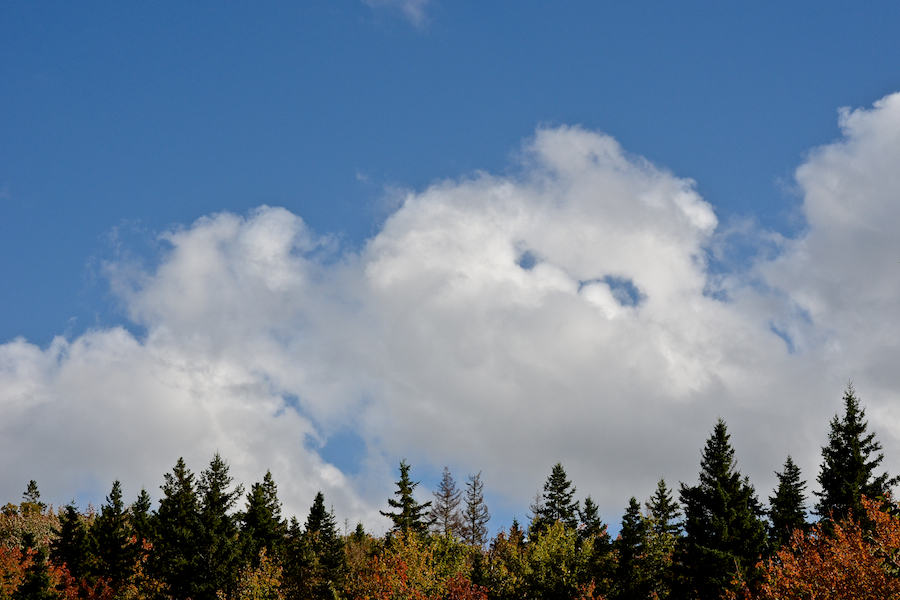 The form of this cloud makes me think of Casper the Ghost staring down from above Skye Mountain at the end of the Rosedale Road. The blue sky and the sun were indeed most welcome, but so many of Casper's friends were with him up there that the lighting was undependable and quite tricky. In any case, I did get some good photos this afternoon, so I'm not really complaining.