After crossing the Barra Strait upon leaving Iona Port, I turned down into Grand Narrows and drove along the east side of the Strait to Derby Point, where it widens out into the Bras d'Or Lake. The three views on this page were taken from there.
Photo #1 looks across the Strait to An Clachan Gàidhealach (Highland Village) on the hill above Hectors Point on the southern outskirts of the village of Iona. The first thing that catches the eye is the church, the site of the evening's concert, moved there in 2003 from Malagawatch (if you are on Facebook, you can find a sequence of 28 photos showing the move (by barge and trailer) on the "Vintage Cape Breton Photos" page—the first photo is here). At the bottom left is the Sgoil Mhic Fhraing a Chaolais (Rankin School of the Narrows), opened in 2007. Just above the school at the far left is the Highland Heights Inn, an excellent place to dine when in the area. Except for the house in the foreground next to the shore, all the other buildings seen here are part of the Highland Village Museum, including the Black House (a replica of a Scottish highland dwelling) on the hill above the Highland Heights Inn, the museum entrance and gift shop (the modern looking building just right of centre), and the stage used for the annual Highland Village Day concert below the green field at the right of the photo. If you have never visited Highland Village, you should! The candlelight tours are fantastic, the Highland Village Day concert is a fine celebration of traditional Scottish music, the tour of the village buildings is fascinating and thought-provoking, and the views from the site are incredible.
Photo #2 looks northwest across the Strait at the village of Iona; St Columba's Church and the churchyard are gleaming in the afternoon sun, while the hills of the Washabuck Peninsula behind are in the shade. At the far right, a portion of the railway bridge and the highway bridge can be made out. When the ferry was in operation before the highway bridge was opened, its landing on the Iona side was near the centre of this photo.
[continued below]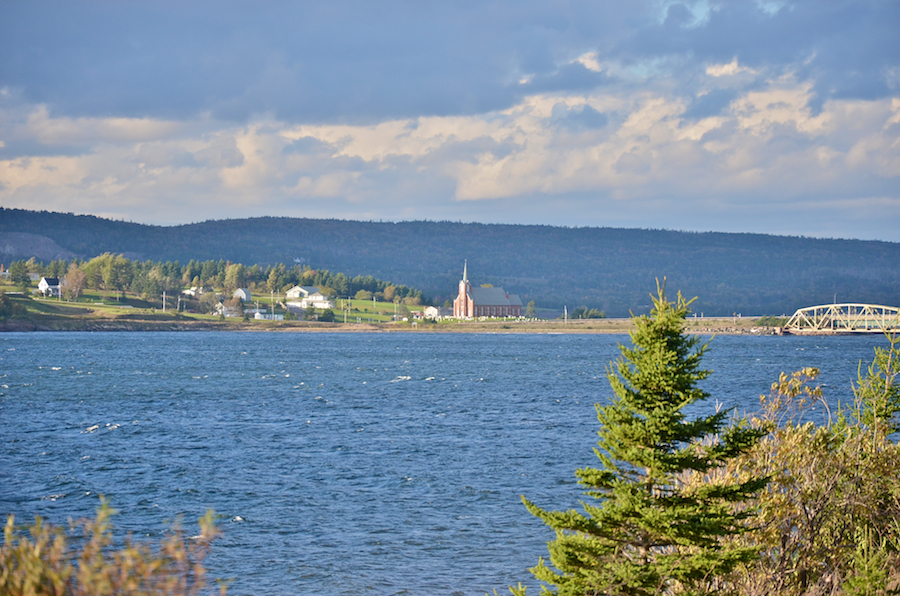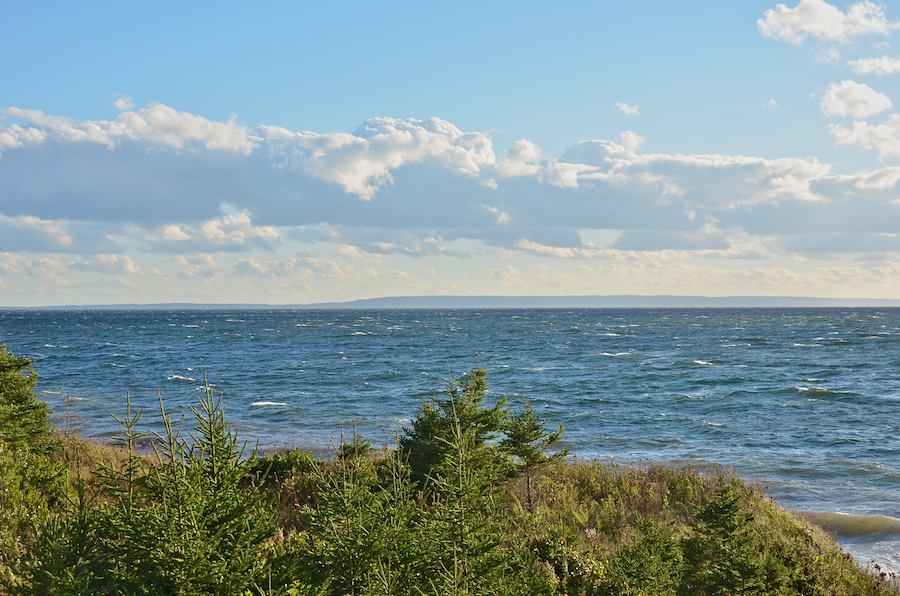 Photo #3 looks out across the Bras d'Or Lake from a little further down the Derby Point Road. The view is to the southwest towards North Mountain and the west side of the Bras d'Or Lake, which ends in an arm called West Bay; Malagawatch from whence the Highland Village Church was transported lies along these shores. A stiff and quite cool wind was blowing, seen in the white caps all over the lake.