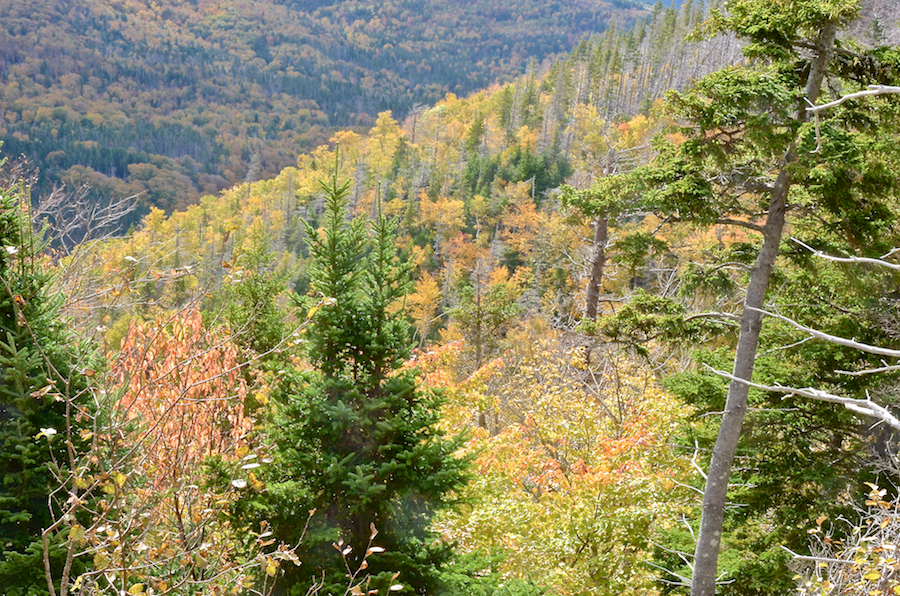 After finishing our photos and admiring the fantastic views, we walked part way down the relocated Beinn Alasdair Bhain (Fair Alistair's Mountain) Trail to admire some of the views hidden by the terrain at the top of the trail, but then climbed back up to the MacPhee Trail and continued on to the Beaton Trail (the junction is at GPS 46°08.945'N 61°26.323'W). After a short, relatively sharp climb up the Beaton Trail, one arrives at a spot with views of the adjacent highlands and, to the south, of the coastal area towards Port Hood seen also from the look-off on Beinn Alasdair Bhain (Fair Alistair's Mountain). This spot isn't really a look-off, as several trees interfere with the views, but with a bit of patience and lucky positioning, once can usually see decent views from there. Moreover, it is a good place to stop to catch one's breath. Even though the light continued to be hit and miss, I did take five photos here, of which photo #1 was by far the brightest, showing the fall colours in the trees below on the side of the unnamed mountain. The Cul Na Beinne (Beyond the Mountain) Trail runs in the valley below the mountain, to which the MacPhee Trail continues past the Beaton Trail with a very sharp descent that is an excellent work-out for one's calf muscles!
Photo #2 is the best of the other photos I took here in the ever-changing light, showing the Cape Mabou Highlands across the Cul Na Beinne (Beyond the Mountain) Trail. I could have cropped out the grey remains of the dead spruce at the far right of the photo, but I left them in to illustrate one of the problems in getting an open view at this spot and because I think they somehow add to the view.
[continued below]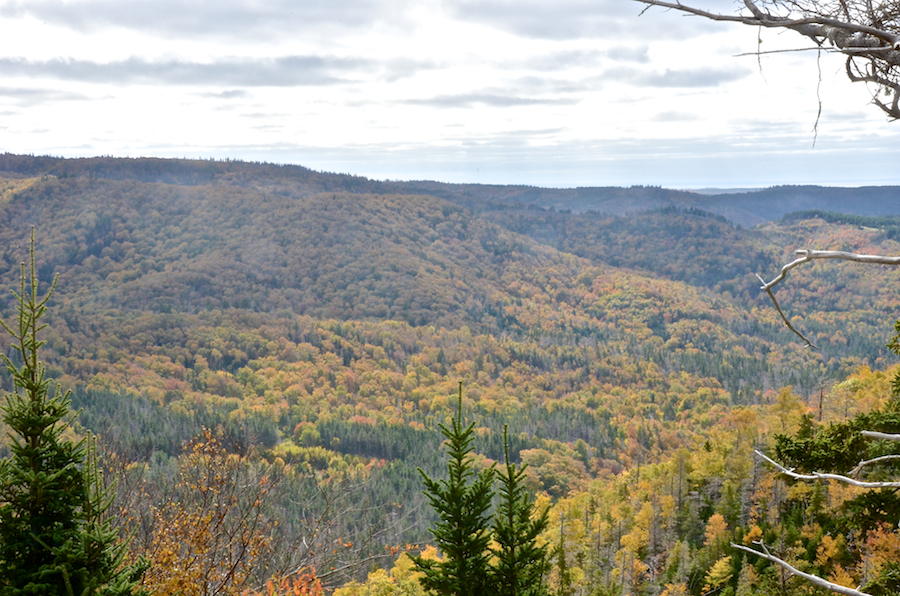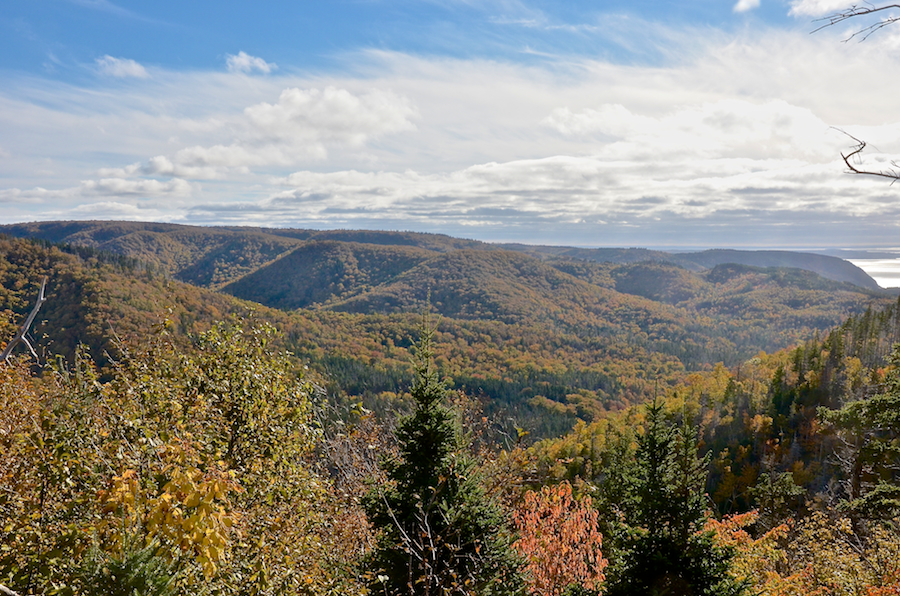 Photo #3 was taken while returning from the Beaton Trail Look-Off; it shows in the much less direct sun of the later afternoon the right portion of the area seen in photo #2 and the coastal area further to the west; Beaton Point is at the far right in the middle ground and Black Point is at the far right at the edge of St Georges Bay. The mainland extends across the right third of the photo, the narrow grey band above the waters of St Georges Bay and below the skies, but Cape George is outside the scope of the photo at the far right. The lovely folds and slopes and valleys of these beautiful highlands just delight the eye!