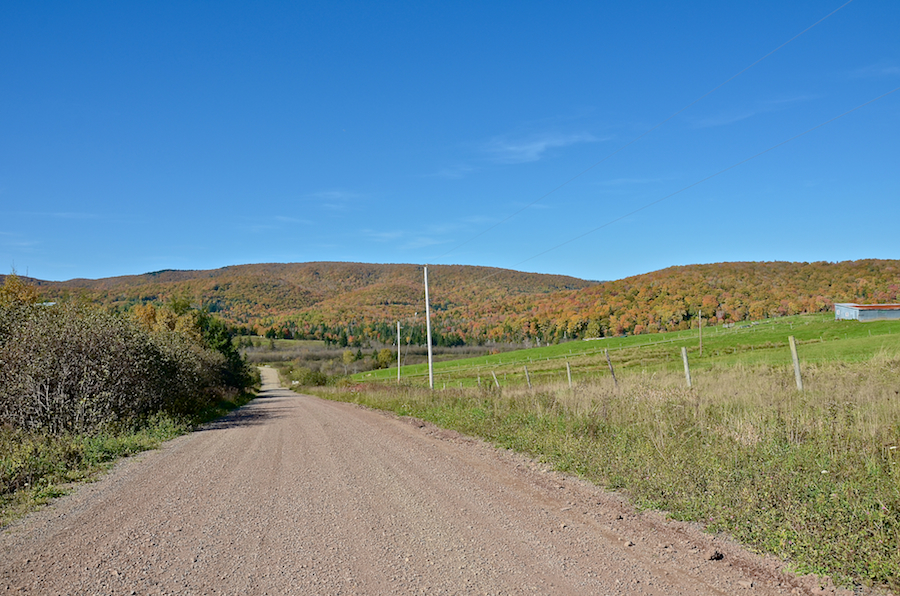 From my previous stop, I continued on to the end of the Smithville Road, admiring the foliage on both sides of the road. I turned left onto the Blackstone Road and stopped beside the Moloney farm shortly thereafter; it is on the side of a hill descending to the Black River and offers a good view of Cape Mabou further to the north than that in the last photo on the previous page. The photos on this page were taken from there.
Photo #1 looks straight down the hill, a bit north of west, towards Cape Mabou on the far side of the Cèilidh Trail (Highway 19), which passes behind the ridge at the far right. That ridge, which I have dubbed the "Black River Ridge" is not part of Cape Mabou, but rises above and is parallel to the Black River (whose source is on the side of Cape Mabou to the west of Riverville outside the scope of this photo) for a good portion of its course to Lake Ainslie near MacCormicks Corner south of Strathlorne; anyone who has hiked the Railway Trail from the Blackstone Road to the West Lake Ainslie Road will have seen it looming above the trail for much of that hike. Behind that ridge, the Cèilidh Trail rises from the Blackstone Road junction in Riverville to dip down and around the hill (a curve I call "Panic Corner" in memory of my first much-too-fast drive around it) and back up the other side, to arrive at the Glenora Inn and Distillery in Glenville, whose distillery tours and free afternoon and evening pub entertainment by local musicians make it worth a visit.
Photo #2 is a close-up showing the Cape Mabou area left of the centre of photo #1; it gives a good impression of the state of the colours here: with lots of green showing, still well before the peak, though several trees have already lost their leaves and are standing bare. While evergreens are found, mostly at the bottom and as scattered individuals elsewhere, this is clearly a majority hardwood forest.
[continued below]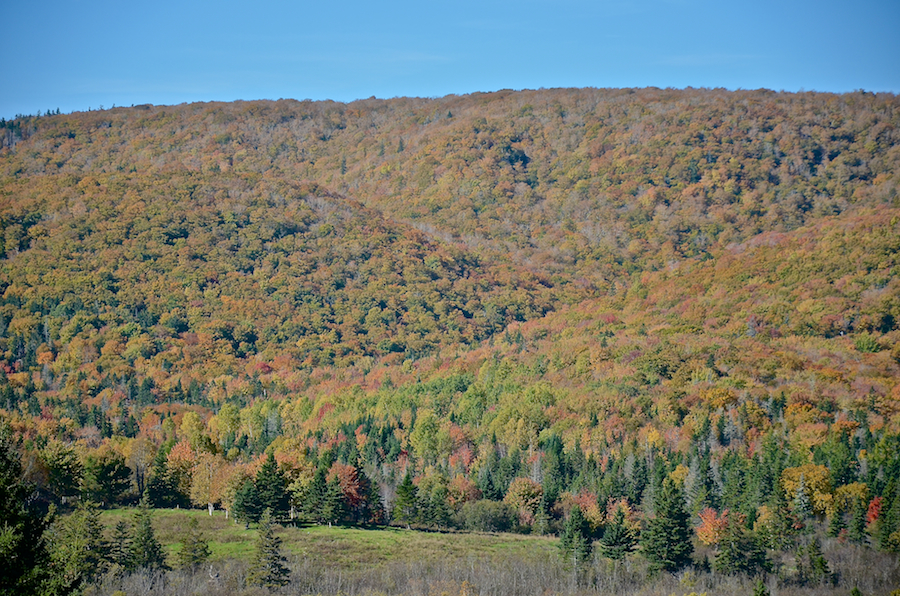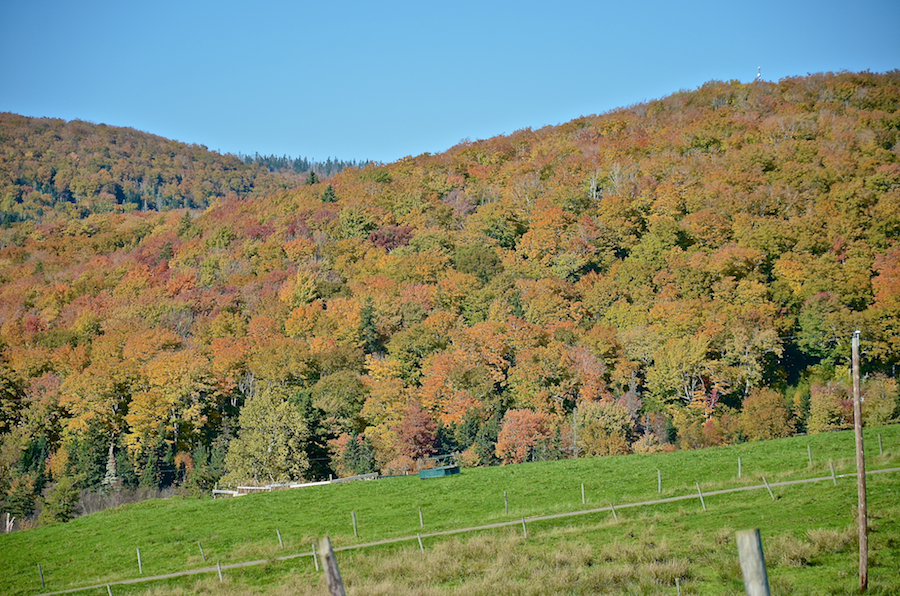 Photo #3 is a close-up of the "Black River Ridge" from the Blackstone Road; the top of a communications tower on that ridge can be seen at the upper right. The Railway Trail, hidden from view by the green field in the foreground, lies at the bottom of the hill and traverses pastures bordered by the Black River (very narrow here, barely a brook) and the ridge on its far side. Since the Railway Trail is a multi-use trail, it can be biked as well as hiked; this day would have been a perfect day for either activity, with lots of colour everywhere!