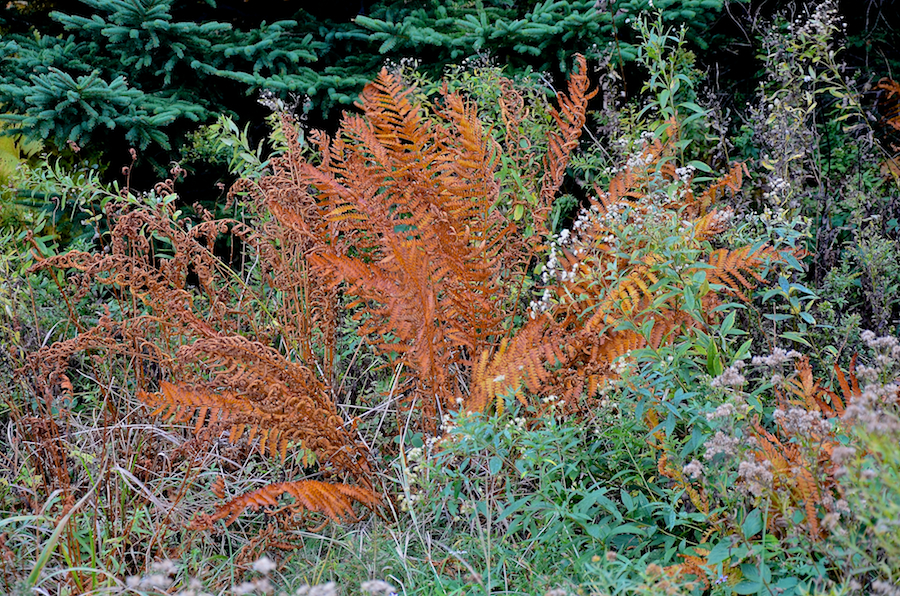 The photos on this page of the essay are shots of wild plants and flowers that I did not have room for elsewhere.
The lovely fern in photo #1 caught my eye on one of my stops on the Eastside Grand River Road; some greenish colouration still remains in the frond at the right and in some of the leaves in the centre, but most of the plant is a brilliant reddish-tinged brown.
Photo #2 is a wildflower I know as butter-and-eggs; its Latin name is Linaria vulgaris, and is also apparently known as yellow toadflax. It was at the side of the Railway Trail near the Shore Road the day I was hiking there.
[continued below]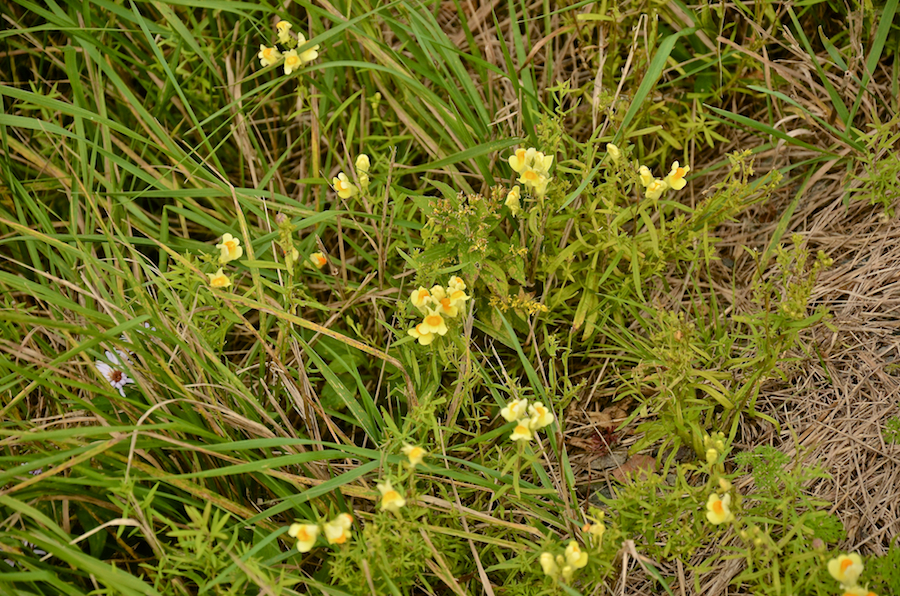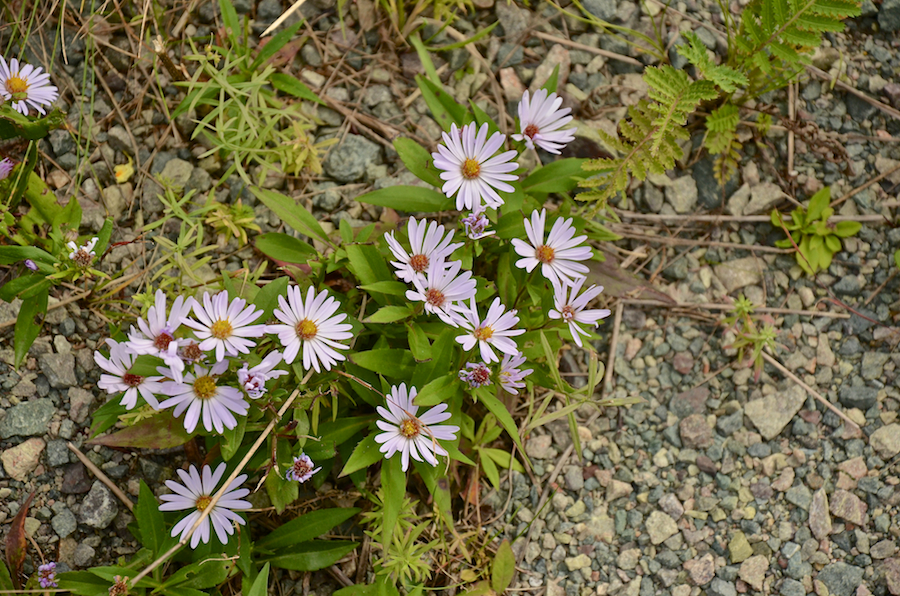 Photo #3 is a wildflower I know as the blue aster, though, in this photo, the blue is extremely pale and tinged rather towards the violet; its Latin name is Symphyotrichum ciliolatum. It was on the shoulder of the Shore Road, a bit north of the Railway Trail the day I was hiking there. This hardy plant thrives in woods and poor soils; notice all the stones on both sides of the photo that it has pushed through. A long stretch of the Mull River Road has clumps of blue asters along its shoulders, a very pretty sight in the fall.
Photo #4 is a wildflower of the aster family (often considered a weed and no more popular than the beautiful dandelion) that my flower-knowledgeable friend identified as cat's ear, a term previously unknown to me; its Latin name is Hypochaeris radicata. It looks somewhat similar to what I knew in the North Country as the Indian paint brush,¹ which came in red, yellow, and orange varieties, all often intermixed in the same stand, but these flowers are larger and taller and some have a centre very similar to a daisy, whereas the flowers I knew were usually no bigger than the end of a little finger. These flowers were in the grass below the Shore Road a bit north of the Railway Trail crossing.
[continued below]
---
¹ It appears that the term Indian paint brush designates elsewhere a totally different flower found in western North America (species Castilleja and sometimes called prairie-fire)↩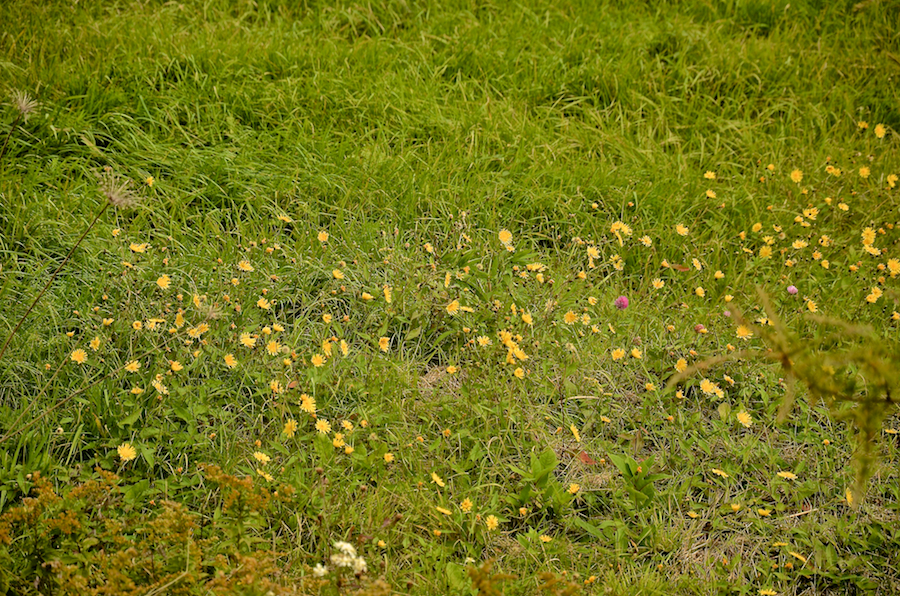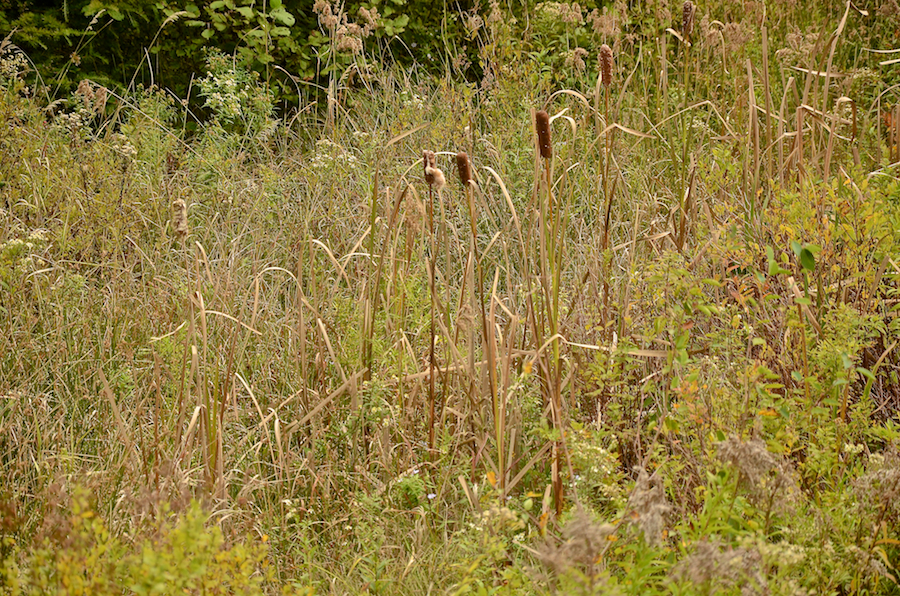 Photo #5 is of the cattails (Typha latifolia) below the Shore Road just north of the Railway Trail crossing. The head at the centre has begun to release its seeds in a fluffy mass, which has a plethora of uses for both man and beast: birds line their nests with it and people use it as tinder to start fires, for stuffing pillows, and for lining moccasins, for example. The entire plant has both culinary and medicinal uses. See the Wikipedia article for much fascinating information about this plant; recipes for stir-fry, pilaf, and soup made of cattails can be found here, part of a web site with much good information about this useful, if sometimes troublesome, plant.