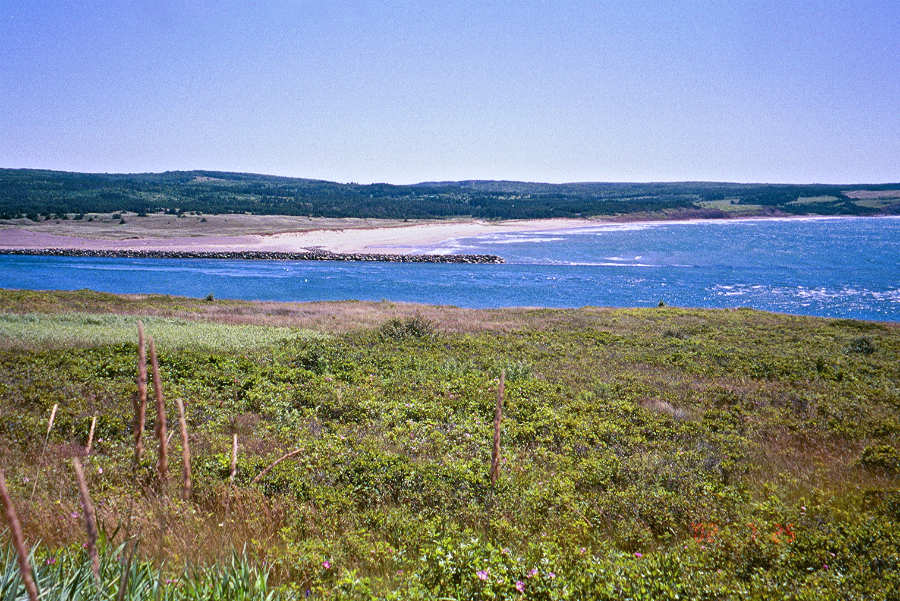 This view shows West Mabou Beach Provincial Park from the Green Point Road across the Mabou River, whose mouth lies in the middle of the photo. The breakwater is clearly visible in this photo and the sand dunes that form this edge of the park rise above the breakwater and its end of the beach.
As will be seen in subsequent photos, the park extends well past the sandy beach blazing bright in the sun in this photograph, continuing below the cliffs at the middle right of the photo, where it becomes gravelly and rocky.
Mabou Harbour Road is another gorgeous drive. It is not so high up as the Colindale Road, but it nevertheless has beautiful views of the Mabou River and the Cape Breton Highlands along its entire length. It ends just past the lighthouse at Mabou Harbour Mouth, where it becomes the gravel Green Point Road. That road comes to an abrupt end at Green Point, past the mouth of the Mabou River, where views of the park and the coast line are magnificent.