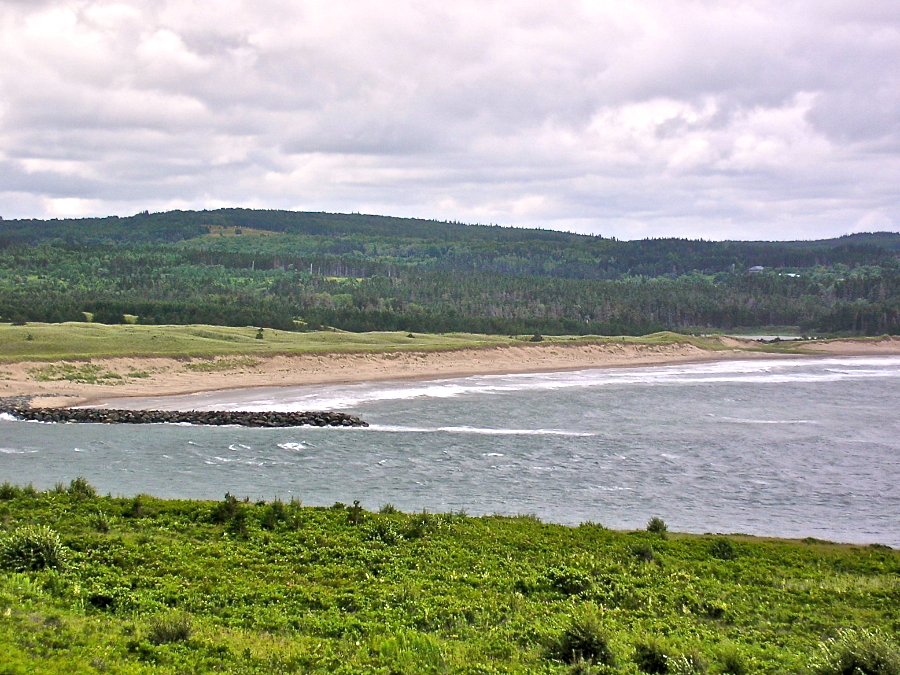 This photo of the Mabou River end of the park's coast along the Northumberland Strait demonstrates what a difference the clouds make to the colour of the water and the scene! The sand dunes in the park "are one of the most extensive of any beach in the province" according to the West Mabou Beach Provincial Park leaflet. Johnny Bans Pond can be seen at the far right of the photograph, behind the beach.
The sand dunes here show their summer green cover. The aforementioned leaflet says that "[t]he most dominant plant of the dunes is the marram grass. Care must be taken not to disturb this grass as it plays an important role in holding the sand in place, so please don't walk in the dunes or allow children to play along its edge." In addition, the sand dunes harbour nesting birds, some endangered species, another reason to avoid walking in the area.
The interpretive panel and the leaflet both forbid swimming in the Mabou River channel or near the breakwater, where the "currents can be very strong." Since the beach is well over a kilometer long, there is no reason to do so.