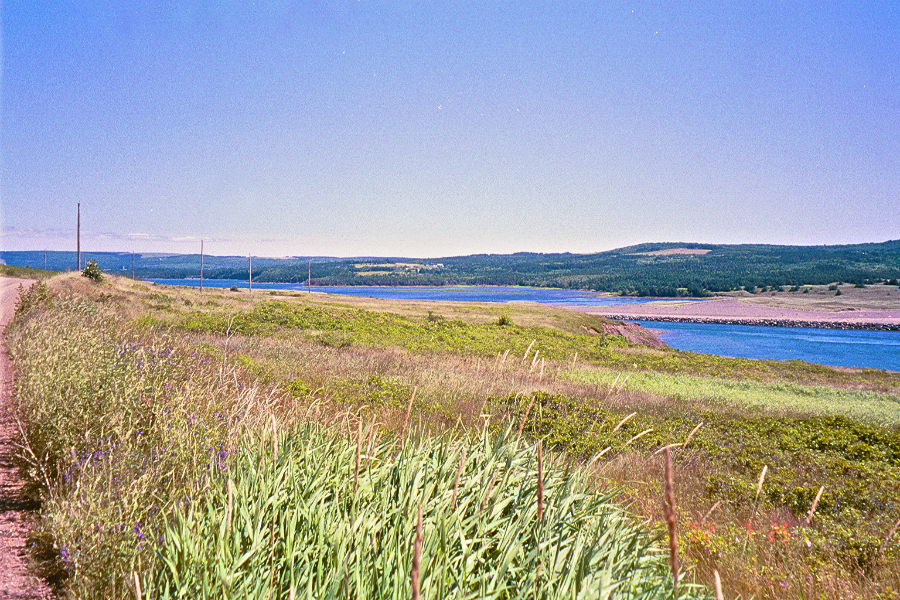 This view shows the Mabou River side of the park, from the breakwater and up the Mabou River. Mabou village lies about 9 km (5 1/2 mi.) upriver of the breakwater.
The rightmost telephone pole is superimposed on Sams Point on the other side of the river, with Whale Cove to its right. The park continues past Sams Point around Sams Cove and then back out to MacLeans Point on the main river again; it ends a couple of minutes' walk from where the New Ferry Road (off the West Mabou Road in West Mabou) reaches the river.
The area to the right of Whale Cove in this photo is woodlands and gentle hills, a cool place to be on a warm day. According to the West Mabou Beach Provincial Park leaflet, this area has a varied bird population, including "the American redstart, red winged blackbirds, grey jays, the northern flicker, the American tree sparrow, ruby crowned kinglet, partridge, the yellow warbler, crackles, and many more." I love birds, but am not knowledgeable enough to identify many of those listed here; I have definitely seen red-winged blackbirds, partridges, and jays, as well as a host of others I don't know by name. This area also holds "[b]eavers, bear, fox, coyote, deer, otter, and rabbits", though I've personally never seen any of these animals on my walks there.
I have often seen gulls, great blue herons, cormorants, ducks and other water birds as well as the occasional bald-headed eagle from along the Whale Cove shore. In addition, this area contains "marsh hawks, kingfishers, mergansers, sandpipers, […] sand lings, and possibly a loon or the elusive bittern."