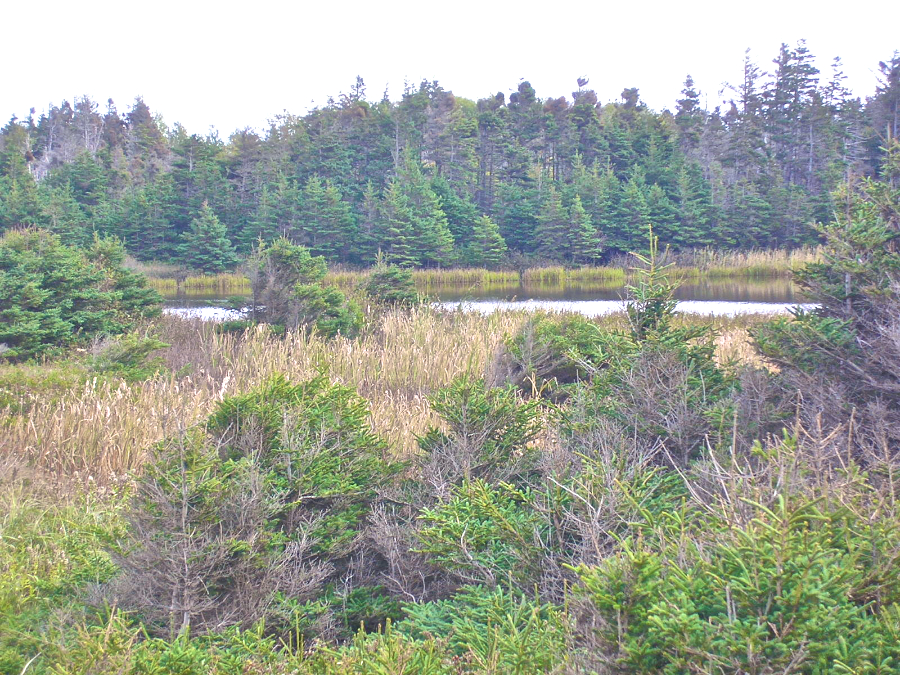 Not showing in the park map, an unnamed (perhaps unofficial, but well-used) trail leads through the trees on the right side of the beach parking lot past Johnny Bans Pond to hook up with the Old Ferry Road Trail. This photo was taken from that unnamed trail.
According to the West Mabou Beach Provincial Park leaflet, the pond was "named after one of the families that lived in the area." It also explains that "[p]ockets of gypsum occur at the surface and produce a special feature called karst topography. Rainwater dissolves the gypsum, creating openings that eventually may sink, creating depressions in the ground. Called sinkholes, these depressions may eventually fill in and become ponds. On the beach side, these are rather small but clearly evident. The Johnny Bans and Cranberry Pond were formed due to this process as well."
[2012] The unofficial path to Johnny Bans Pond remains, leading to a small wooden dock-like structure from which one has a close-up view of the pond. However, when I attempted to reach the Old Ferry Road Trail from the pond in 2008, I bushwhacked about for fifteen minutes before finally stumbling upon it; the area near the pond is, unsurprisingly, boggy and waterproof footwear is helpful in that area.