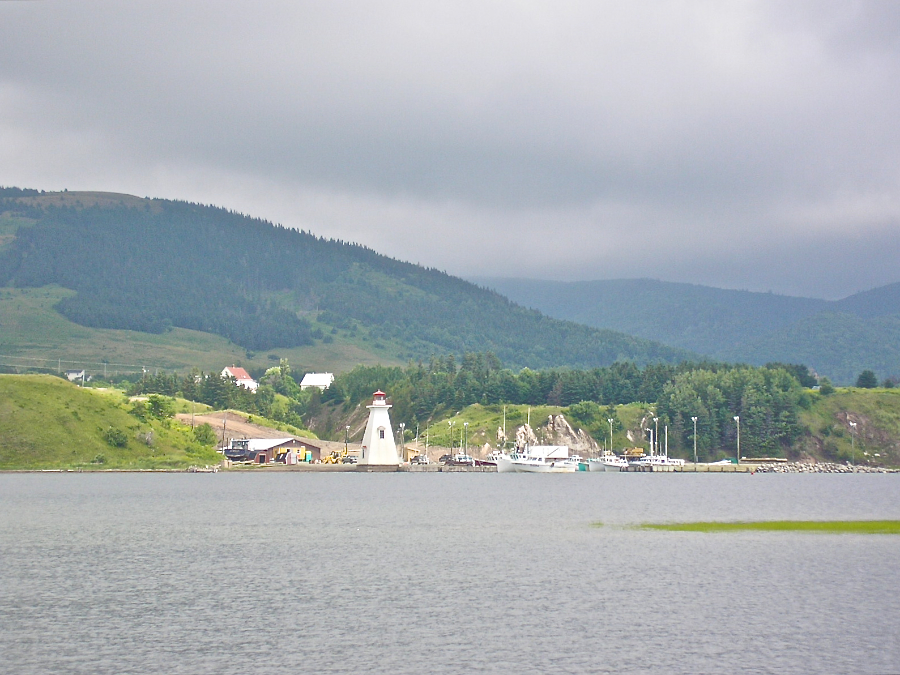 The Old Ferry Road Trail can be reached either by the aforementioned unnamed trail which starts in the beach parking lot or roughly halfway down the access road which leads to the beach parking lot, where you will see a sign for the trail on your right as you drive in from the West Mabou Road.
According to the interpretive panel in the beach parking lot, "[o]ne hundred years ago the West Mabou Beach area was a community of about one hundred residents. Prior to the construction of a causeway at Mabou, this coastal road north from Port Hood ended at a small [wharf] where a ferry service brought workers to the Lobster Cannery (built in 1880), at Mabou Harbour Mouth, churchgoers to a pioneer chapel (1823-1846) near Indian Point, or travellers upriver to the [wharf] at Mabou Village (9 km.) for goods." The Old Ferry Road Trail follows this old road; no trace of the wharf remains today.
From where it starts on the beach access road, the trail runs for 1.2 km (3/4 mi.) to its end at Whale Cove, where one finds a picnic table with this marvellous view. The Mabou River channel goes past the lighthouse at Mabou Harbour Mouth, where a newly reconstructed pier accommodates a number of the boats used by local fishermen, as well as some pleasure craft. The lighthouse is no longer in service (hardly any are); today, it is a museum that is open in the summer time with interesting exhibits that make it well worth a visit.
[2012] As previously mentioned, the southwestern entrance to the Old Ferry Trail on the beach access road was marked as closed in the fall of 2011 and the route via the unnamed trail from the beach parking area to Johnny Bans Pond required a bushwhack in 2008 to hook up with the Old Ferry Trail mid-course (I have not explored this area since then, so it may in fact be accessible via another means from the beach parking area. The view shown in the photo is certainly accessible from the upper ("river trails") parking area via the trails marked as 12 (Whale Cove Trail) and 13 (Acarsaid (Harbour) Trail) on the park map in this essay's first photo.