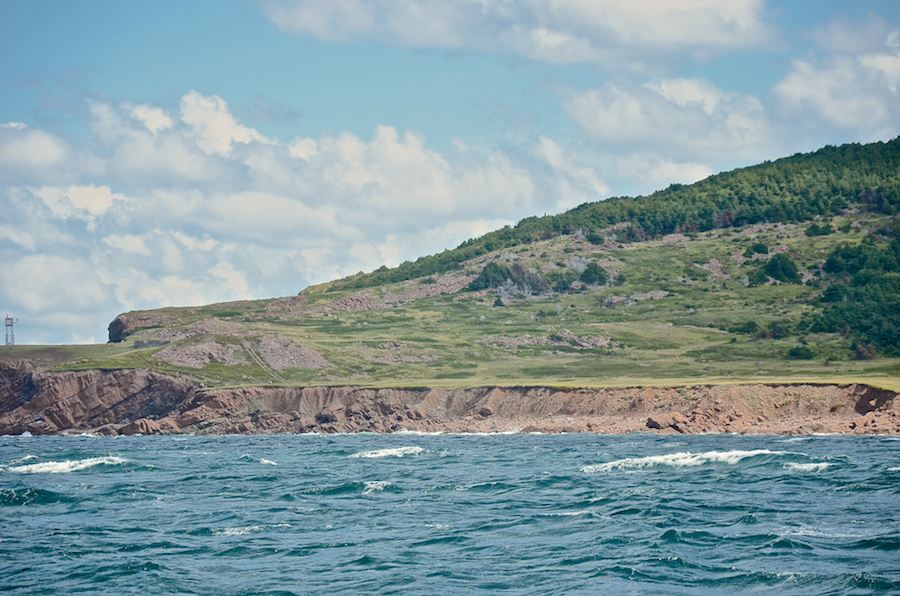 From south of the mouth of French Brook, photo #1 looks at the coast that runs from the tip of Cape St Lawrence almost to the mouth of French Brook, which is at the far right of the photo just outside its scope. As seen in the photos at the tip of Cape St Lawrence, the rocks along the shore are rather more reddish hued than it appears in the lighting of this photo. From the hillock where the automated light is located, the coast descends to a rather level plain that continues across the cliffs which line the water. According to Google Earth, this is a distance of some 300 m (1000 ft), but takes longer to hike than that distance would suggest. The next two photos show this coast from north to south.
[continued below]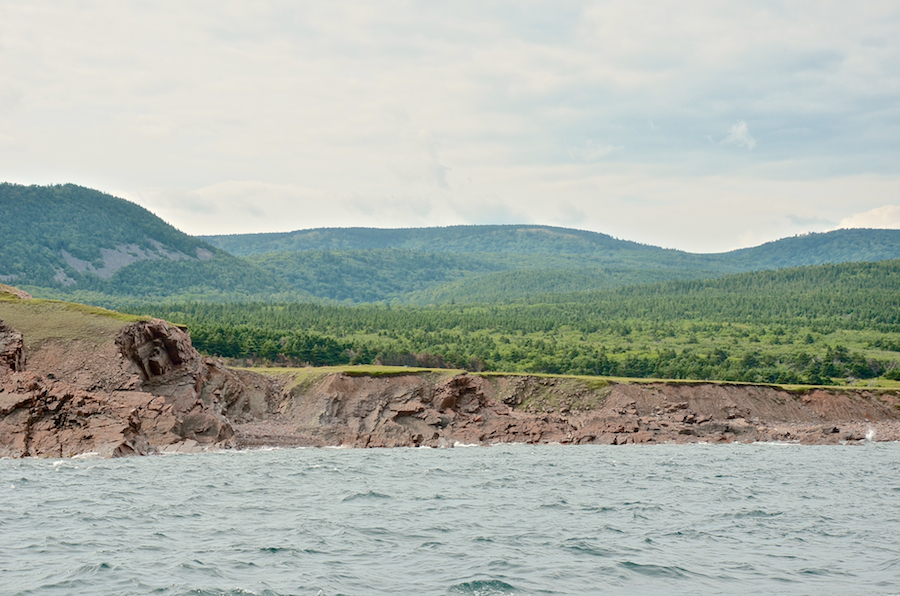 Photo #2 is a closer view of the leftmost part of the coast seen in photo #1, seen from north of the tip of Cape St Lawrence. It shows a small gravel beach below the promontory where the plain descends, as seen in photo #1. The left part of the coast in photo #2 is primarily rocky, apparently of the same material as that at the tip of the cape; further south, as better seen in photo #3, it gives way to rubble/gravel cliffs with rock-strewn gravel beaches below. The unnamed mountain with the twin peaks near Bear Hill (only one of those peaks is visible here) is at the far left and the Cape Breton Highlands rise well inland.
Taken from much the same vantage point as photo #2, photo #3 continues the view to the south; the second unnamed mountain with the twin peaks, inland of Lowland Cove, is at the right of centre in this view. The topographical map shows the 20 m (66 ft) line inland of the coast, so none of these cliffs attain that height.
[continued below]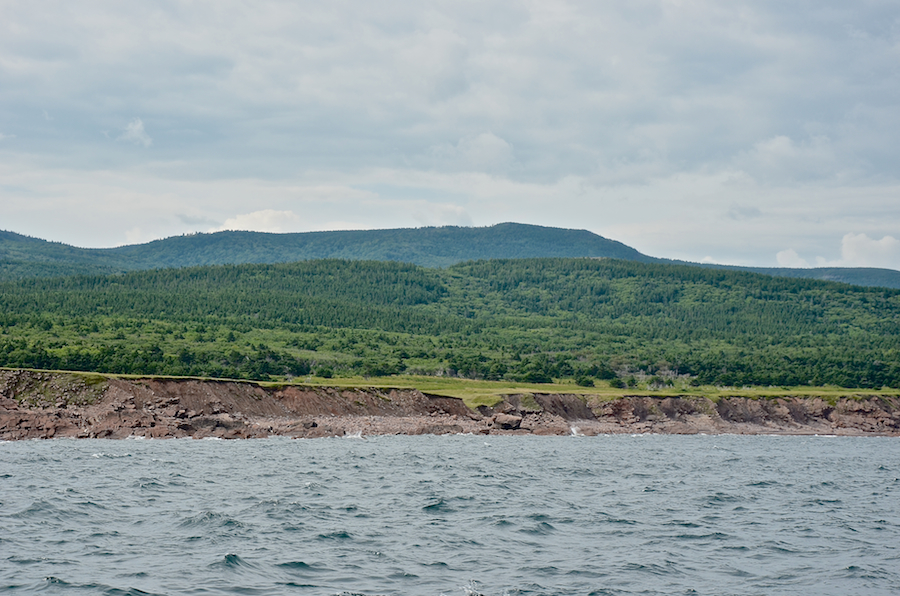 Photo #4 is a telephoto view of the transition from rock-bound cliffs at the left to the rock/gravel beach at the centre and right. It overlaps with the centre left of photo #3; the large boulder just right of centre is a good reference point for locating photo #4.
Photo #5 slightly overlaps photo #4; like it, it is a telephoto view, here showing the coast at the mouth of French Brook right of centre. Like the mouths of many of Cape Bretons streams, rocks and gravel, carried by run-off from inland and pushed up by the action of strong waves from off shore, make the actual passageway at the mouth a narrow and shallow affair (though, if the stream is at all deep, beware of very swift currents!).