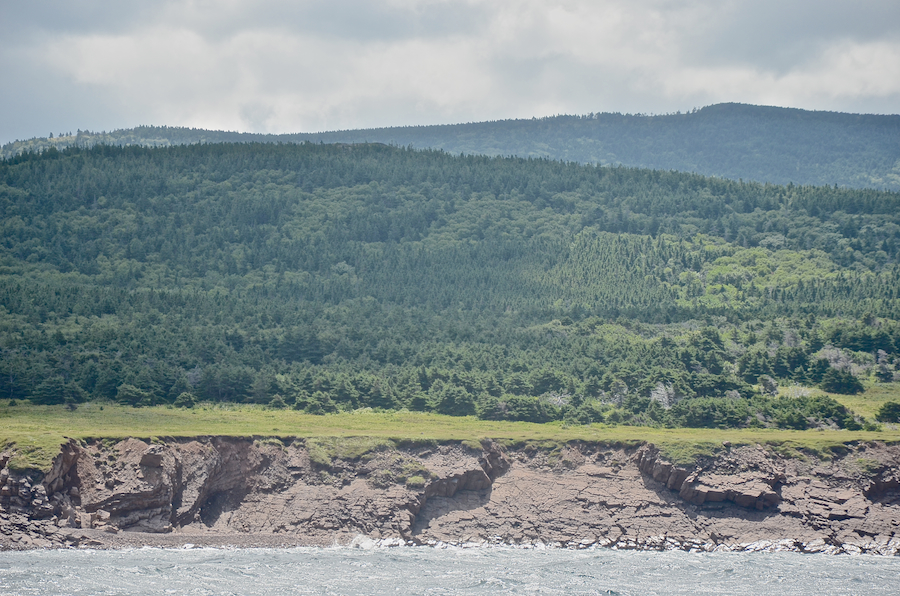 Photo #1 overlaps considerably with the last photo on the previous page and confirms the now almost entirely rock-covered cliffs; the beach, present at the left, is gone in the centre and the right. The telephoto lens makes distant objects appear much closer than they in fact are; the plain here is much wider than this view would lead one to believe (compare photo #3 from two pages previously for a much better idea of its actual width.
Photo #2 overlaps considerably with photo #1, but brings into full view the twin peaks of the unnamed mountain inland of Lowland Cove. Here, any beach has completely disappeared. While most of the forest above the plain is formed of evergreens with darker hues, there is a pocket of deciduous trees seen left of centre and scattered smaller groups elsewhere, a distribution consistent with most of the inland forest from Cape St Lawrence to the Fox Den.
[continued below]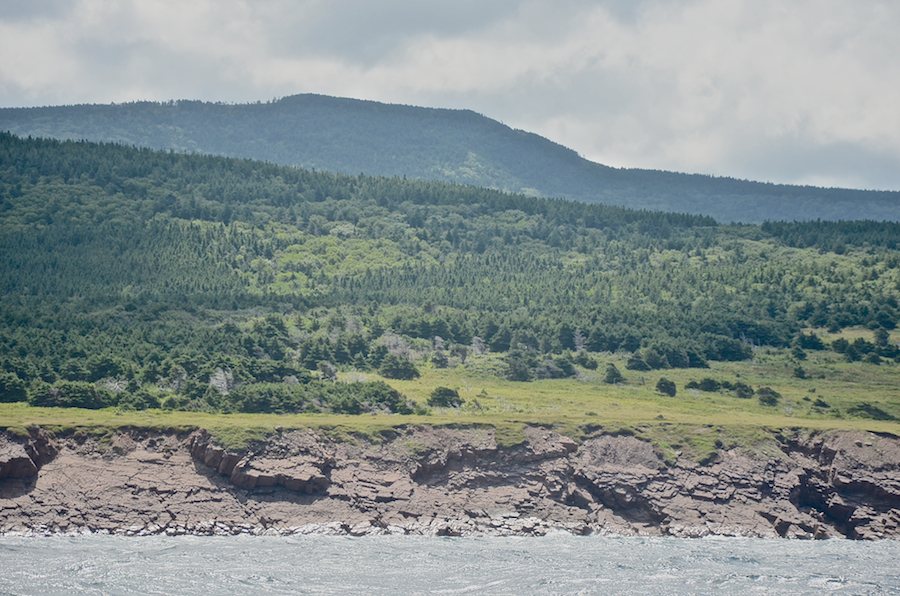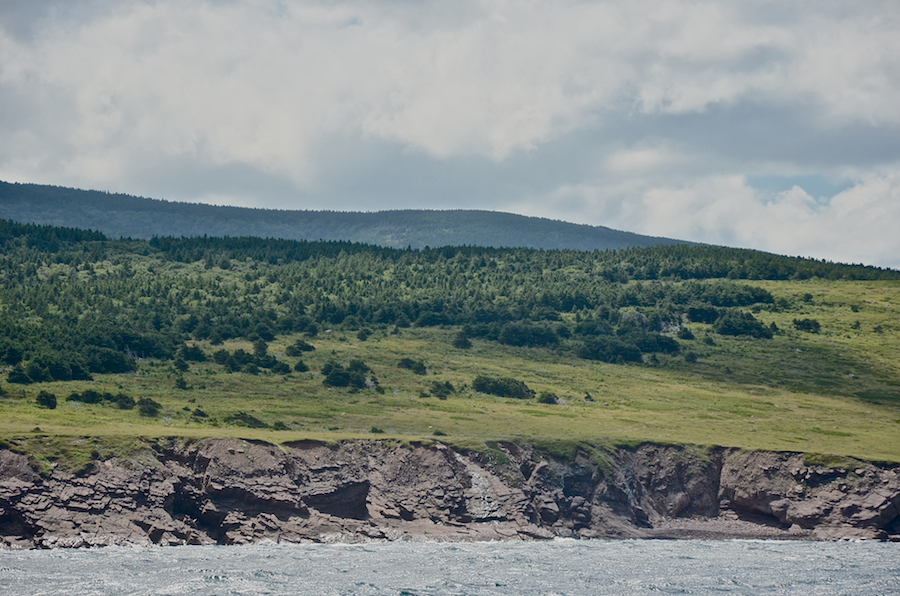 Photo #3 shows water trickling down the sloping rock face in the centre, to the right of which a sand/gravel/dirt cliff face with beach below interrupts the rocky cliffs at the left.
Photo #4, which considerably overlaps photo #3, shows the return of the rocky cliffs, but, in the case of the cliff at the centre of the photo, with a small beach below. Here, the coastal plain significantly widens out on the north side of the Fox Den, which is at the far right of this photo, and gains height as it moves inland.
[continued below]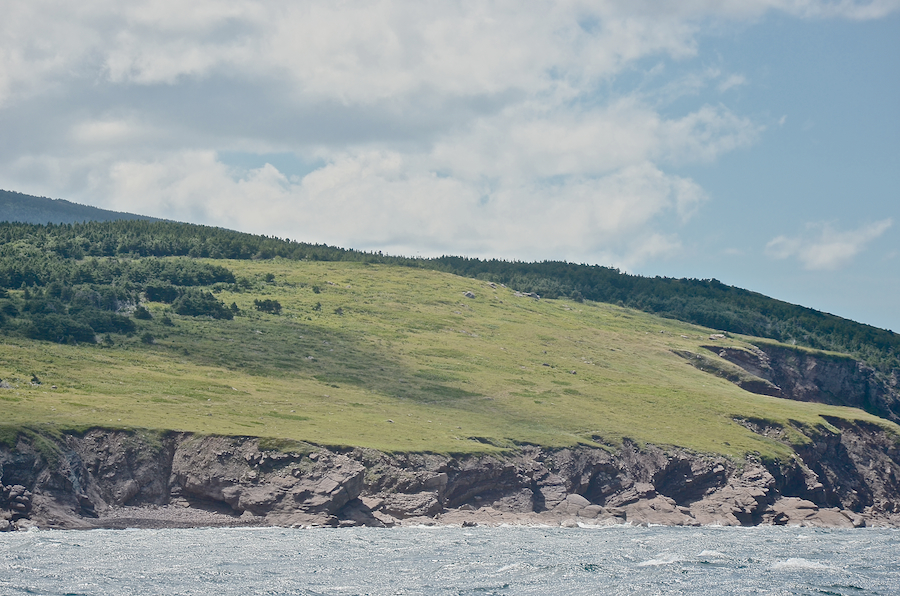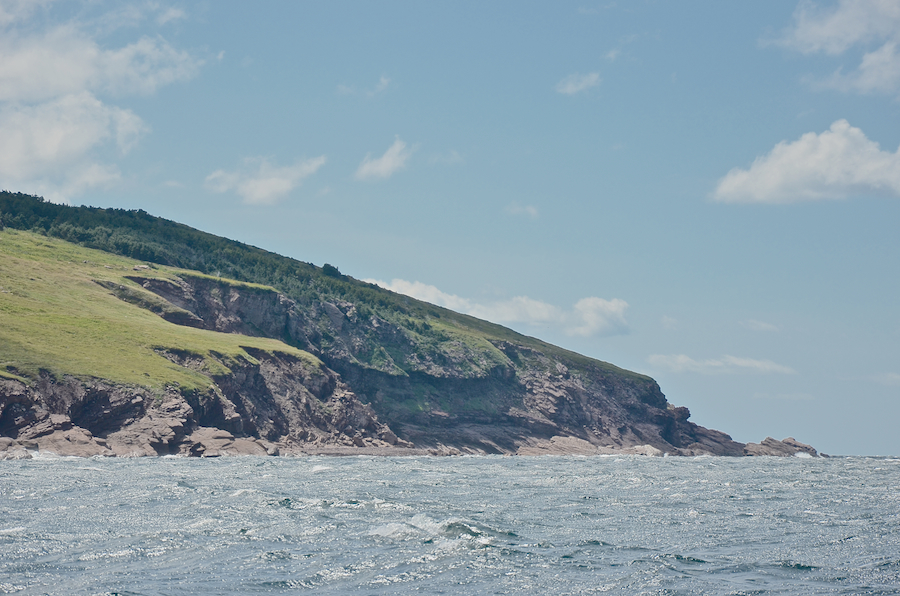 Photo #5 looks at the Fox Den, which Haynes describes as "a rocky, cliff-lined gorge" [p. 86], and past it to the unnamed point which juts out just past that gorge on its south side; given its distinctive profile from the water, it merits a name, so, for convenience, I shall refer to it here as "Fox Den Point" since it is just south of the Fox Den. As one approaches the Fox Den, the terrain also rises in height, even close to the shore.