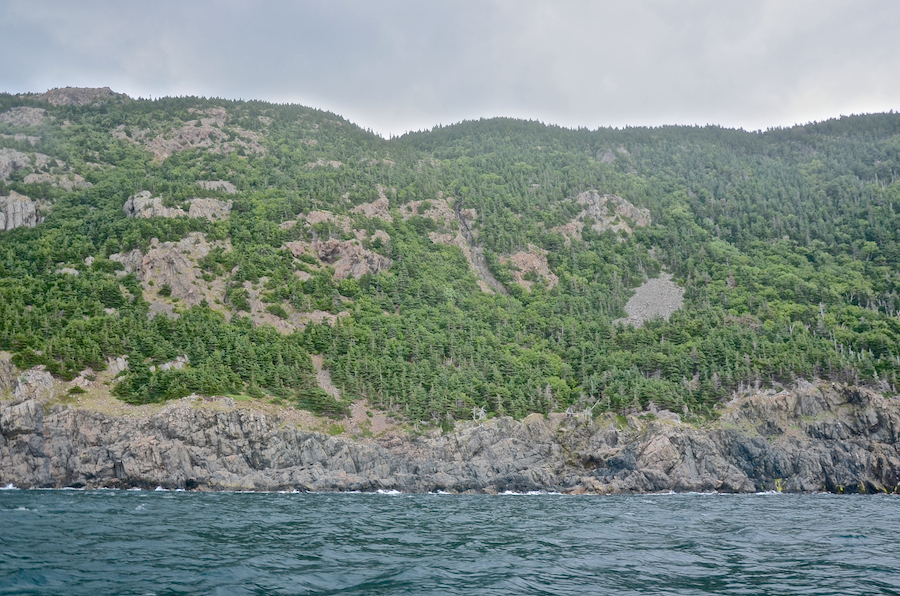 Photo #1 is another photo of the area to the south of the "tiara", overlapping with photo #3 on the previous page and continuing further to the south past the unnamed brook which enters the Gulf near the centre of the photo. At the right of the photo is a large oval pile of dirt/gravel/rubble similar to the even larger such piles seen previously on the flanks of Bear Hill and those of the mountains on either side of Sailor Brook. This oval serves as an excellent marker; it will be seen in subsequent photos of this coast, where I'll refer to it as the "oval" for convenience.
Photo #2 looks further south along this coast where, at the far right, a knob draws one's eyes. This knob, which does not stand out in the same way when one is closer to it, is found where the topographical map places the label "High Capes". Alas, this photo is spoilt by haze along the upper part of the mountainside, but the cliffs along the shore are not so obscured and stand out above the by now quite grey waters (the squall was getting closer) and below the darker greens of the forest. As best as I can tell under magnification, the vertical white stripes seen in the rocks right of centre are not running water; they instead seem to be an extrusion of some lighter coloured material in the rocks, such as those seen on the northern coast near the "arch". The boat we were in did not cause the waves seen breaking along the shore here, as we were still north of the mouth of the unnamed brook when this photo was taken; the freshening winds were the culprit.
[continued below]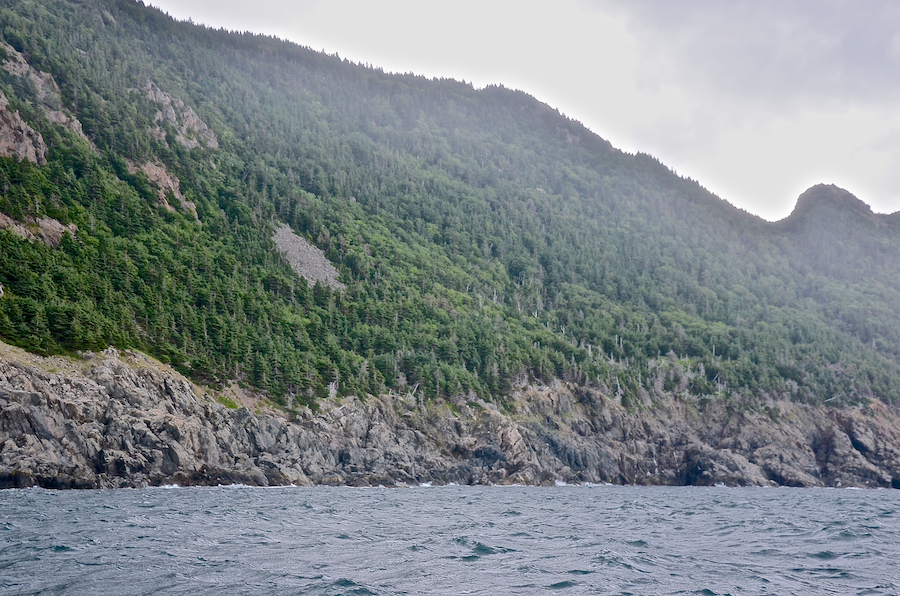 Photo #3, taken from off the knob, looks back along the shore. The "tiara" is at the upper middle right of the photo and the rock cliffs interspersed among the trees typify this part of the coast. The red rocks at the right below the water are a departure from the greyer rocks further north; they will be seen again in better detail on the next page.
Photo #4, taken from well south of the knob when there was better lighting on the return trip, shows the shore line stretching all the way back to Tittle Point, at the far left; Lowland Point is the second furthest point and the point to its right is south of the mouth of Sailor Brook. The brighter sun has somewhat bleached the rocks at the far right of their reddish hues, but some reddish colouration remains nevertheless. What a fascinating coast!