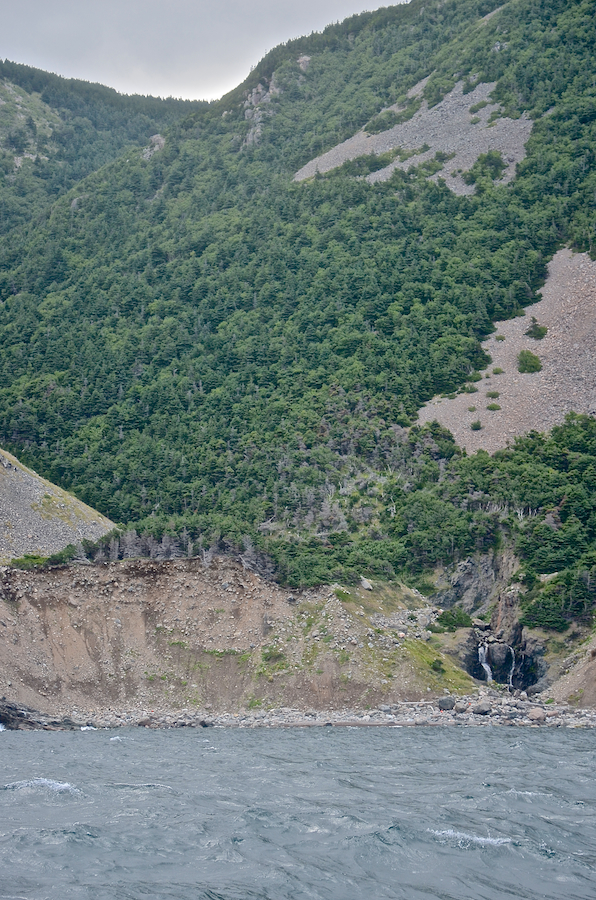 Photo #1, a moderately wide-angled view, shows the mouth of the Upper Delaneys Brook at the far right, with a stony rocky beach below a high¹ sand/gravel cliff to the north (left). The twin waterfalls are seen a short distance inland at the far right. The best view of the Upper Delaneys Brook valley I have is photo #4 on the previous page, so I will refer you to it for another look rather than including a near duplicate here, although the part of the valley closest to the Gulf can be seen in this photo as well. The Upper Delaneys Brook valley is squeezed between the "Between-the-Delaneys Mountain" on the north and the mountain whose sides are seen here on the south; it turns to the southeast and continues inland behind the slope at the right. Its source is the outflow of three ponds and other bogs well inland on the Cape Breton Highlands Plateau and well to the south of the source of Lower Delaneys Brook.
Photo #2 is a telephoto view of the waterfalls from north of the mouth of Upper Delaneys Brook. This brook, considering the dry summer, is well fed indeed, supporting two good streams of water. From the rocks and rubble at the left above the falls, it looks as if this brook may overflow its banks and take an alternative route to the beach below: the numerous rocks and boulders look very much like a currently dry creek bed and the boulders on the beach likely were pushed down there from the left. If you have very sharp eyes, you may see two dots of red on the beach: magnification shows that these are floats from lobster traps that have washed ashore.
[continued below]
---
¹ The full-grown evergreens at the top of the cliff can be used to estimate the height of this cliff.↩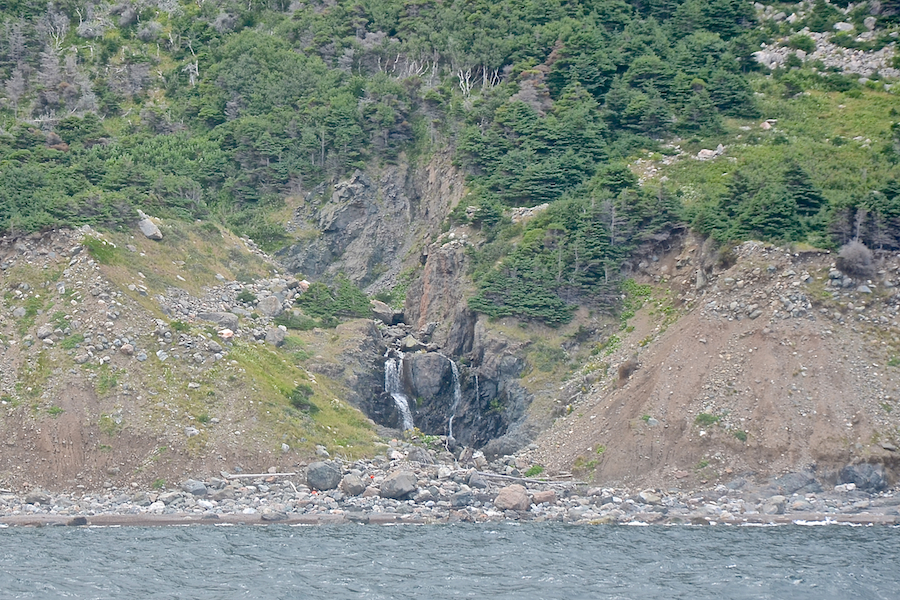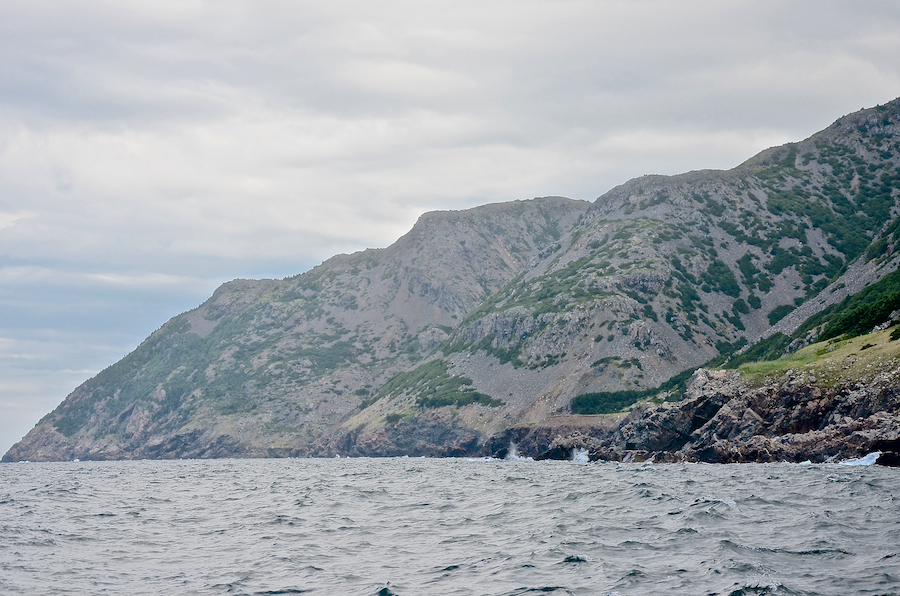 Photo #3 is a moderately wide-angled look towards the north from off Delaneys Point. Here the mouth of Upper Delaneys Brook and its falls are hidden by the terrain to the south, but its valley can be made out at the right to the south of "Between-the-Delaneys" Mountain at the centre. "Big Head Mountain" is left of centre and the view extends past "Between-the-Brooks Mountain" to the "knuckles" beyond. Splashes, only some of which were caused by the boat, can be seen all along the shore, some pushed by the winds to a great height. What an amazing view!