MacDonalds Glen is on the western coast of Cape Mabou near and at the end of the Mabou Mines Road, north of the Finlay Point Harbour Road. The Mabou Post Road Trail Head in the Cape Mabou Trail Club system is at the end of this road, below Cnoc Aitein (Sandy's Hill). I paid a farewell visit to this lovely place earlier in the afternoon, when the clouds were still nearly monolithic overhead. I am surprised the photos I got there are as good as they are, though I regret they fail to glow under the sun as those taken later that day do.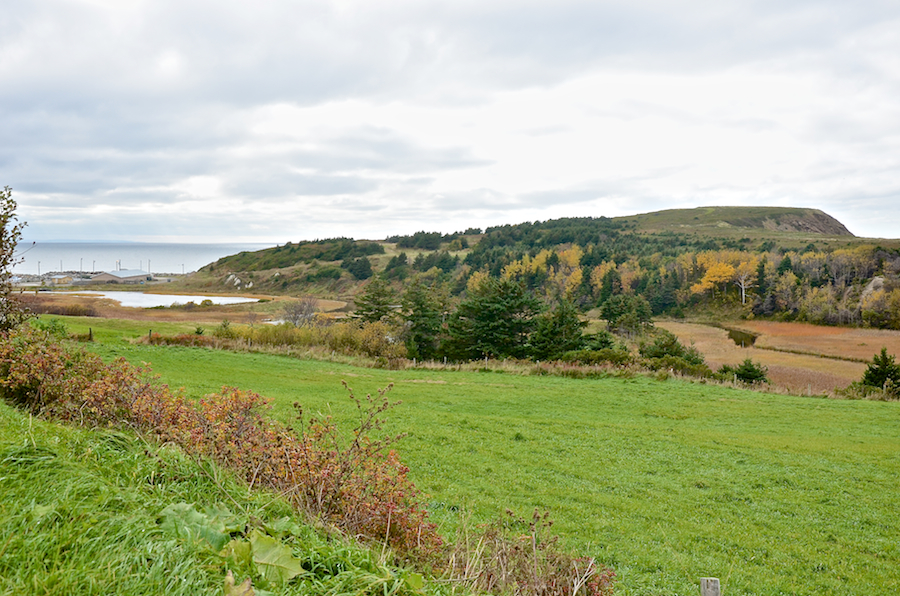 Taken a bit north of the large barn beside the road, photo #1 is a wide angled view of Finlay Point, which spans most of the photo, and Finlay Point Harbour at the left. At the far left and low to the horizon, one can barely make out Cape George on the mainland at the western end of St Georges Bay. The stream at the right is Mill Brook, whose mouth is the site of Finlay Point Harbour: a bridge on the Finlay Point Harbour Road (at the far right and out of the scope of this photo) crosses Mill Brook just before it flows out into the Gulf; as can be seen, the mouth is an estuary. Most of the trees along the Gulf are evergreens, but a few deciduous trees hide behind the cliffs running north from Finlay Point and they are seen here to still be in colour, though not very vibrant.
Taken from the same spot as photo #1, photo #2 focusses in on Mill Brook and the surrounding colourful grasses, brighter even than the leaves on the trees. Mill Brook rises in the Cape Mabou Highlands in the bogs south of the Community Pastures and receives the outflow of the MacIsaacs Glen Brook and the MacDonalds Glen Brook on its course to Finlay Point Harbour.
[continued below]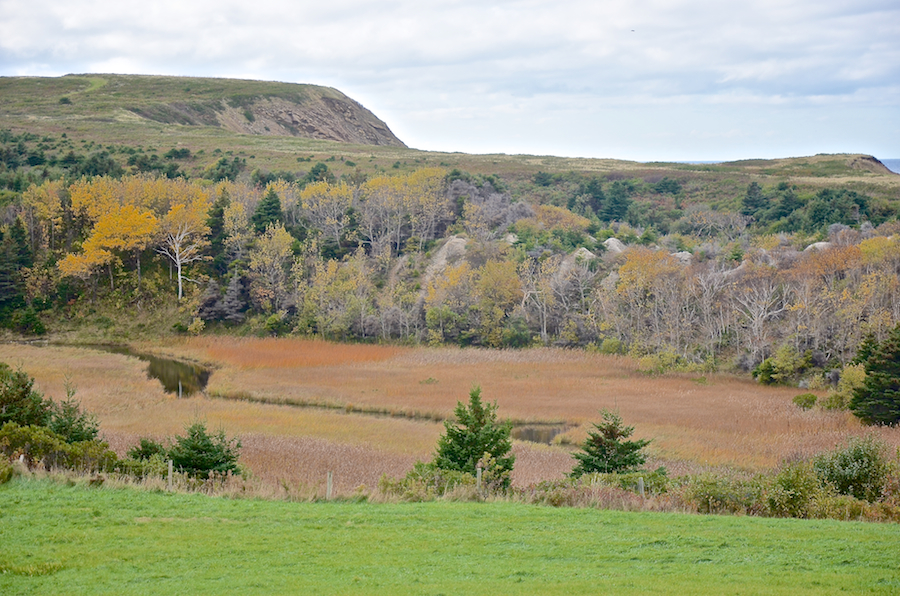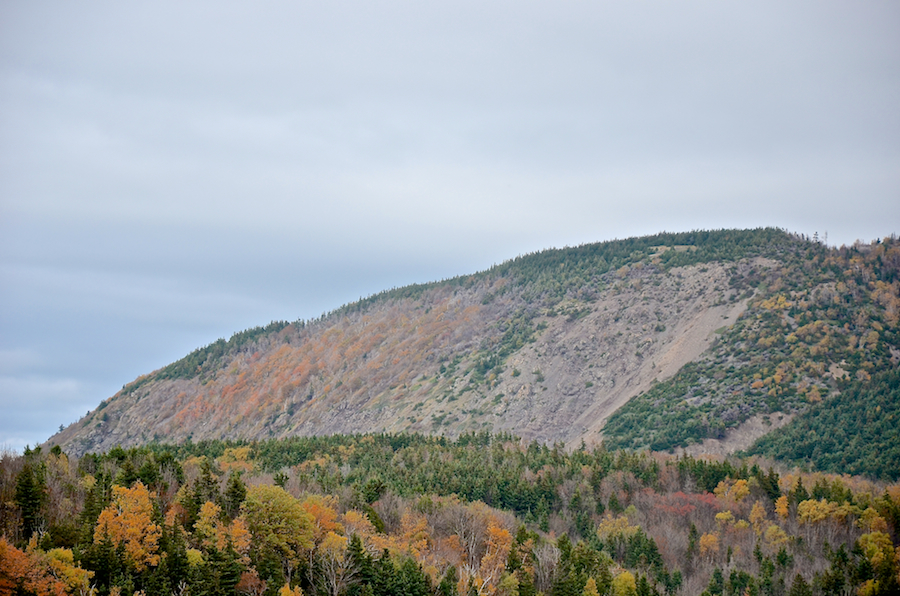 Photo #3 looks north at Beinn Alasdair Bhain (Fair Alistair's Mountain) from the same place as the two previous photos. I was somewhat surprised to see colour on the flanks of the mountain left of centre: my general impression had been that the mountainside terrain was inhospitable to most vegetation, but this photo clearly shows a sizeable stand of rust-hued deciduous trees, many of them now bare, descending across the slopes of Fair Alistair. In spite of the poor light, the deciduous trees in the foreground, across Mill Brook, are more colourful than those seen further south.
Photo #4 looks northwestwards across Mill Brook at the Gulf coast and the hillocks sitting on the cliffs, here fairly low, that border it at MacDonalds Glen. The greens of the grass in the foreground contrast rather nicely with the rusts and rose-tinted brush along either side of the brook, making for a fine fall coastal scene.