Due to the construction of a wind turbine tower on the south edge of the Community Pastures on Cape Mabou, the Glenora Falls Road was significantly improved and widened in 2013, especially along its upper course where it reaches the Cape Mabou plateau at its northwestern end. It is a pretty drive in any season, as it winds through the Cape Mabou Highlands to the summit, though without any real vistas other than at its southeastern end. After leaving Northeast Mabou, I drove down the Glenora Falls Road a short distance and got the views seen on this page.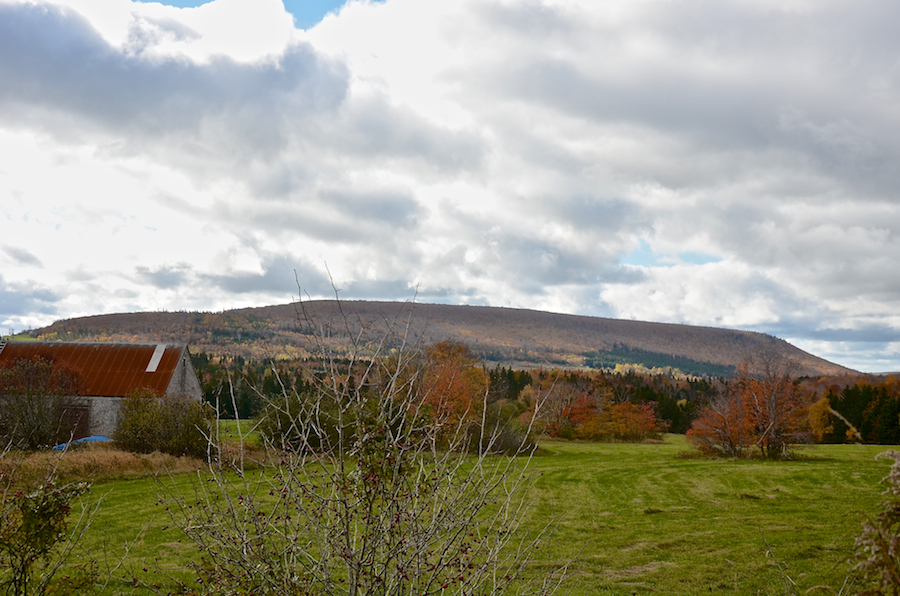 Photo #1 shows Hawleys Hill at the far left of the photo with the northern slopes of Mabou Mountain (much less familiar than the far more common views of its south side) spreading across the rest of the photo. Magnification reveals many of the trees to already be bare and most of the rest of much the same hue as those on Cape Mabou seen in Northeast Mabou, accounting for the mountain's generally dull dark hues. In the sporadic light of this day, some pockets of colour can be made out, most notably the bright yellows below the great stand of evergreens in the right of centre.
Photo #2 shows two of the "knobs" at the base of Cape Mabou along the Glenora Falls Road. The nearer, and lower, rises above the Northeast Mabou River and its falls for which this locality is named; the one in the centre is more distant, further along the Glenora Falls Road, seen in the right foreground. Many of the deciduous trees on the nearer "knob" are already bare, even at this relatively low height, though others range from green to yellow to orange; in better light, they would stand out considerably better. The further "knob", however, doesn't appear to have much colour at all, with most of its trees bare and the rest with only a smattering of leaves left.