From the Glenora Falls Road, I continued on the Cèilidh Trail (Highway 19) to the Blackstone Road, which I took to the north end of the Smithville Road, onto which I turned. This road is one of the best ways to see most of the eastern flanks of Cape Mabou, with several vantage points offering superb views. Alas, this day, Cape Mabou continued to display dull colours, so I didn't stop for the usual photos until my eye was taken by brighter colours than I'd seen since Northeast Mabou. On earlier drives of this road, the colours on the hills to the east of Smithville Road were brighter than those elsewhere, but, since it was still early days then, I regrettably didn't stop for photos then; in hindsight, I should have done whilst I had the opportunity, as they were gone this day as well.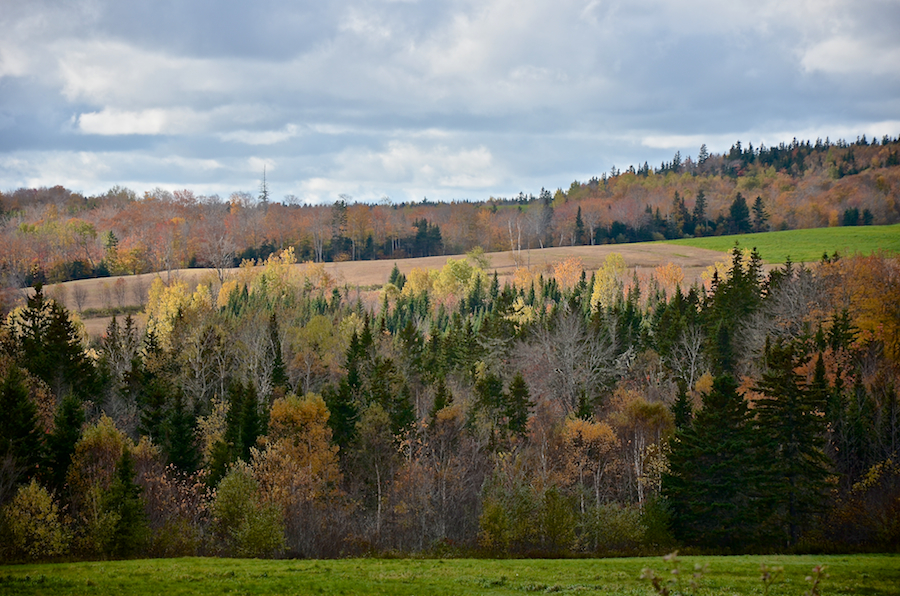 Photo #1 looks across Glendyer Brook towards Hawleys Hill, where some bright yellows can be seen on the far side of the brook (the Railway Trail parallels the brook, so this would have been a good day to see the trees from the trail). But again, the great bulk of the trees are bare or nearly so, well past the peak of colours.
Photo #2 looks on the near side of the brook at another stand of bright trees, halfway between green and gold; even in the absence of direct sunlight, they stand out beautifully against their surroundings.
[continued below]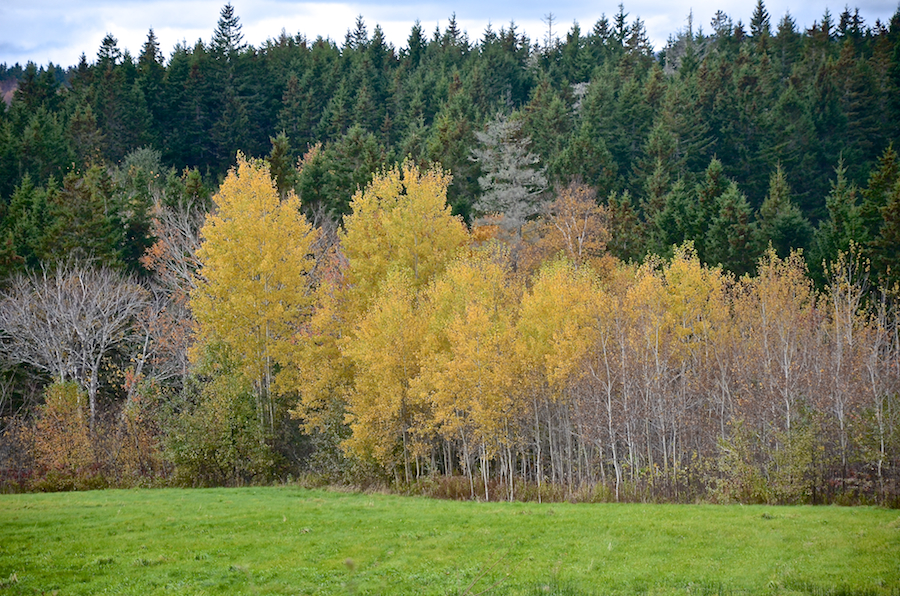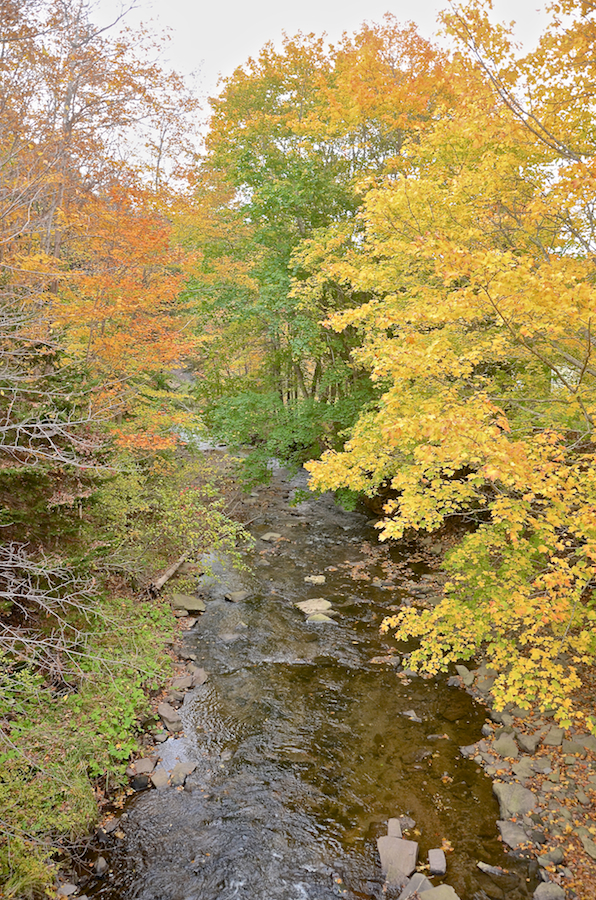 Photo #3 was taken from the bridge over Glendyer Brook on the Smithville Road, looking east along the brook. This is a relatively protected glen, surrounded by higher land, so here the leaves are not so far along; lots of greens remain in the centre, though they are rapidly changing in the upper branches, and elsewhere the oranges and yellows are still well intermixed with green leaves.
Photo #4 looks a bit to the right of the previous photo (compare the placement of the stones in the brook with those in photo #3) with a longer focal length at the beautiful orange leaves. Even without direct sunlight, they sparkle, as if proud of their transient beauty!
[continued below]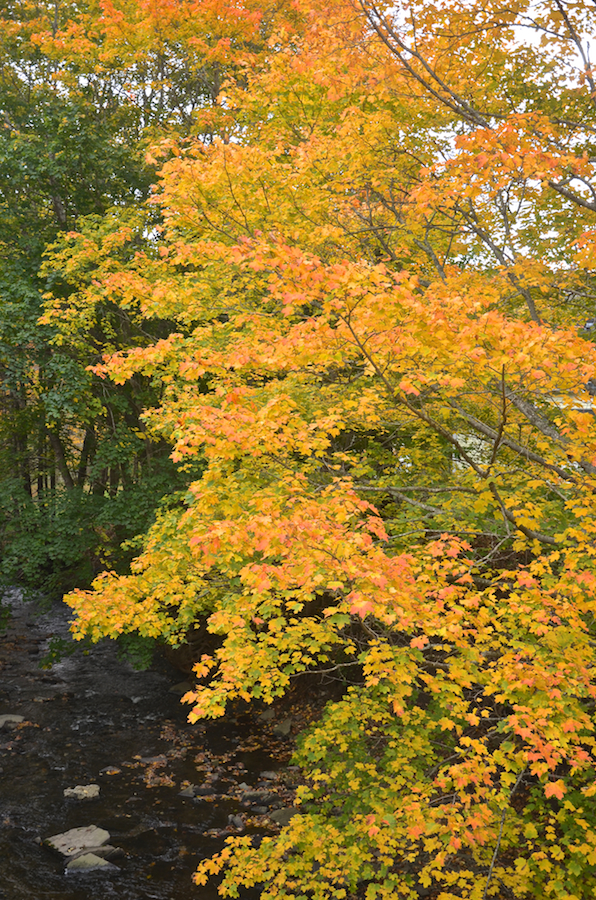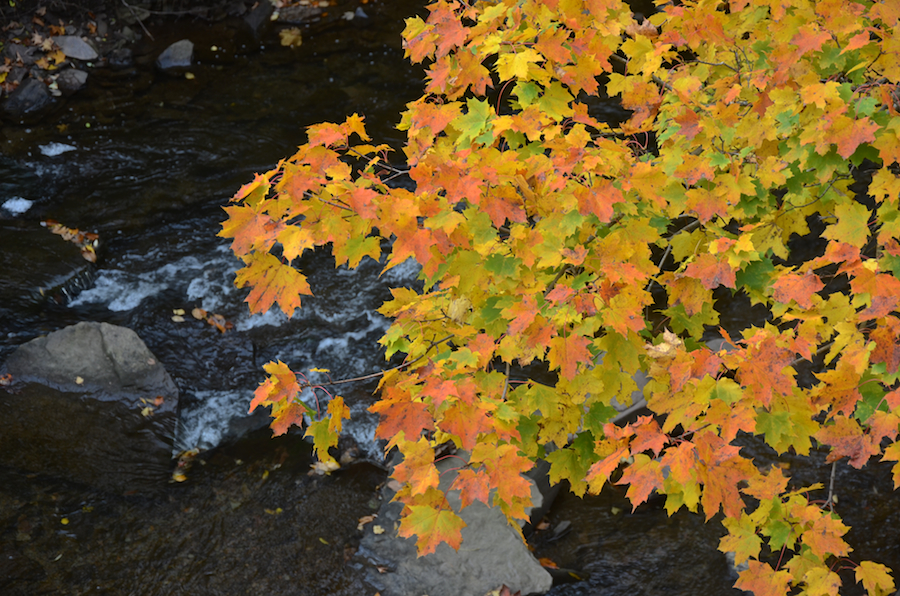 Photo #5 is a close-up of a portion of a branch extending out over the brook, where the green leaves still predominate over the changing oranges and yellows.