Cleared off during the resurfacing of Highway 252 a few years ago, the Mull River Look-Off has somewhat grown over again, making it a bit hard to identify; when, proceeding towards Brook Village, you reach Smith Lane, slow down to a crawl and look for a wide space on the right side of the road on which to park. You will either be there or close. The look-off is on the side of the canyon carved by the Mull River (as the upper course of the Mabou River is known) and offers fine views of the river at your feet and of Mabou Mountain across the alluvial plain.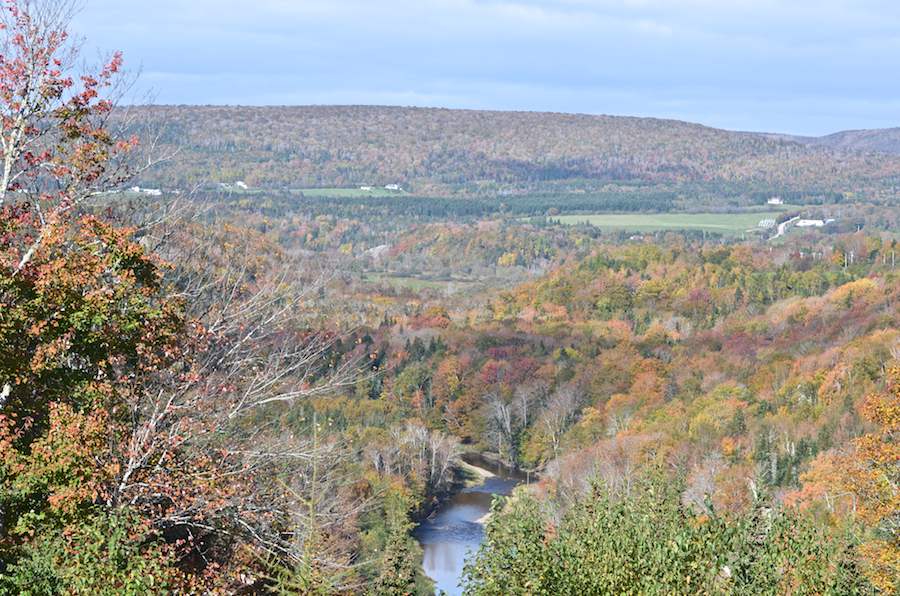 Taken on the second day of the festival, the view from the Mull River Look-Off in photo #1 shows the state of the foliage near the Mull River and also on Mabou Mountain across the valley, where many of the trees are already bare. The road at the far right is Murphys Hill Road, which ascends from the Smithville Road in Glendyer to Hawleys Hill; it offers fine views of Rankinville and Hillsboro when descending from Hawleys Hill.
Photo #2 is a closer look at the Mull River below and the trees along its course, which are mostly greens and oranges with some very dark reds in the crowns of several trees, most likely a mix of green and red in the leaves during their initial changes.
[continued below]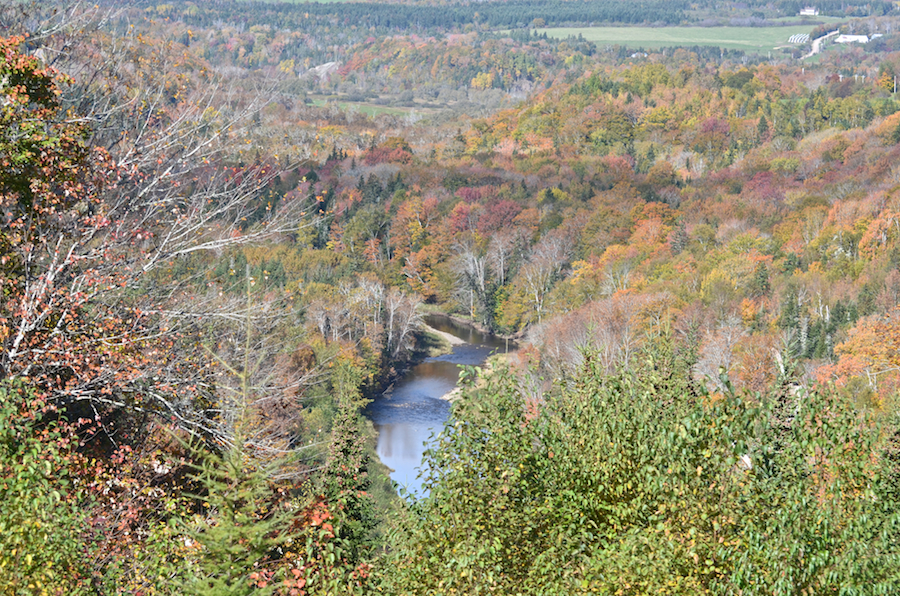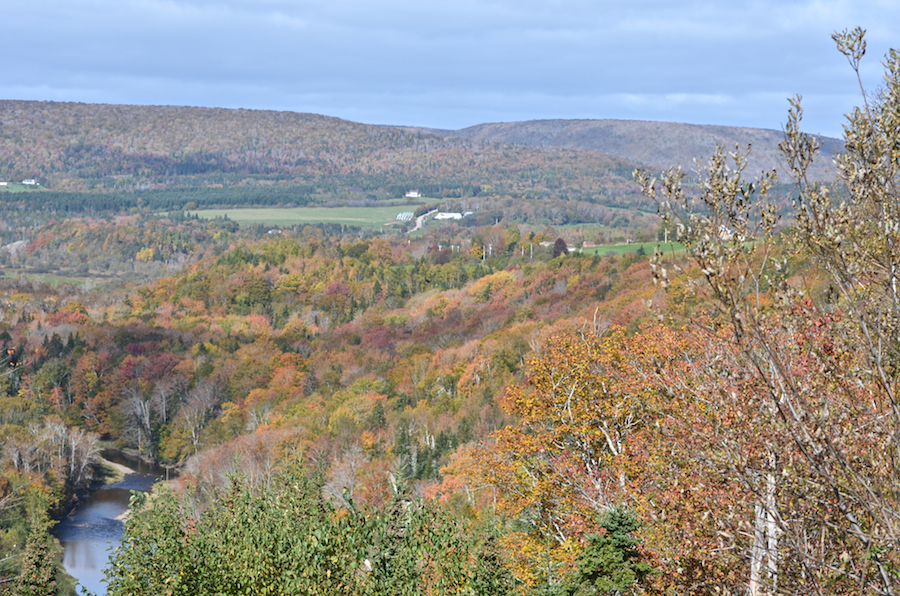 Photo #3 looks off to the right at the end of Mabou Mountain, whose diagonal descending slope crosses the centre of the photo to the Cape Mabou Highlands behind. Although the skies were grey and did not well light the terrain, the dull greys on the Highlands suggest a lot of bare trees, confirmed by looking at the photo under magnification. The curve at the far left is Highway 252 as it follows the Mabou River beyond Glendyer Station.
Photo #4 is a telephoto view of the Mull River as it runs south towards Murrays Bridge. Big Bertha did a fine job of capturing the ripples in the water and the placid pools that alternate along the Mull River. This close-up also reveals a number of bare or mostly-bare trees.
[continued below]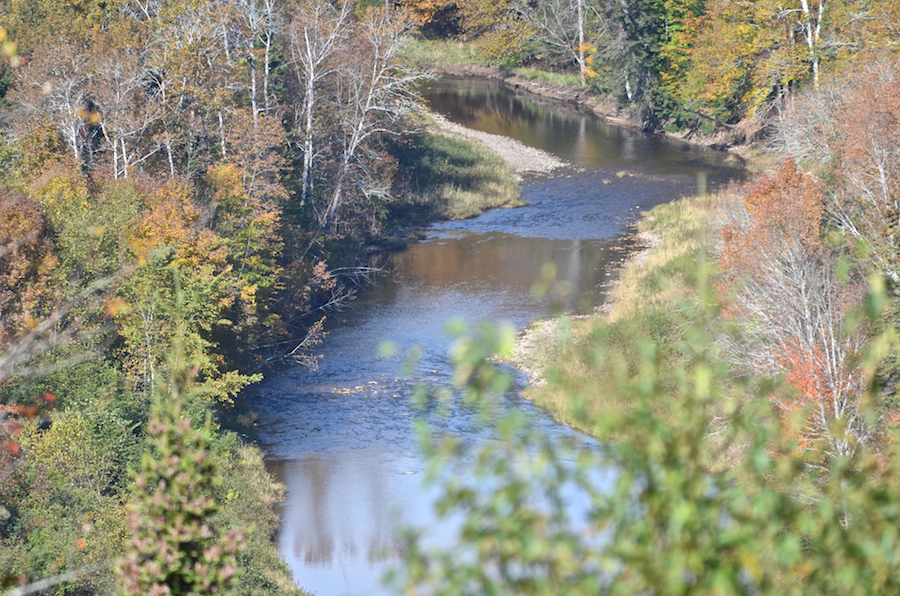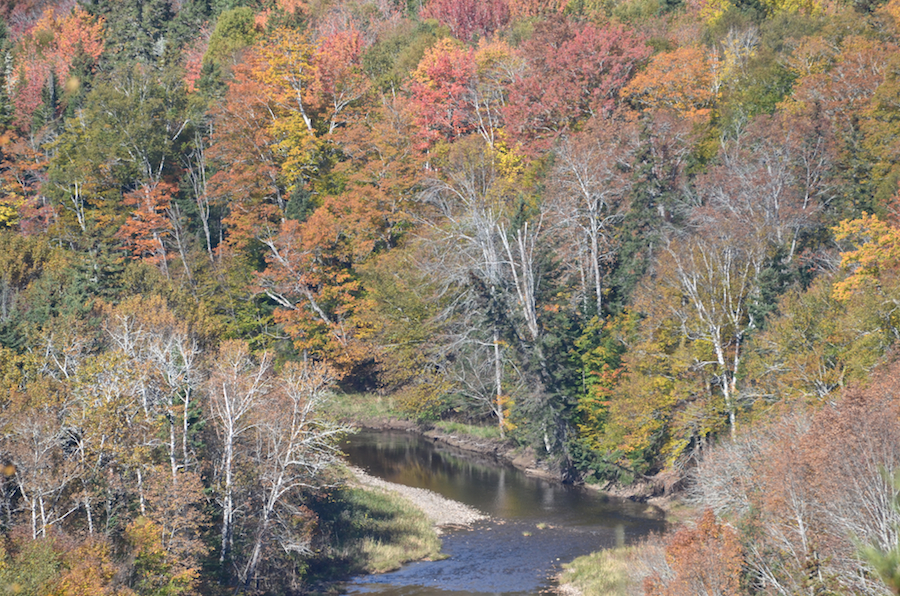 Photo #5 brings into sharp focus the tres along this stretch of the river, where the orange/green mix predominates and some of the darker red/green mixes can also be seen. Again, there are already many bare branches and others with only a few leaves remaining.