The sun continued its attempts to break through the cloud cover, becoming more and more often successful as I continued north. Beyond the Boarsback, two look-offs allow one to see into the Fishing Cove River valley and Fishing Cove itself. I stopped at the southernmost one, where the sun began to light up the scenery. The photos on this page were taken there.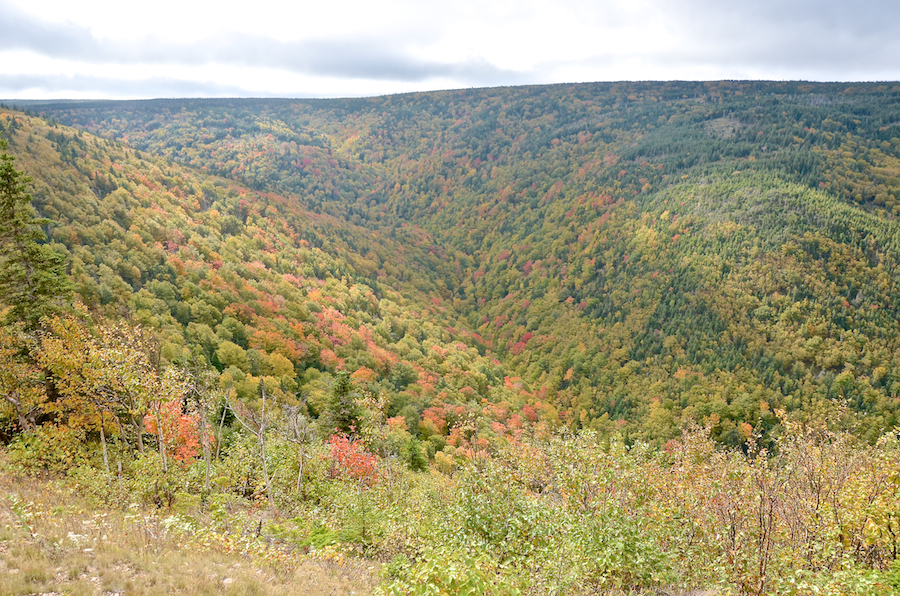 Photo #1 is a wide-angled view of the Fishing Cove River Valley, which rises in Fishing Cove Lake to the south and east of French Lake; Fishing Cove Lake is roughly the same size as French Lake though its orientation is northeast to southwest. The Cabot Trail crosses the Fishing Cove River at the bottom of a huge V-shaped dip (the French Mountain webcam is at the south end of that dip), where it is barely more than a brook (be careful here, too, as the river is another favourite haunt of moose, which are often seen there grazing at the side of the road or by the brook and gravity easily adds unwanted speed descending the hill). In photo #1, the trees conceal the path of the Fishing Cove River, but it can be readily made out as a line that climbs back up to the head of the plateau. One of the two branches of the Fishing Cove hiking trail follows the river through this valley.
The sun provides enough lighting here to make out pretty clearly the early state of the colours. In this relatively protected valley, the forest is mostly deciduous and most of it is still quite green, though changed colours can be seen along the slopes of the Highlands. In later days, this valley will be a blaze of colour.
Photo #2 is a telephoto view of two red/orange trees just above the Fishing Cove River, nicely lit by a burst of sunlight. Greens, many tending to yellow, are as predominant here as elsewhere in the valley, but oranges are noticeable along with a few trees tending towards reds. Early days yet, indeed.