Wednesday was another generally nice day, though clouds were in the skies. This year, at the request of the Celtic Colours organization to better align with the concert in St. Peter's, the popular Sounds and Supper by the Sea community event at Lower L'Ardoise was held on Wednesday instead of the Tuesdays of previous years. So, this morning, I drove there. More colours were out along Highway 19 from Port Hood to Port Hawkesbury and good colours lined Highway 104. At River Tillard, I detoured onto Mountain Road, which follows along the River Tillard for a short distance. Thanks to a predominance of evergreens and tamaracks, there was little colour along the river, though I did stop for photos, some of which are on this page.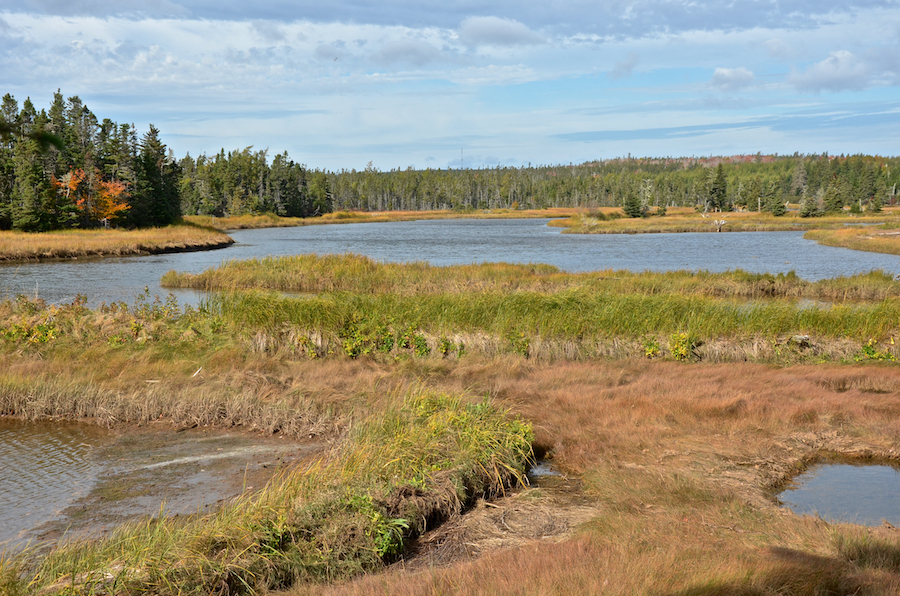 Photo #1 looks out from Mountain Road across the River Tillard, a short stream with two branches and many meanders that rises on South Mountain and empties into St Peters Bay. The low-lying area here is mostly forested with evergreens, but there were a few deciduous trees here and there that had taken on fall colours; two of them can be seen at the left. The grasses on the land that spans the photo on the near side of the river show a lot of greens with others having taken on their fall reddish-brown hues and others mixed browns and tans.
Photo #2 looks to the left of photo #1, where the River Tillard comes close to Mountain Road, a small piece of which can be seen at the far left. The main course of the river follows Mountain Road to Highway 4 and passes beneath it to soon enter into St Peters Bay. If you look closely, you will see a few fall colours: a small red-coloured maple is at the left; some small maples have infiltrated the evergreens on the far shore and are showing reds; another maple rises along the shore above and beyond the evergreens at the far right.
[continued below]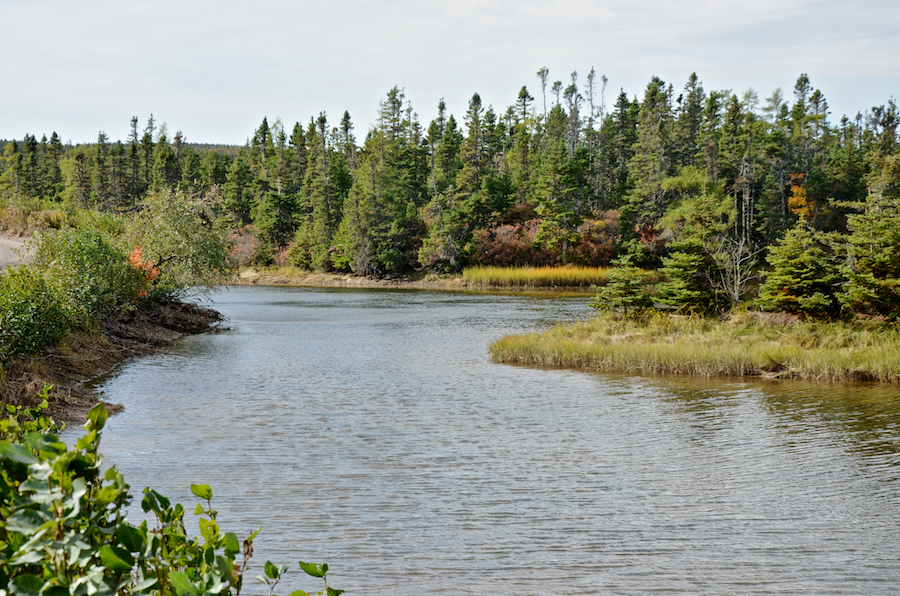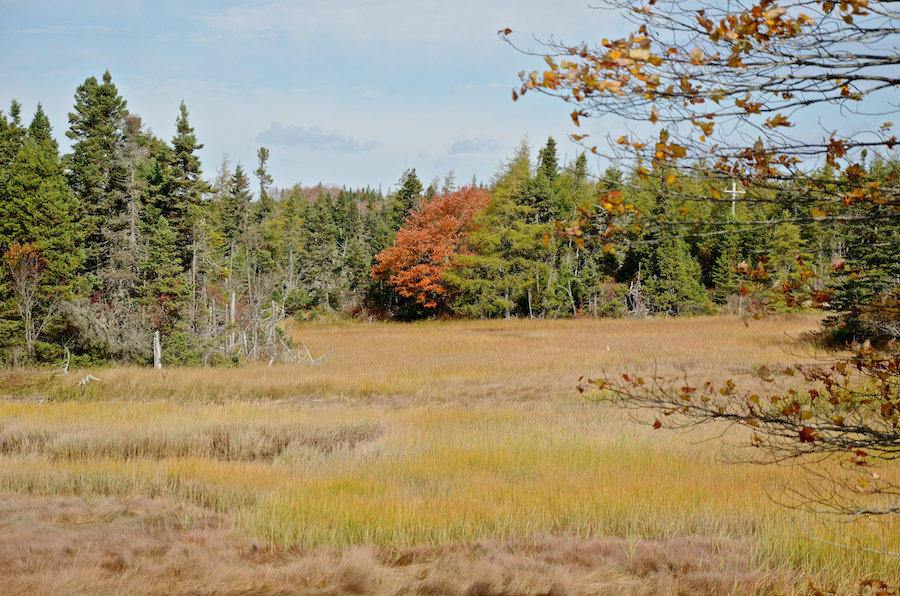 Photo #3 looks to the northwest at the marsh along the River Tillard, mostly clad in its fall colours, at a red-orange maple on the far side of the river, a small piece of which can be seen in the centre of the photo. The utility pole at the right marks the course of the road as it bends to the northwest from this point.
Photo #4 shows a stand of red-orange trees beside Mountain Road that was not yet completely changed, but was getting there. This was the most amount of colour in one place I saw at this location. The trees were so tall, I had to use a wide-angled focal length to get the whole stand into one photo from across the road. Notice the shadows in the road, evidence that the sun was out in spite of the clouds in the skies above. Without that sun, this stand of trees would have been much less pretty.