The main branch of River Tillard loops off towards the west, while Mountain Road runs to the northwest, so the two soon part. It is not that far, however, until one crosses a bridge over the other branch of the river, East River Tillard, as one begins to climb up the mountain, shown as both Sporting Mountain and South Mountain on the topographical map. At this bridge, the river is significantly narrower and not very deep; it runs into the main branch of the river 1.4 km (⅞ mi) south (and a bit east) of the bridge. Most of the colours here were greens, since evergreens are in excellent supply, but there were occasional bursts of fall colours from deciduous trees. The photos on this page were taken from at or near the bridge.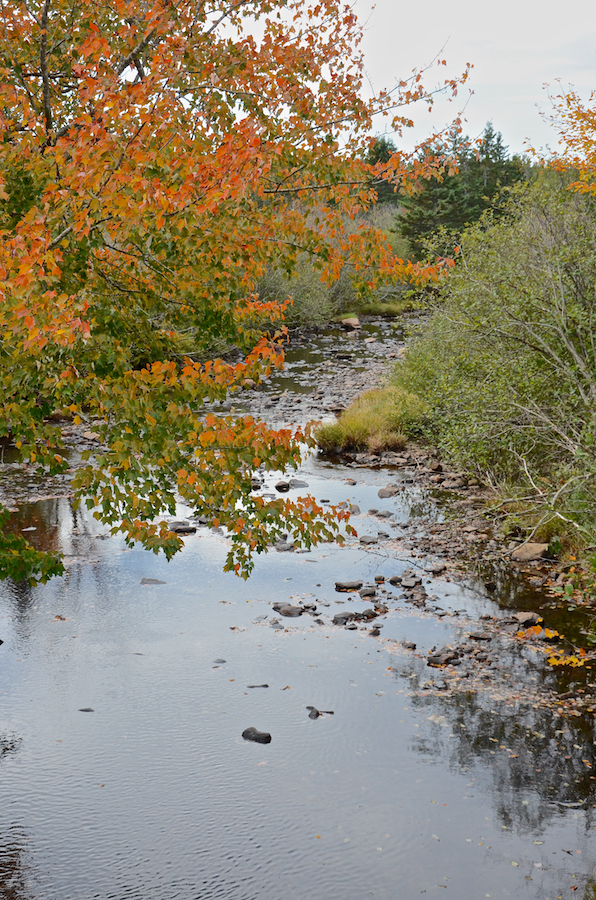 Photo #1 looks downstream at East River Tillard from the bridge as it flows by a changing red-orange and green maple; most of the other trees and brush along the river here are deciduous, but are still steadfastly green. One other tree, a small portion of which can ber seen at the upper right, was also in colour, but it tended more to the orange than the red-orange.
Photo #2 looks upstream at the East River Tillard, not much more than a brook here, with very gentle flow. Evergreens dominate its banks, but touches of pastel colour can be seen as can some fall grasses. Two lakes, Kyte Lake and Long Lake, are just east of here, but their outflow joins the East River Tillard somewhat south of the bridge and so does not contribute to the flow at this point.
[continued below]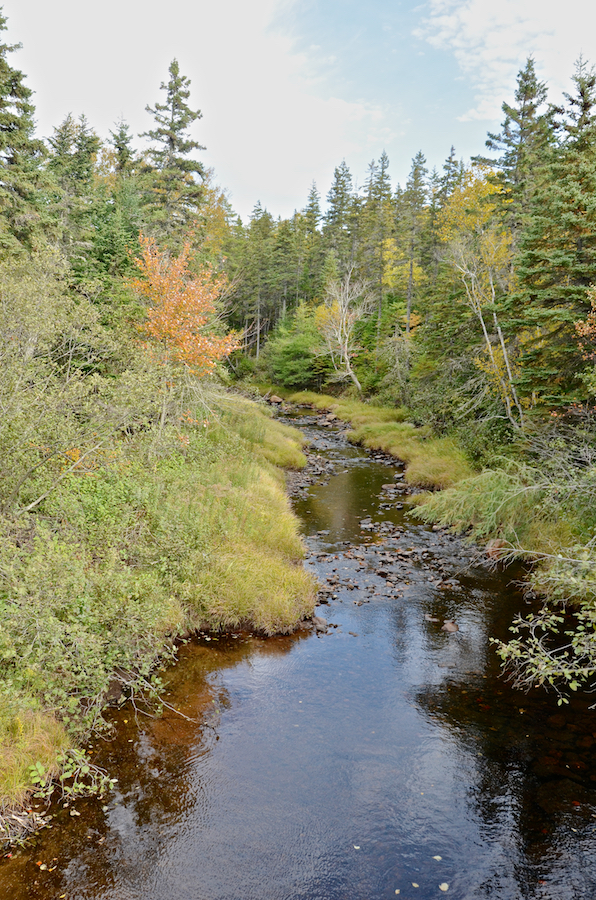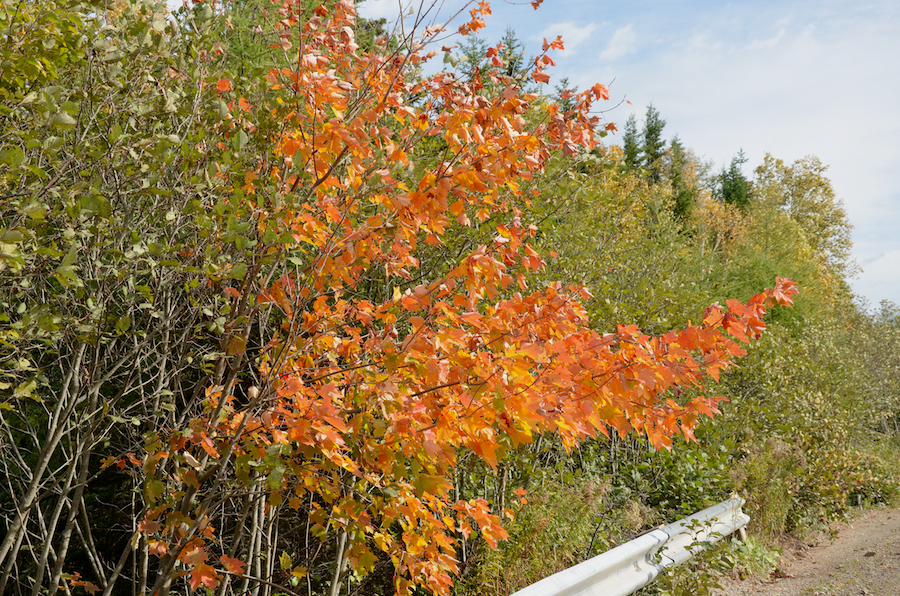 Photo #3 looks at a lovely red-orange-gold maple tree beside the river at the bridge, one of the guardrails of which can be seen in the right foreground. Although most of the other trees and brush seen here are deciduous, they are mostly unchanged, with only a few yellows to be seen at the upper right.
Photo #4 shows a pretty yellow and green tree across the road. Its fan shape is getting a few stray rays of sun that brighten the yellows; the base of the tree has a fair amount of green leaves and others halfway between green and yellow.
[continued below]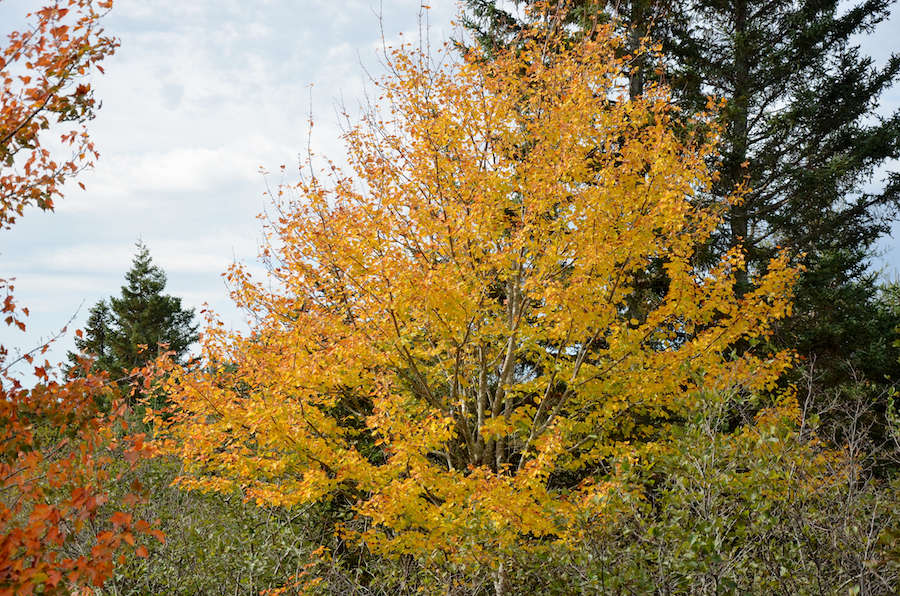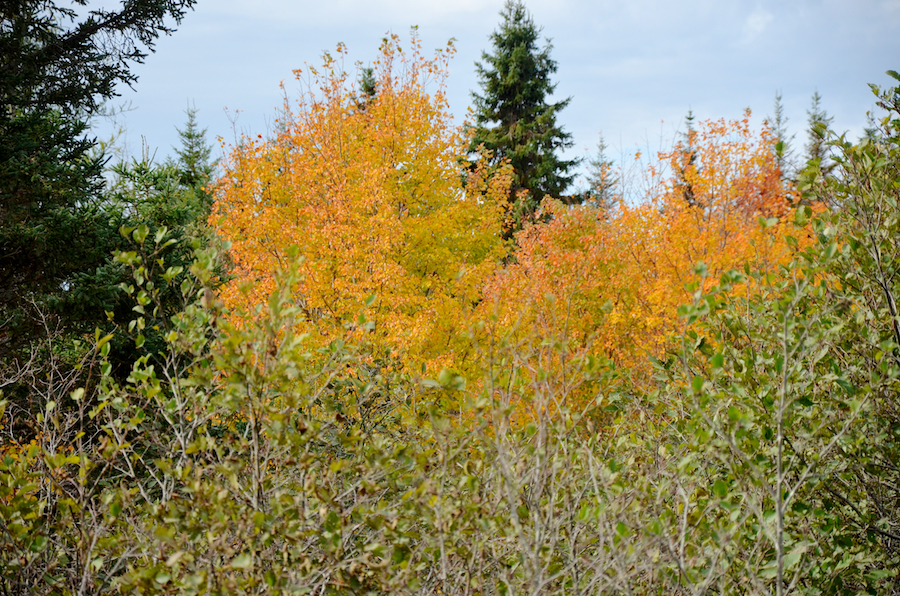 The stand of orange-hued trees in photo #5 stood off the road a bit, but certainly brightened the scene, taking full advantage of the sun that was reaching it. The branches at the top appear to have lost most of their leaves. Again, lots of green remain in the leaves, but how pretty this stand is in the sea of green that surrounds it!