After breakfast, I headed for St Anns. Having plenty of time, I decided to have a look at the backcountry behind Baddeck. Although the skies had become mostly covered, the sun was still getting through and I saw there trees as red as I've seen anywhere. From the Cabot Trail north of Buckwheat Corner, I turned left onto what I know as the Old Margaree Road (which Google Maps now calls simply the Margaree Road). A short distance down the road, I stopped for the photos on this page.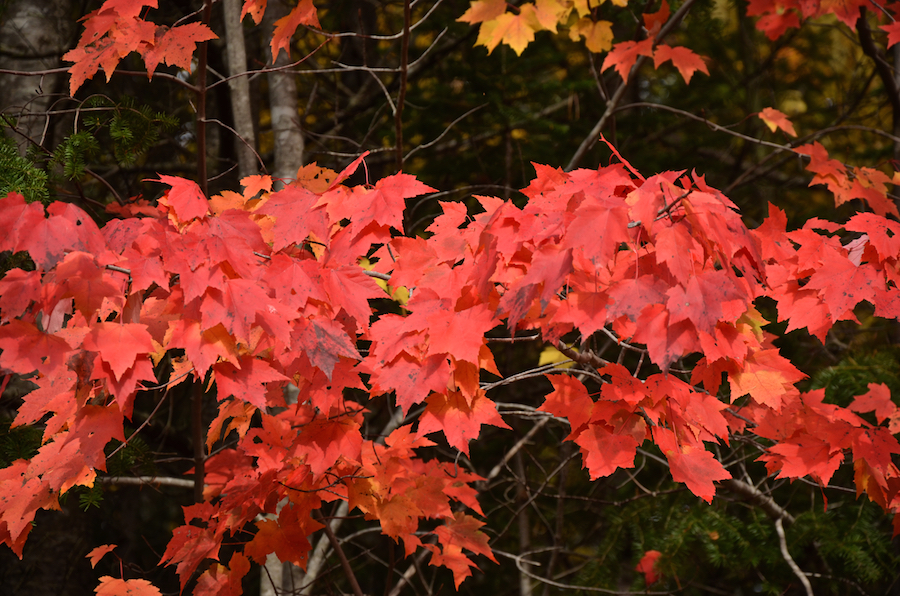 Photo #1 shows the leaves on one of the small maples along the road, absolutely blazing in the sun that was making its way to it. Even though traces of chlorophyll remain in many of the leaves, I can't recall any tree I've seen anywhere that is any redder. What a stunning tree!
The tree in photo #1 had some serious competition from a close neighbour, seen in photo #2. The most welcome sun brings its bright colours to perfection. I believe the yellow/gold/red leaves at the top of the photo are on the same tree, though I'm not certain. Behind the leaves is the beautifully lined bark of a spruce tree bearing the sign "No Hunting or Trespassing".
[continued below]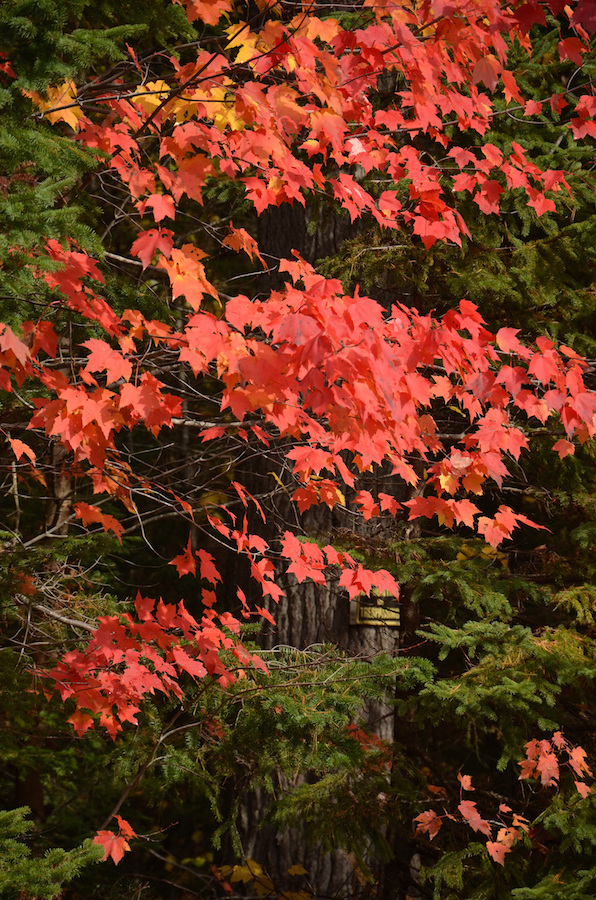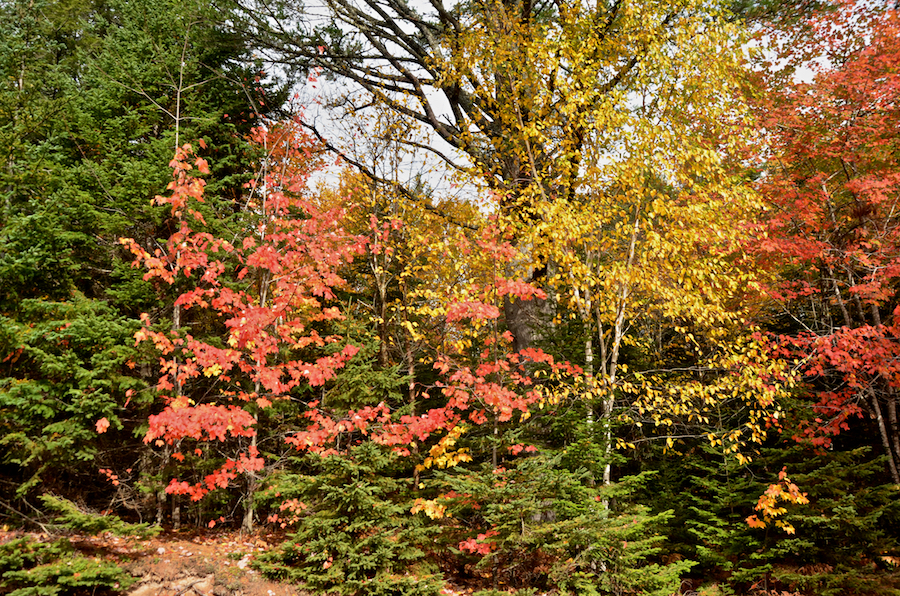 Photo #3 looks at a group of trees along the Old Margaree Road basking in some bright sunlight. Here, we have yellows, tinged still with green, between reds on either side. These colours are very close to their peak, if they are not already there. Simply gorgeous!
Photo #4 looks eastward along the Old Margaree Road at the beautiful trees lining both sides of the road. The red-coloured maple at the left stands out from the other trees, some of which are of different species, which tend more to the yellows and oranges. But still, objects of great beauty on this sunny morning.
[continued below]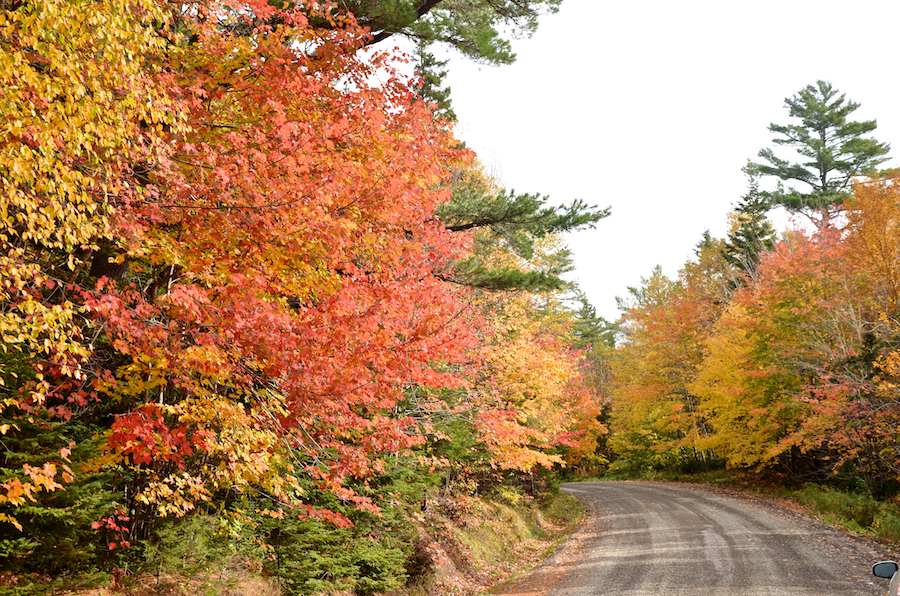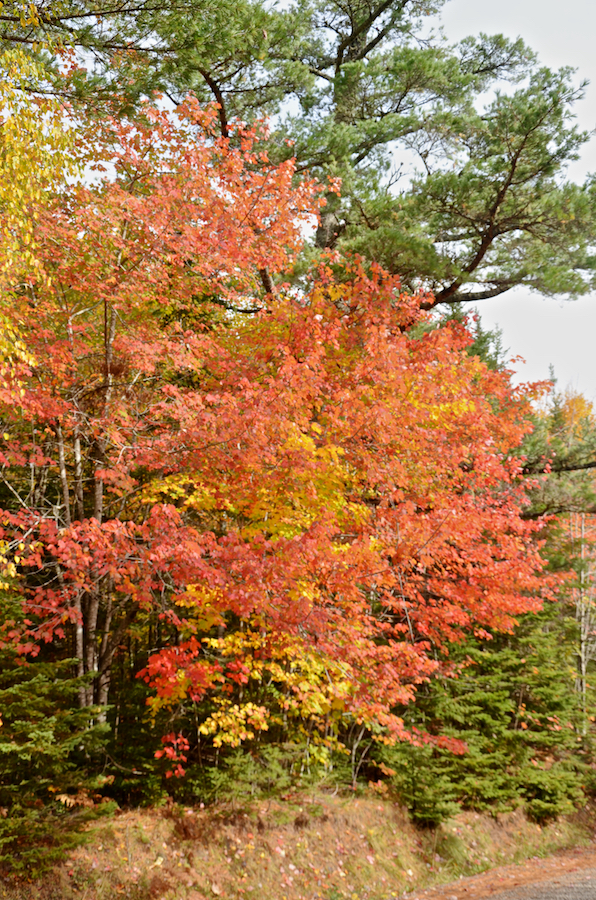 Photo #5 takes a closer look at the red tree at the left of photo #4 and from a slightly different angle. The yellow tree behind it makes the reds appear more red-orange than red, but if one looks at the leaves where no yellow is present behind them, they are most assuredly red! A definitely lovely combination with the greens of the evergreen above and below!