My last week in Cape Breton in 2014 ended with some grey and rainy weather, through which the sun often valiantly tried to pierce without much real success. I can't complain: the weather generally for Celtic Colours 2014 was exceptionally good, even though I was so busy I lacked time for much photography during the festival. Since there seem to be many lovers of grey skies among my readers, I have put together this page for you, chosen from among those I took on that final Friday along with one from Wednesday afternoon. I fear it is little more than an attempt to make a silk purse out of a sow's ear, but, here you go!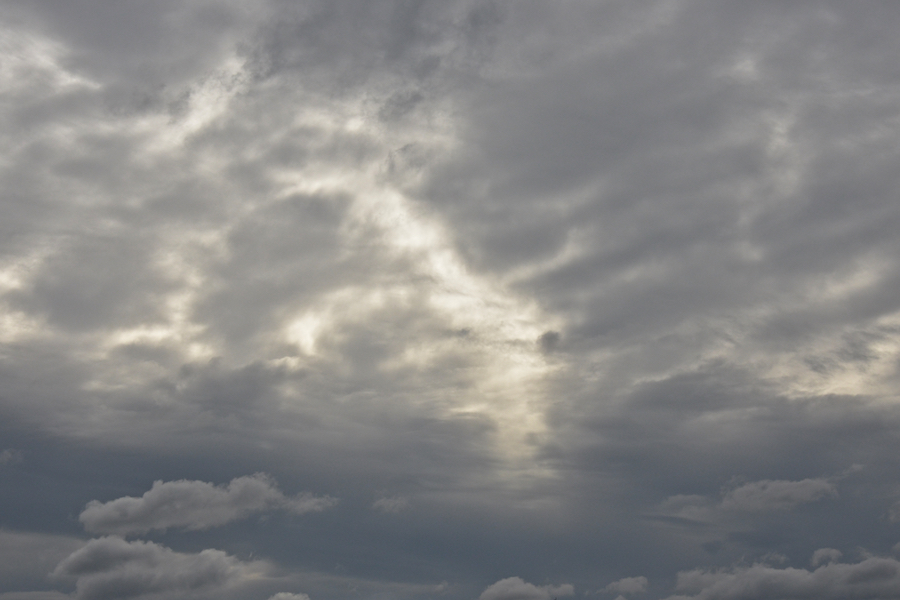 Wednesday, whilst on the Rosedale Road not far west of the MacLellan Road, I stopped for some photos of an overgrown hillside field covered with white flowers that proved to be clumps of pearly everlasting (Anaphalis margaritacea) and, after having climbed up into that field, discovered some other views of terrain I hadn't seen from the road. The skies, which had been sunny, were by now overcast, with what looked like an approaching rain shower (the clouds were dark enough, I'd have thought thunderstorm, but it wasn't that kind of a day); the photos I got there were all too dull to be included in this essay, though I find them instructive from a geographical viewpoint. The view in photo #1 was captured when the sun momentarily broke through the cloud cover and lit up the skies, though little of it made it down to the terrain below.
Friday was a cloudy bright morning in Port Hood. From Mabou to Inverness, I encountered heavy rain with lots of standing water in the road, making the going rather slow. Although Cape Mabou was cloaked in clouds descending well below the plateau, in the poor light the colours on Cape Mabou still looked bright and one could still see some lingering reds. The rain became light north of Inverness and stopped altogether in Dunvegan. Cloudy bright conditions resumed on the Shore Road and, as I arrived at the Cabot Trail in Margaree Harbour, a great beam of sun lit up a third of Belle-Côte. I stopped off at the Terre-Noire look-off to see what the sun might be intending for the rest of the day. It put on quite a light show in the sky and on the waters of the Gulf as it came out full strength through a hole in the clouds lined with blue sky at its sides. Photo #2 shows the skies as that hole was swallowed up by rain-heavy dark grey clouds from the south.
[continued below]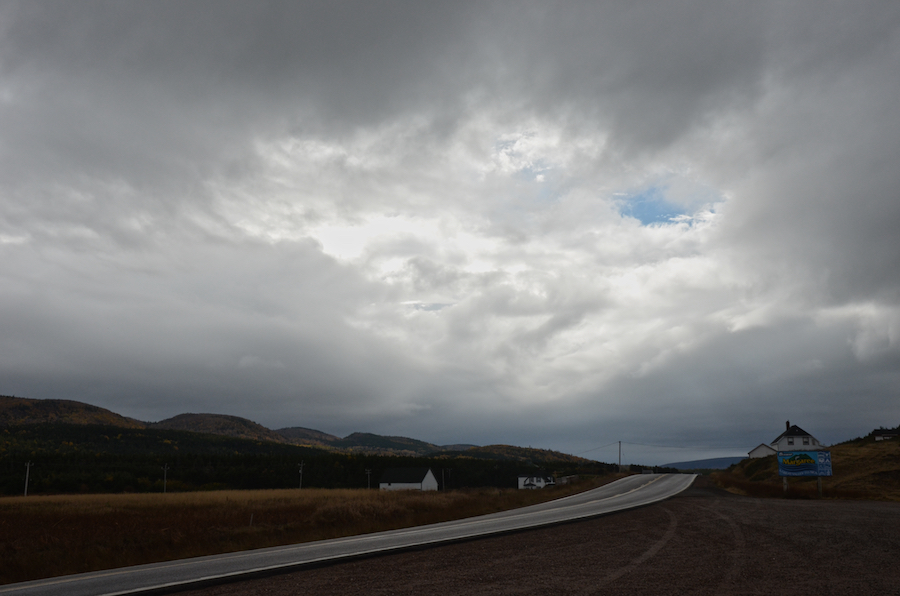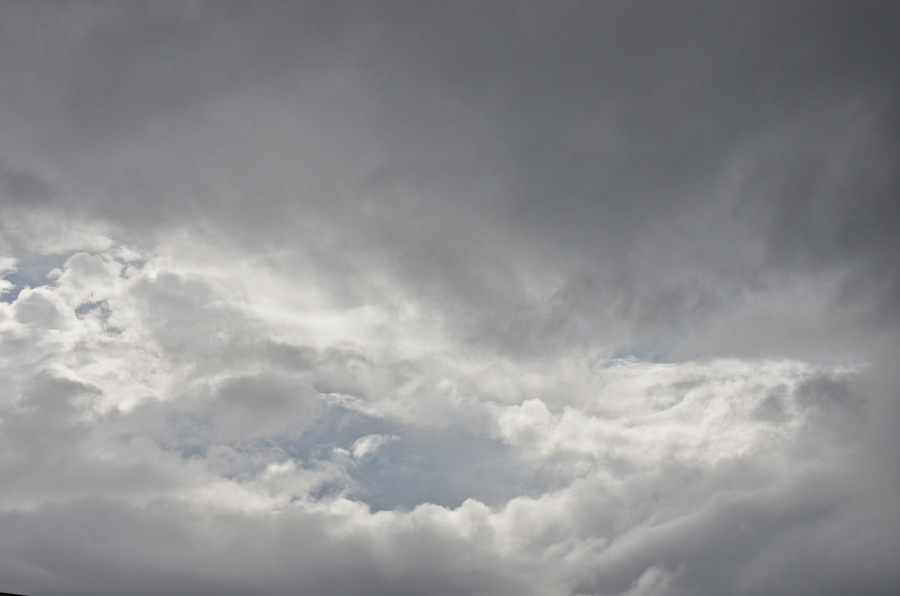 Photo #3 was taken two and a half minutes after photo #2 and shows the rapidly disappearing blue-sky hole with a somewhat longer focal length. It looks to have been a nice day up above the clouds; too bad it was so dark on this side!
Photo #4 shows the state of affairs just after the blue-sky hole disappeared, about eight minutes later. And that dim sunlight was soon gone as well, leaving dark and gloom above.
[continued below]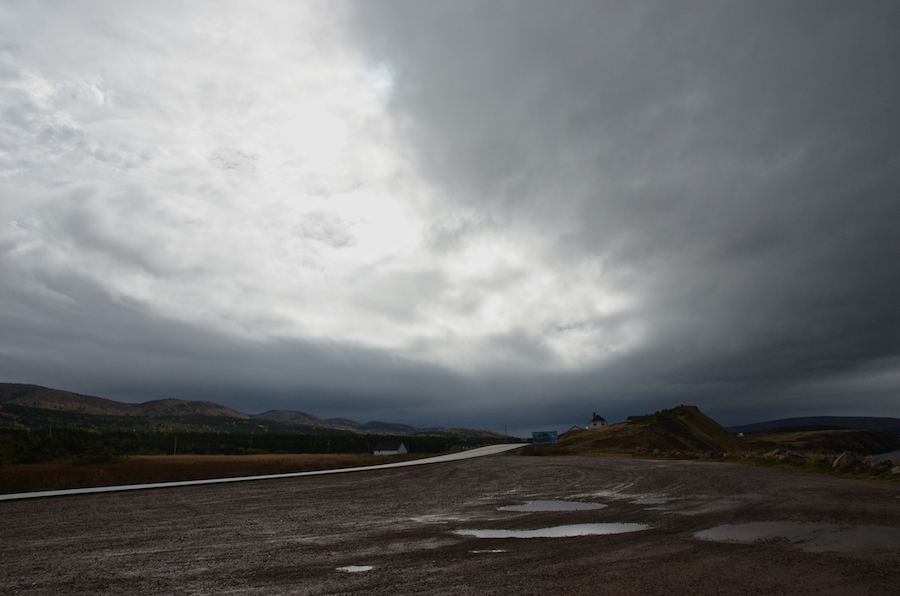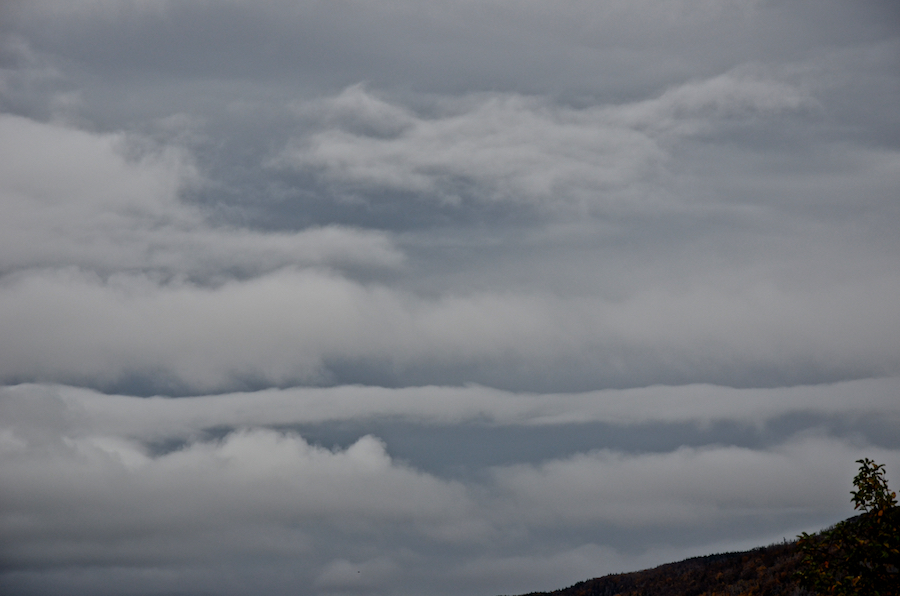 It seemed it was not going to be a very good day for photography, but I continued north anyway, as I was planning on spending the night in Chéticamp, a treat that doesn't happen as often as I'd like. In Grand-Étang, I turned onto Carding Mill A Road (according to Google Maps, but I think the signage just said Carding Mill Road) and stopped for some photos of Petit-Lac (also known as Delaneys Pond). When I saw the steel-grey reflections of the sky in the lake's waters, I looked up and then snapped photo #5, showing the layered clouds that were following me up from the south.
Photo #6 was taken while I was sitting at the look-off above Le Buttereau north of Chéticamp. I managed to catch an eagle in flight who had just taken off from the Highland above the look-off, perhaps to catch his noon-time lunch.
[continued below]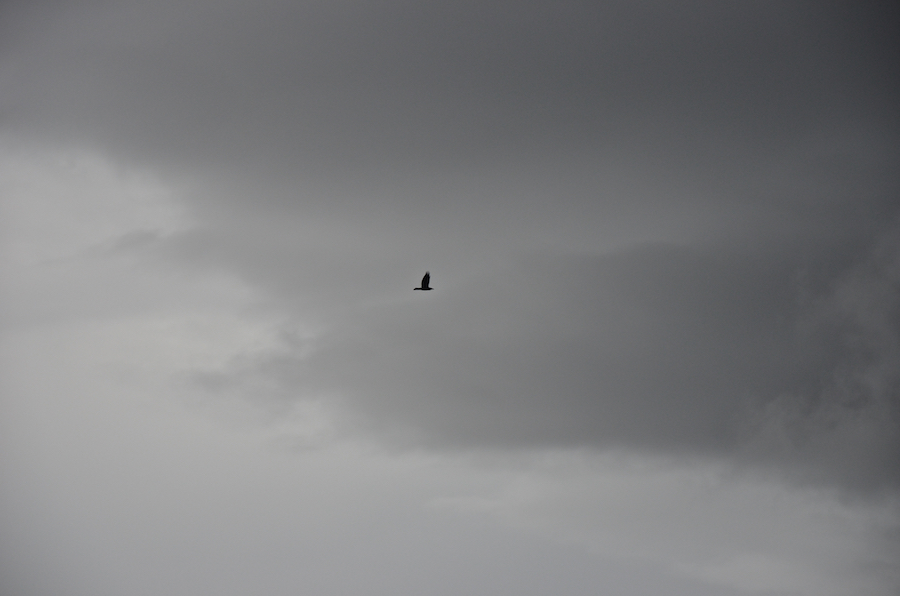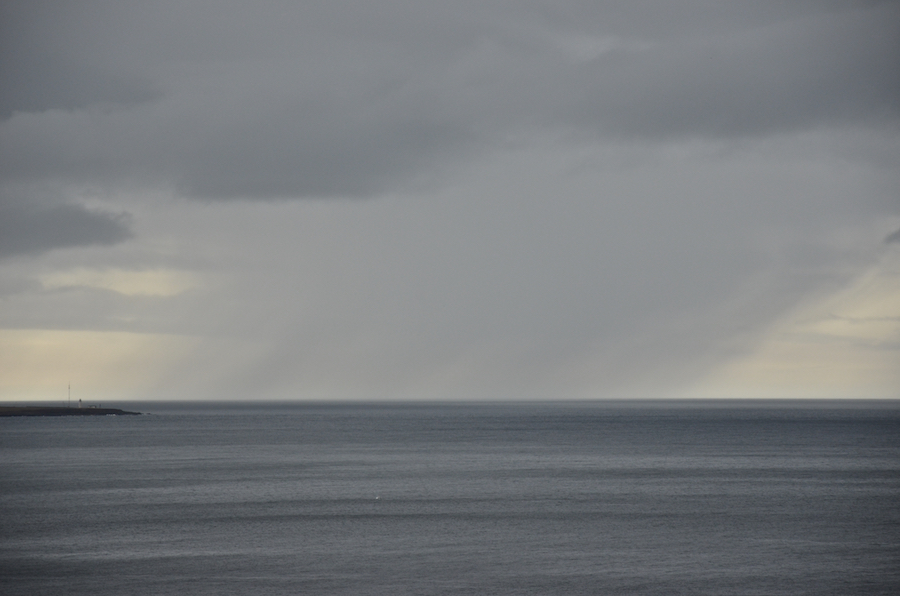 Photo #7 was also taken from the look-off above Le Buttereau looking past the end of Chéticamp Island (Pointe-Enragée and its lighthouse can just barely be made out at the far left of the photo) at a rain squall approaching across the Gulf.