Mid-June, particularly in the higher elevations, is a time of burgeoning when newly awakened life begins anew as the warmer temperatures arrive. The views on this page, all taken at various points along the Meat Cove Look-Off, take a break from the stunning scenery to look a bit closer at hand at the wild life along the look-off.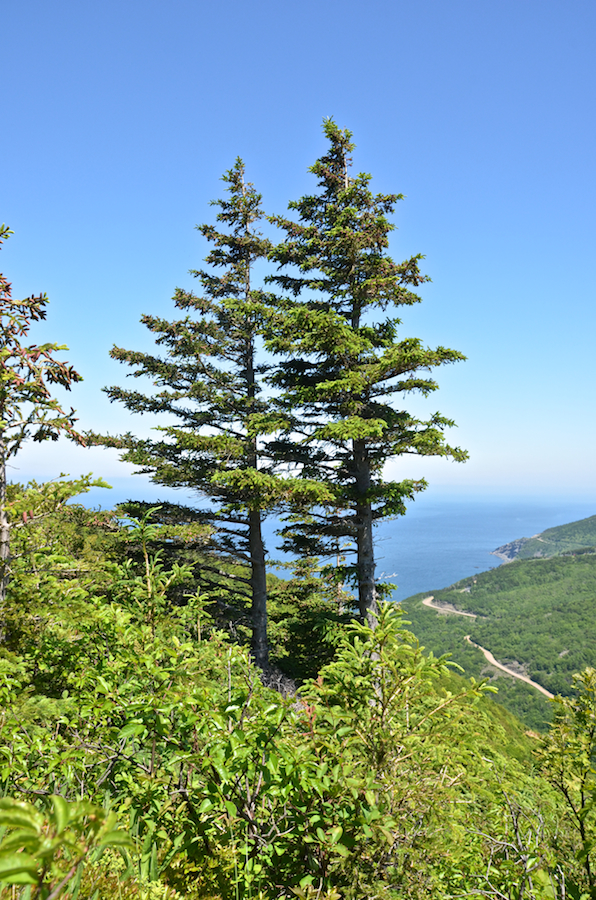 Photo #1 looks at two sentinels standing guard on the side of western highland near the look-off. Given the fierce winds that strafe these hillsides, these two trees have survived marvellously well, standing straight and tall against the blue skies and the waters of the Gulf of St Lawrence. Far below, the Meat Cove Road climbs up from the village and snakes around the slopes and indentations of the terrain on its way to Black Point at the middle right.
Photo #2 looks to the left of the two sentinels in photo #1 at a cone-studded tree, close enough to be their descendent. Its trunk currently has a decided bent to it, but it will perhaps straighten up as it takes on some girth.
[continued below]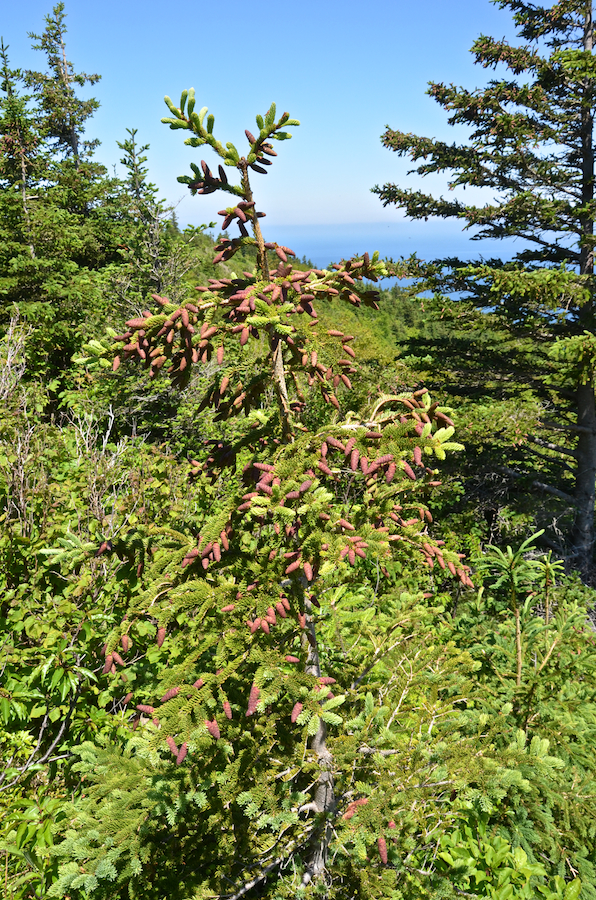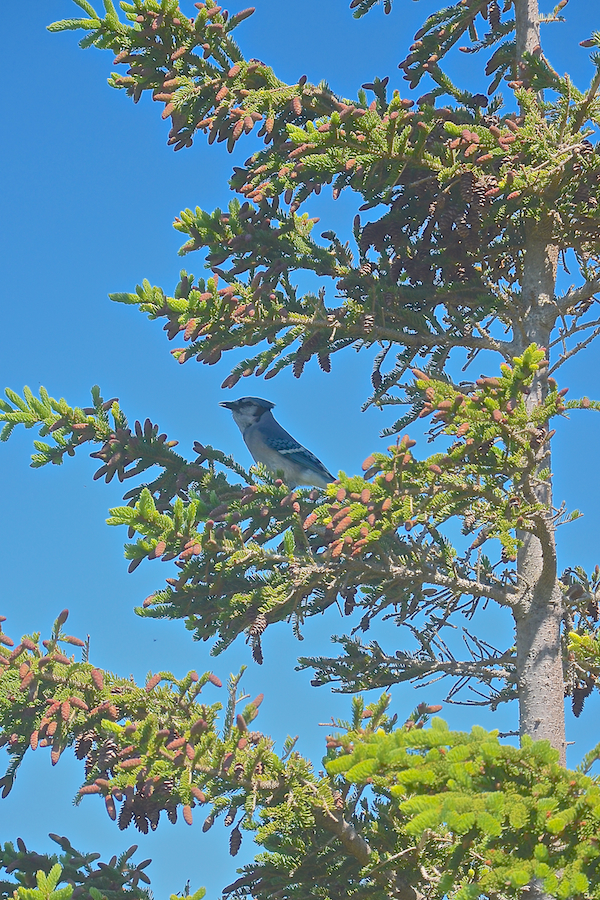 I took photo #3 shortly after arriving at the look-off while soaking in the lovely views and catching my breath; the blue jay landed with a squawk in a nearby tree, curious perhaps to find out what this interloper was doing invading his territory. I took his photo sitting there in the shade, but he didn't much like the sound of the shutter and soon flew off further up the hill.
Photo #4 shows another bird of whose identity I am not certain; I checked a couple of bird identification sites and couldn't find anything quite like this fine specimen. It looks a good deal like a jay, but it lacks the blue colours of a jay and doesn't have the white breast of the one in photo #3. It, too, didn't much care for the sound of the camera's shutter and quickly flew off. During the three hours I was there, I also saw a hummingbird who was gone almost as soon as I noticed it and an eagle flying at my level above the valley, whom I lost before I was able to photograph it.
[continued below]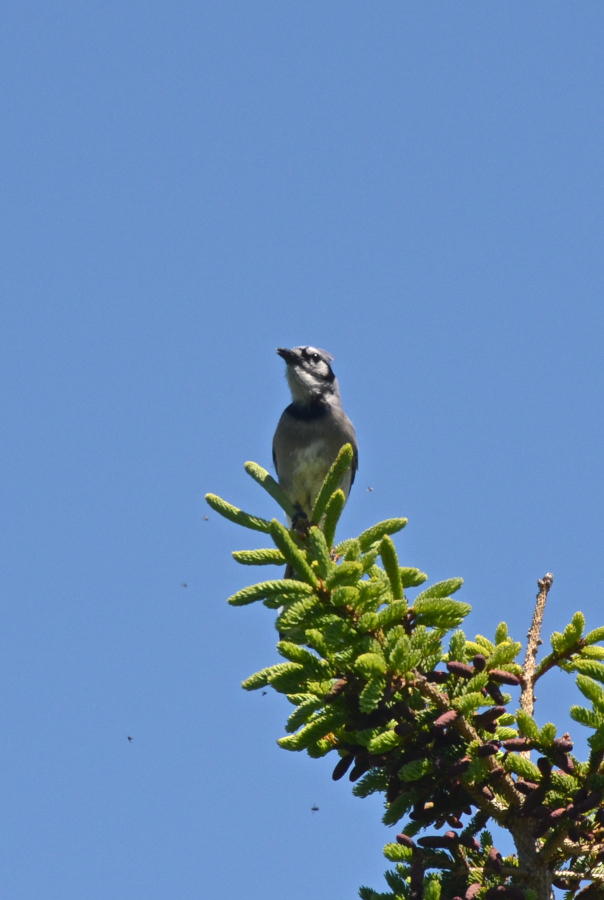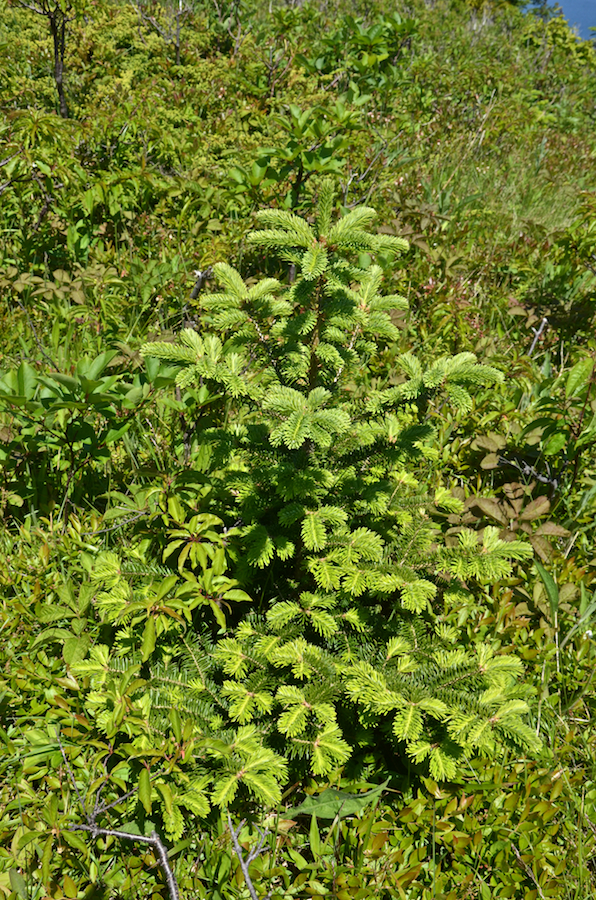 Photo #5 features a pretty spruce tree that shows its new growth at the end of the previous year's darker coloured needles. Sitting so prettily and glowing in the sun as it was, how could one not take its photo?
Photo #6 looks at another young tree near where I was sitting, this one a maple with several leaves so new they haven't yet lost their red colours. Others have only partly changed to green, a process they will reverse in a few short months when their chlorophyll ceases to dominate their colouring, though who knows what colours this tree will sport at that time? Especially up here, it's not a very long time to store up the nutrients required to survive another long and brutal winter.
[continued below]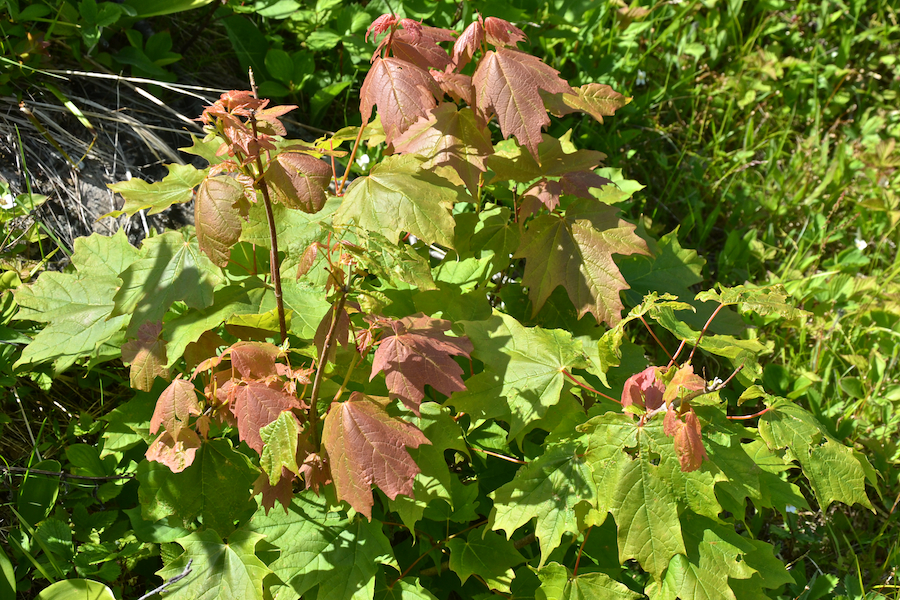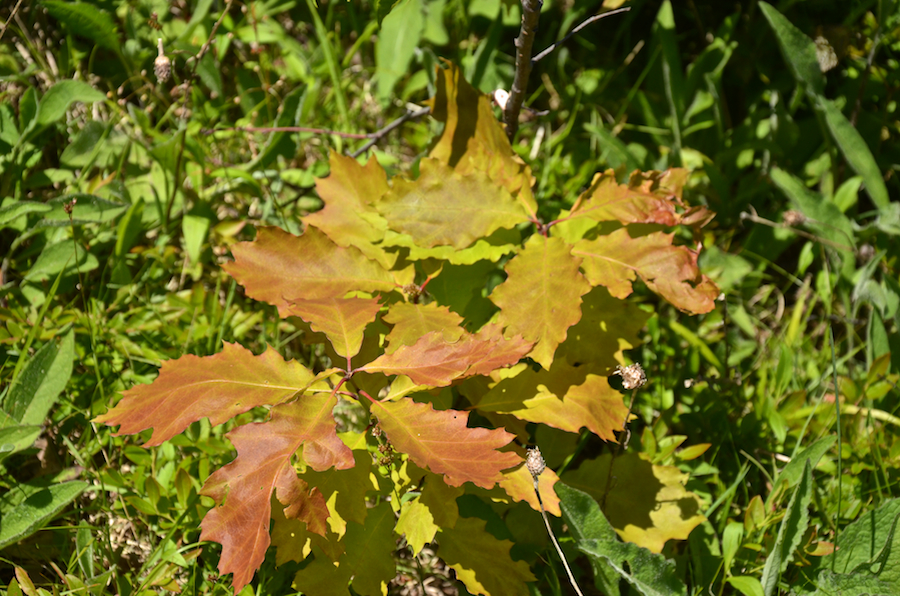 Photo #7 shows another pretty young tree with very new leaves. A naturalist I'm not and I won't hazard a guess as to its species: I attempted to follow a tree identification guide on the internet and ended up in the oaks, though these leaves look nothing like the leaves on the oak trees in my back yard do.
Photo #8 is one final look at another small tree with brilliant red leaves in the process of activating their chlorophyll. This one appears a bit behind its neighbours at the left, which have shed most of their red, whilst retaining a reddish tinge at the outer edges.