From Maryville Harbour, I drove across the Maryville Station Road, as the continuation of the Pigs Cove Wharf Road is known, to Maryville, where the road changes name again to the Beaton Road on the east side of the Cèilidh Trail (Highway 19). I continued along it until I arrived at the bridge over Captains Brook 492 m (0.3 mi) north of the Hawthorne Road. Captains Brook rises in Hillsdale and flows into Livingstones Pond shortly after passing under a bridge on the Cèilidh Trail (Highway 19) south of Harbourview; from there, it enters St Georges Bay through Little Judique Harbour. Anyone who has hiked the Celtic Shores Coastal Trail (the Railway Trail) in the area will certainly remember the section where it passes first along Captains Brook and then over it on a long trestle. In Hawthorne, Captains Brook is nowhere near as wide as it later becomes; the views on this page were taken there.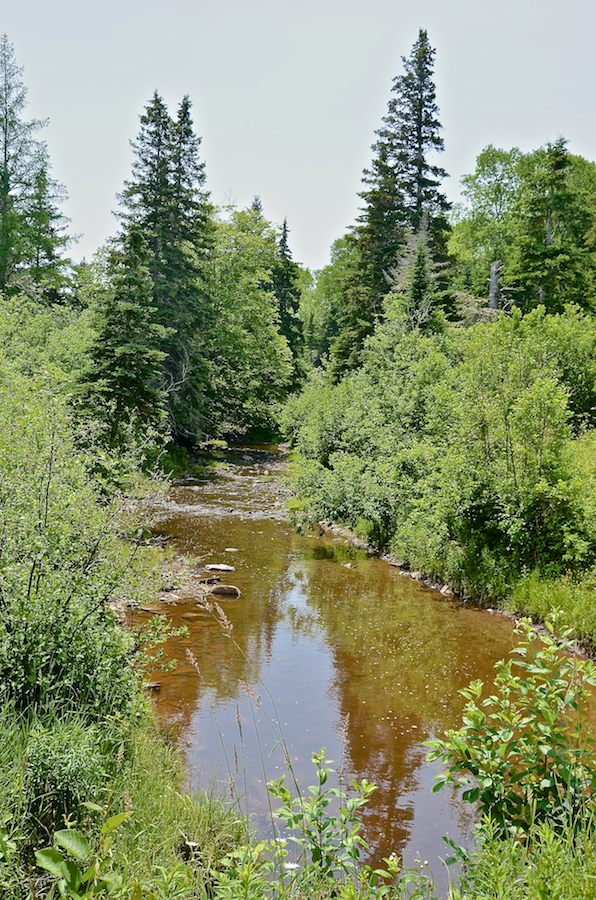 It wasn't actually the brook which caused me to stop here, but rather the magnificent spring greens seen everywhere on the bushes and deciduous trees, not to mention the grasses in the adjacent field. Photo #1 looks upstream from the bridge over Captains Brook on the Beaton Road. More water is in the brook than I remember from previous times across the bridge, perhaps a result of the storm on Friday evening which blew in just as I was arriving back from Meat Cove. A lovely spot on a beautiful early summer day!
Photo #2 looks downstream at Captains Brook from the bridge. A bit more typical of my past memories of the water in the brook, a closer looks reveals pools of rather more water than I recalled. Clearly, there must be times when considerably more water flows through here than on this day.