On my way back from breakfast at the Dancing Goat in Northeast Margaree, I stopped for photos of a large and beautiful sunflower field in Northeast Margaree, gleaming brightly and with thousands of "faces" all seeking the sun as it tentatively poked through the still very grey skies. The photos on this page were taken from that stop.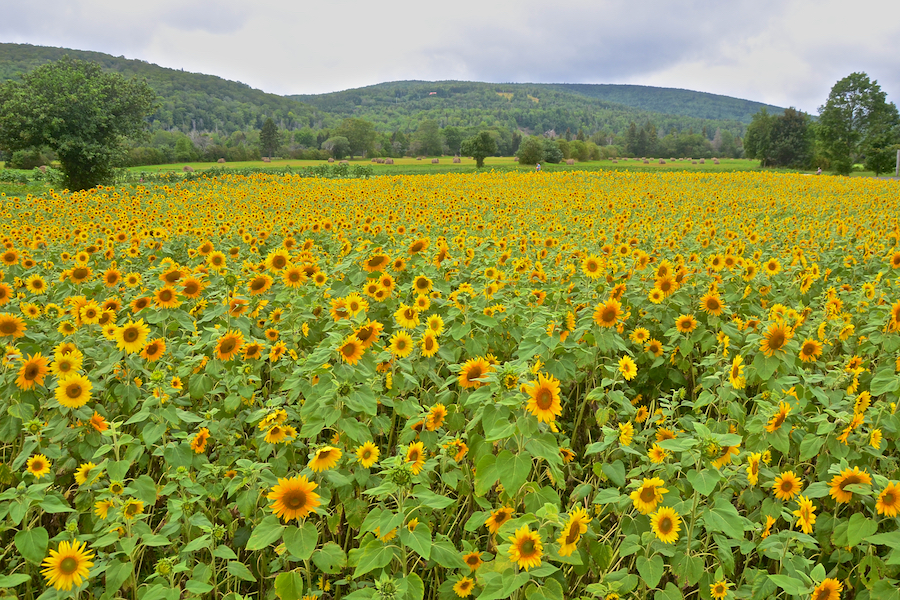 Photo #1 shows a lovely field across from the church planted with sunflowers now in full bloom; even with the dark skies of the morning, it was gleaming brightly with colour and looked especially gorgeous against the backdrop of the Margaree Highlands. The Phillips Mountain look-off is on the hillside near the centre of this photo.
Photo #2 was a demure sunflower that caught my eye: standing tall, but with a downcast look, as if disappointed that the sun was not out to greet her, she kindly let me take her photo to remember her by.
And with this photo, dear reader, this essay has come to its end. Although I stayed on a few days more, those days were filled with musical events and the weather ended up pretty much as it had started, in fog and mist, so I have few other photos beyond these to present. I hope you have enjoyed this essay's photos as much as I have reliving the days when I took them.