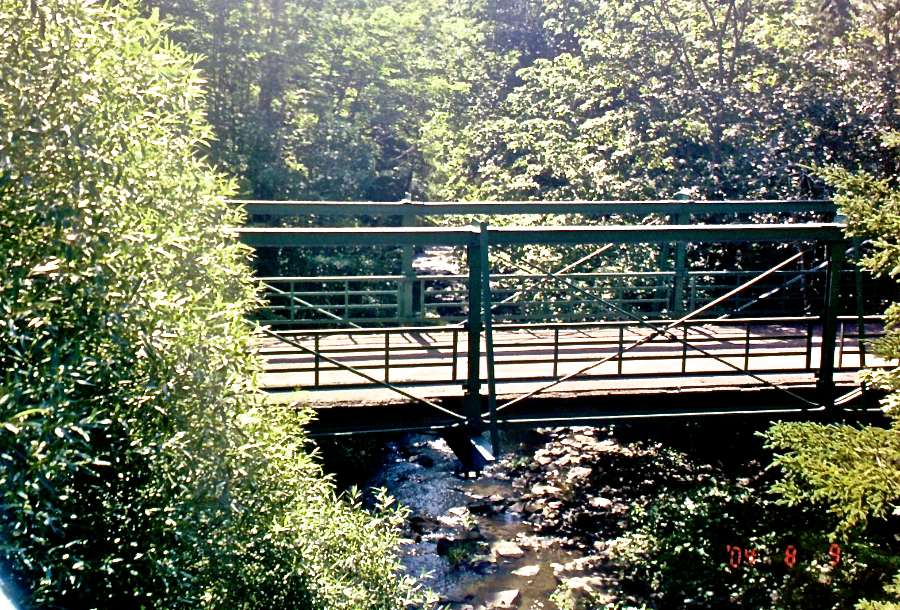 The bridge over Glendyer Brook seen here is on the Smithville road at Glendyer; the Railway Trail is only a few feet from the road at this point and this photo was taken from the trestle on the trail. I was dismayed to discover that I have no photos of Glendyer Brook either above or below this point, as it follows along the Railway Trail from Glendyer Station to some distance from here towards Black River; I will attempt to correct that lacuna this coming summer. It is, in any case, a very pretty brook and noisy in places as it flows over rocks singing a joyous song as one approaches Glendyer from Black River; from Glendyer to Glendyer Station, it is equally pretty, but flows more quietly through the fields.
Since the Railway Trail "borrows" Smithville Road for a good part of the distance from Glendyer to Glendyer Station (the old railway bed on the hillside is apparently unstable and unusable), it is as convenient to park near the bridge shown here and access the trail going towards Black River from this point, rather than from Glendyer Station, where I normally park.
[2012] I do now have several photos of Glendyer Brook, both above and below the Smithville Bridge. As discussed and shown here, the old railway bed along this hillside has been rebuilt and stabilized, so it no longer has to "borrow" the Smithville Road from Glendyer to Glendyer Station. Given the trail's added height, the views of Glendyer Brook and across the Mabou River to Rankinville are better from there than from the road.