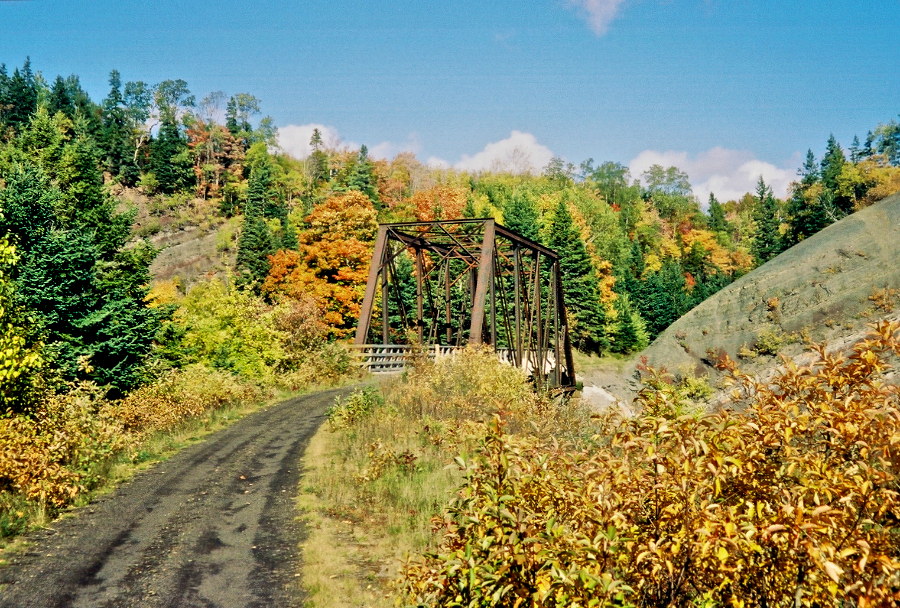 The fall colours along the Southwest Mabou River are always a stunning variety of hues, from deep greens through limes, yellows, oranges, reds, purples, and browns. When this photo was taken, the leaves were not yet at their peak and I had a hard time finding brilliant reds. But this photo does give a glimpse of what is to come
The strata in the hillside to the right of the bridge do not show up as clearly as I'd have liked, but the photo does show the folding of the terrain at a 45° angle if one looks closely. It's much more obvious when standing on the bridge itself.
When I hike this part of the trail from Mabou village, this bridge marks the point where I turn around and go back. It is also possible to reach here from Southwest Mabou, though doing so, one misses the really spectacular views of the lower part of the river. This photo is taken looking towards Mabou village, i.e., just past the stopping point. There is another bridge of this same architecture at Glendyer Station just across Route 252 towards Mabou. Both are wonderful places to sit and gaze at the water passing below.