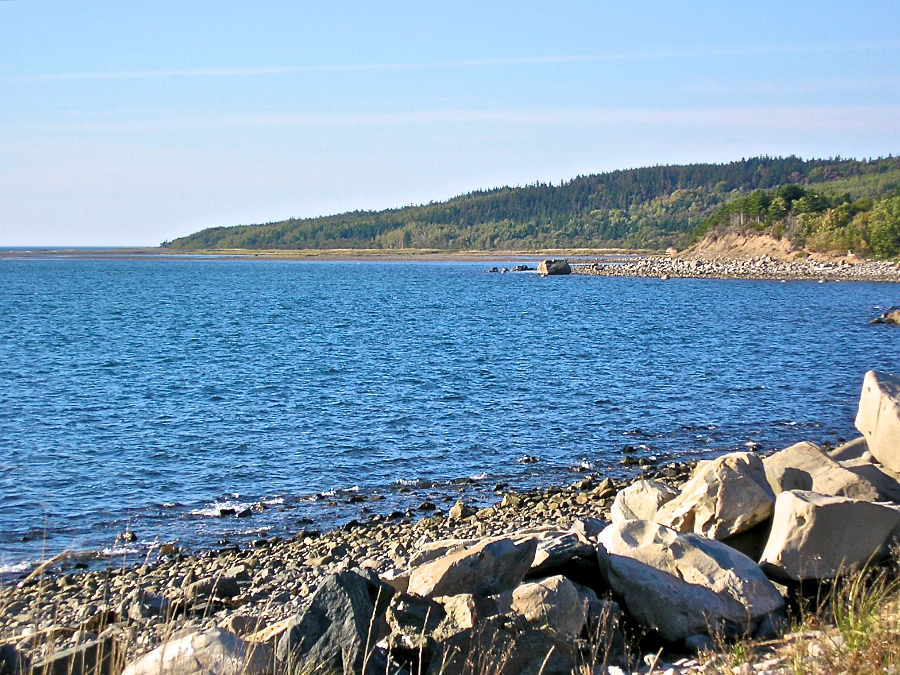 The closer one gets to the Strait of Canso, the rockier it seems that the coast becomes. The sand and gravel along the upper St Georges Bay coastline gives way to small and large rocks in abundance. This photo was taken from near where I park the car, following the directions given in Michael Haynes' Hiking Trails of Cape Breton, viz.,
From Port Hastings, drive 6 km (3.75 mi) on Highway 19 towards Port Hood. Turn left past Marg's Bed and Breakfast. Follow the road 500 m/yd to where the former rail line crosses. Park there, but do not block the abandoned rail line.
This view shows the coast to the north of that point, just about where the Strait of Canso begins, at Low Point.
[2012] Today, of course, one would park at the kiosk at Troy Station at GPS 45°41.467'N 61°26.535'W, the entrance to which is clearly marked on the Cèilidh Trail (Highway 19) and a bit south of the road Haynes describes.