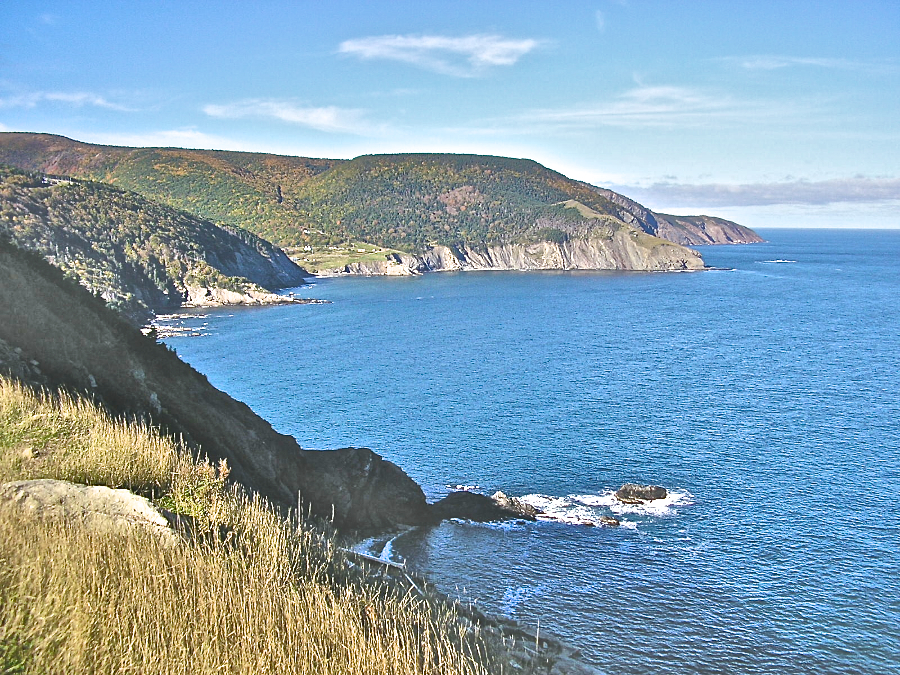 Meat Cove is blessed with awesome vistas, both of sea and mountains. Here, there is no coastal plain; the mountains drop off directly down into the sea, in many places so steeply that no vegetation can gain a foothold.
This view from the Meat Cove road shows the community itself, spread out on the cliff just left of the centre of the photo where you see houses, below a gorgeous ridge beginning to show its fall colours. My camera again had difficulty with the lighting, obscuring the coast nearby, but fortunately capturing well the coast at and beyond the community, ending in Cape St Lawrence, the most northerly point in Cape Breton, just a hair further north than Cape North. At Cape St Lawrence, the coast line takes an abrupt turn to the southwest and continues predominantly in that direction for much of its subsequent course.
I call this stopping point the "Patio Look-Off" because, on the eastern side of the cliff immediately below, there is a concrete and steel structure whose purpose I do not know, about the size of a patio, from which there would be great views in nearly every direction, just as there are from this stopping point itself.