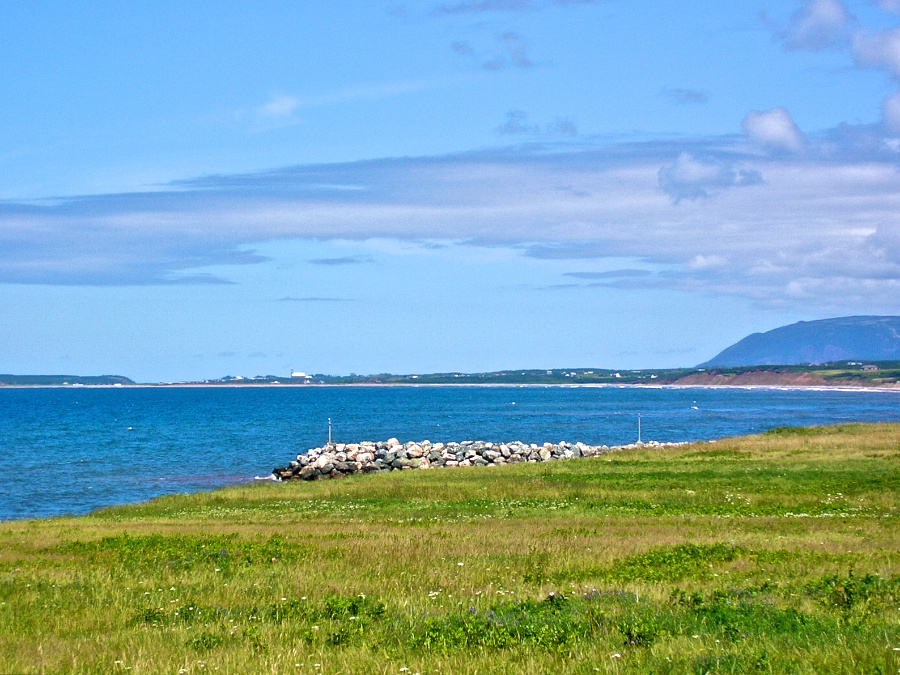 Chéticamp is a lovely Acadian village, offering some of the best dining on Cape Breton, a pastry shop with mouth-watering French pastries, whale watching cruises, a fascinating and absolutely amazing hooked rug museum (Les Trois Pignons) that is not to be missed (see its web site here), cultural activities of all kinds, shopping, popular beaches on nearby Chéticamp Island and at the mouth of the Chéticamp River, and very easy access to the Cape Breton Highlands National Park, which lies just outside of town. And the Doryman's Saturday afternoon cèilidhs feature the best traditional Scottish musicians on Cape Breton, among whom are a number of Chéticamp's own.
This view shows Chéticamp Island at the left, the village of Chéticamp to the middle left, satellite communities to the middle right, and the Cape Breton Highlands beyond the Chéticamp River mouth at the right. L'Église St-Pierre is the white-roofed structure across the water just above the left end of the breakwater in the foreground, which marks the entrance to Grand-Étang harbour, not visible in this photo.
Chéticamp Island is connected by a sand bar to Cape Breton and is easily accessible by a road which runs across the sand bar. Chéticamp Harbour lies between Chéticamp Island and the village, which is laid out along the harbour's shore.
This coastal view is quite different from those which preceded it: there is a significant amount of relatively low-lying land so the mountains do not come right down to the sea. This is not to say that the terrain is at sea-level: the reddish cliffs visible across the water at the right end of the breakwater attest otherwise. But, compared to the coast north of Chéticamp, there is a good deal more room here between the mountains and the sea, while the cliffs, although still substantial, are not anywhere near so dramatic. Thus one has a quite different, but still a very beautiful, photogenic scene!