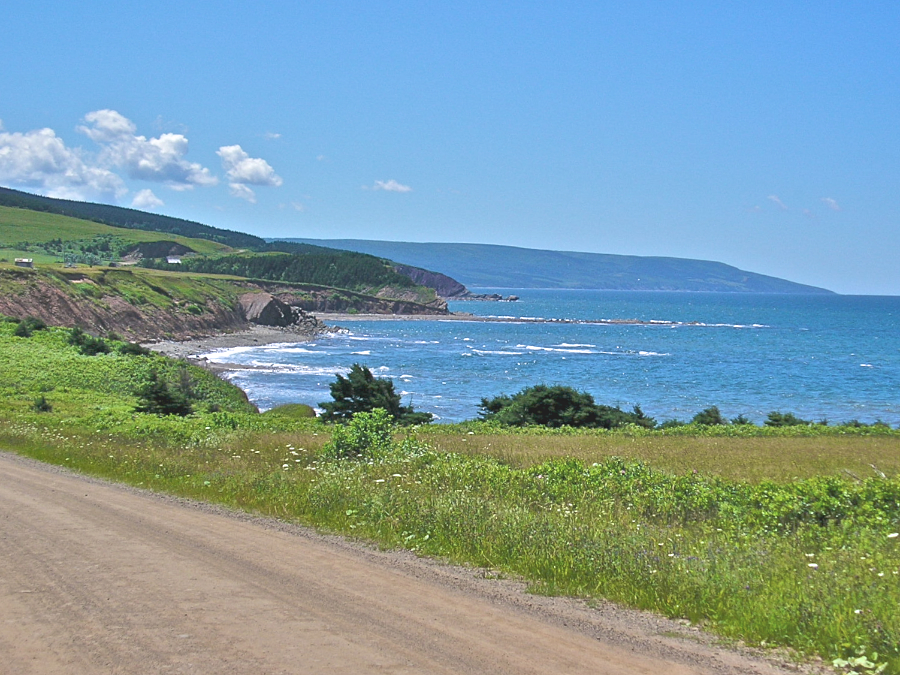 The Broad Cove Marsh Road is a mostly gravel road that runs parallel to the Cèilidh Trail (Highway 19) along the shore from Dunvegan to just above Inverside, north of Inverness village. At Dunvegan, the road is accessed by following the signs for MacLeod's Campground; above Inverside, it is accessed by turning at the signs for MacLeod's Inn and St Margaret of Scotland Church. From St Margaret of Scotland Church (whose grounds furnish the site of the excellent Broad Cove concert of traditional Scottish music held the last Sunday of July) to the Cèilidh Trail, the road is paved.
This road is certainly worth driving, although, especially after a hard rain, there are sometimes spots requiring some extra care, mostly on the southern end; if you find the drive too much for either you or your vehicle (I've successfully navigated it in a Camry numerous times), consider hiking it instead (as is always the case, you absorb so much more when you hike rather than drive). This road has become a beloved friend for its beautiful and sweeping views in both directions along the coast, so I visit it often and it always gladdens my heart—how could such a gorgeous view as this one fail to do so? The water crashing into the coast and the play of the sun and clouds on the water, especially when a rain squall is passing through, always makes its vistas very interesting to watch and different on each visit. To the left of the road are a number of still worked farms and during haying season the colours and smells mixed with the salt air are glorious. Further along the road, wild rose bushes line the road; when in bloom, I often have a picnic lunch by the roadside in their midst to better enjoy their sweet perfume. It is a marvellous place to celebrate being alive!
In this photo, the points in the near foreground are along Broad Cove Marsh (the marsh is behind this photo's vantage point). I believe, but am not certain, that the furthest point in the middle ground is Smith Point, beyond which the coast turns due south for a ways, forming the upper edge of Broad Cove (the water) before resuming its general southwesterly course past Inverness and on to Sight Point, which here looms large at the right in the background. From Inverness Harbour south to the Mabou River mouth, the mountains again closely approach the Gulf, as they did north of Chéticamp.