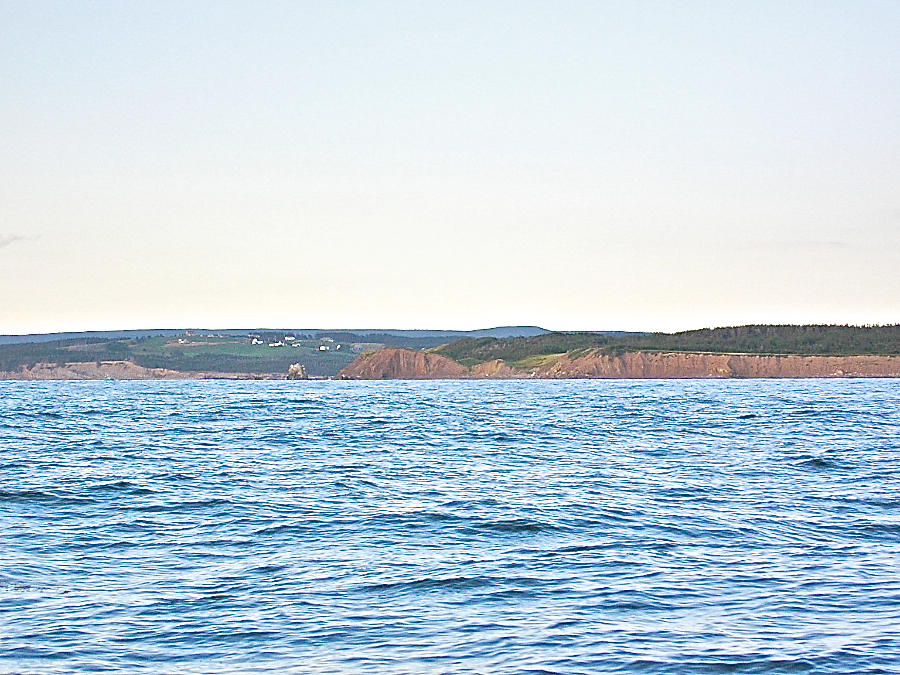 The houses on Marble Hill overlook Port Hood Island and have a lovely view of St Georges Bay, as the next photo shows. The rocks off the northern end of Port Hood Island are known as Shag Rock according to the topographical map, but apparently as Gull Rock locally, judging by the caption of the fourth photo on this web page, which is a marvellous shot of the sun setting through the cavity that has been eroded out of it. As one can see, Port Hood Island is lined with tall reddish cliffs. Black Point is at the left of this photo and its end is outside its scope.
For me, the biggest surprise in this view is the visibility of one of the Cape Mabou Highlands above the Mabou River in Northeast Mabou on the horizon.
Much of the coast along St Georges Bay, seen from the water, is very similar to the shores of Port Hood Island seen here, verdant field or forest atop a reddish cliff-lined shore of varying height.
A friend, who invited me to accompany him as he brought his lobster fishing boat back from Baxters Cove to Mabou Harbour Mouth, afforded me an incredibly beautiful trip on a splendid evening, allowing me to see a coast that previously I could only imagine. As you can well surmise, I took one photo after another all the way, only to have my camera battery die shortly after we rounded Black Point—alas, I had not had the forethought to bring a supplemental battery with me, so I was out of business for the rest of the trip.