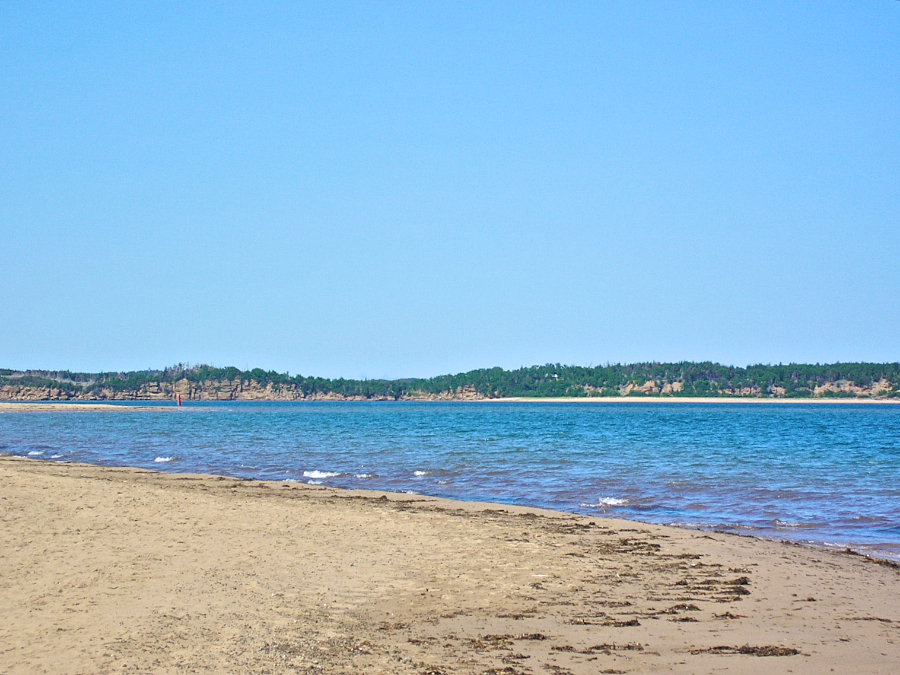 This photograph shows from Port Hood Beach the shore side of the lower end of Port Hood Island. Port Hood Island is inhabited, but nearly all of the houses are at the upper (northern) end of the island, outside the view of this photo. Shipping Point sits beside the red channel marker that, if one looks closely, can be seen in the middle of the left side of the photo standing vertically across from a cliff on the Port Hood Island shore. That shore is typical of the St Georges Bay coast, which is marked with reddish-coloured cliffs along its length and often features sand beaches below, such as Parks Beach seen at the middle right.
The waters off Inverness Beach and West Mabou Beach Provincial Park are quite warm in the summer, given the relatively shallow depths of the Gulf along this part of Cape Breton. However, the very shallow waters off Port Hood Beach are even warmer, making it ideal for those accustomed to swimming pools. The park facilities provide changing rooms and water for washing off the salt, so all you need to bring is a bathing suit and a towel. And some sun-tan lotion and a picnic hamper so that you can enjoy the beach after your swim. And some beach volleyball equipment if you're so inclined—it's real easy to cool off after any exertion. It's just a beautiful place to enjoy a fine summer afternoon.
Port Hood Day Park encompasses the entire beach, but is not limited to swimming and sun-bathing. Walking the length of the beach and back is healthy exercise and offers lovely views of Port Hood, St Georges Bay, and Port Hood Island. In addition, the sand dunes that have formed behind the beach are crossed by a fine board walk that makes for much easier walking than the sand of the beach, if you find that too tiring, and that allows one to observe the birds nesting and feeding there from a safe distance. Early in the summer, wild flowers in bloom add to the natural beauty of the dunes. And there's an excellent set of interpretive posters that discuss the history and founding of the area and present some of its sea life and plants. As you pass by this way, be sure to check it out!