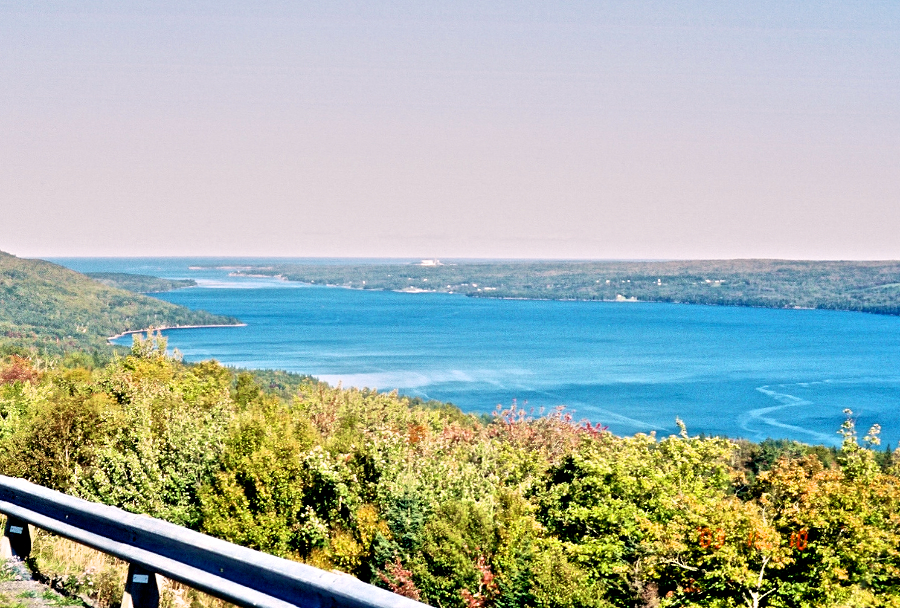 As the Trans-Canada Highway (Highway 105) crosses Kellys Mountain, it provides two look-offs, one looking towards St Anns Bay and Englishtown and the other towards the Great Bras d'Or Channel and the Seal Island Bridge; both are at a sufficient height that they provide splendid panoramas of the scenery on both sides of Kellys Mountain. You definitely want to stop at each one—on a clear day, it seems as though one can see forever!
This view is from the second look-off and here we see the Great Bras d'Or Channel entering the Atlantic at the left of the photo. Boularderie Island is across the channel and one can see the power plant at Point Aconi at its northern end just left of center. The buildings at the middle right of the photo are at Big Bras d'Or. Sydney lies behind Boularderie Island, hidden here by the island's height. Nor is Cape Dauphin visible here: it lies below the end of Kellys Mountain at the far left of the photo.
After making the sharp U turn at the bottom of Kellys Mountain, the Trans-Canada Highway turns to the south and runs directly below the look-off here, heading for the Seal Island Bridge; the mountain's descent is so sharp that the road below cannot be seen from the look-off.