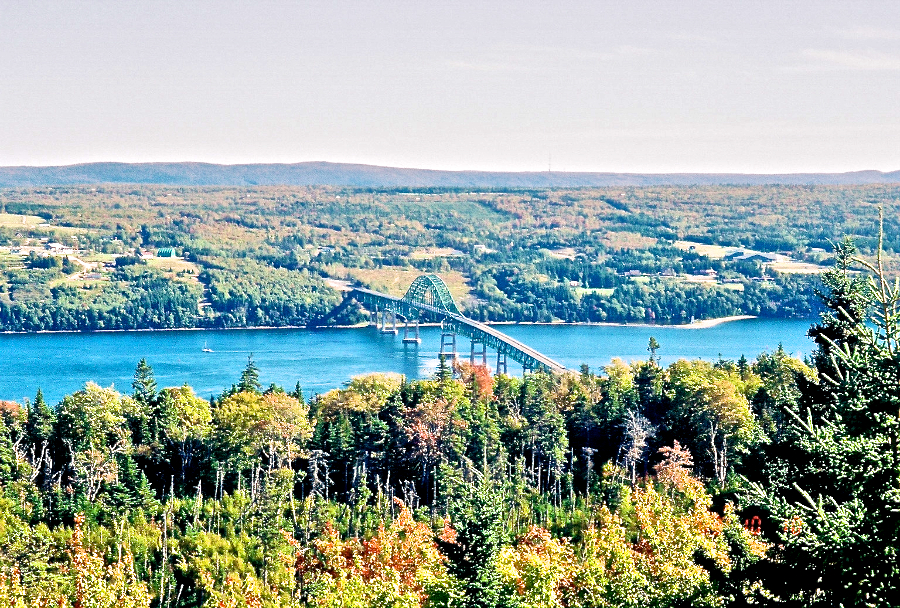 This view looks to the south-east across the Great Bras d'Or Channel, where the Seal Island Bridge carries the Trans-Canada Highway (Highway 105) across to Boularderie Island; it is high enough that an ocean-going ship can easily pass beneath. That should give you a good idea of how high the look-off is on Kellys Mountain! The mountains in the far distance are not on Boularderie Island—it's not wide enough for that: they are the Boisdale Hills that rise above the east side of St Andrews Channel.
The exit from the Trans-Canada Highway for the road which leads to Kempt Head is just beyond the Seal Island Bridge near the green-roofed building that stands out at the center left of the photo. This view illustrates the heavily forested nature of Boularderie Island, though cleared areas for farms are also visible amongst the trees. On the sand strip at the middle right of the photo there is a small lighthouse that can just barely be seen. And at the middle left one can see a sail boat under power making its way out the Great Bras d'Or Channel to the Atlantic.
Although there are brilliant reds and yellows everywhere one looks in this photo, the many evergreens mixed in with the deciduous trees reduces their effect in a panoramic view such as this one. My experience is that one needs to seek out inland areas away from the coast (e.g., the Margaree Valley, the hills on the road to Glencoe, and the River Denys Basin) for the best fall colours.