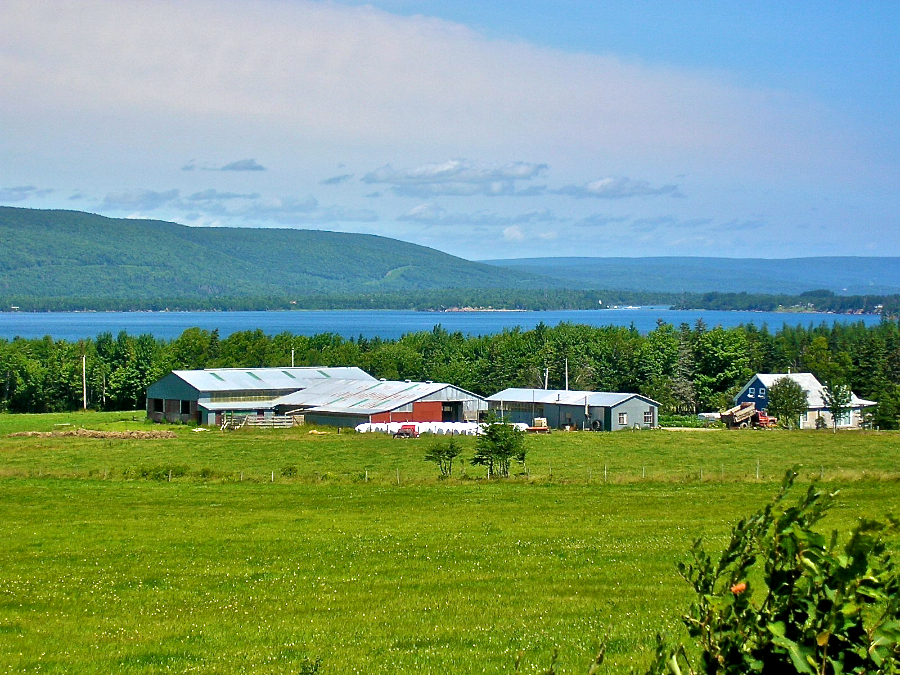 This photo, which I snapped on my way to Highland Village Day, shows Little Narrows and the northern end of Whycocomagh Bay from the Portage Road on the southern shore of Whycocomagh Bay. The Trans-Canada Highway (Highway 105) closely hugs the northern shore of Whycocomagh Bay and affords many fine views of it. Highway 223 begins at Exit 6 from the Trans-Canada Highway and shortly thereafter crosses Little Narrows (the short and narrow strait that joins Whycocomagh Bay to St Patricks Channel) via a cable ferry to reach the village of Little Narrows on the other side. Both the strait and the ferry can be seen here in the far distance at the middle right of the photo, about a third of the way across the strait.
As best as I can ascertain from The Nova Scotia Atlas, the chain of mountains that borders Whycocomagh Bay, St Patricks Channel, and the Great Bras d'Or Channel has no general name (like the Boisdale Hills, which border St Andrews Channel and the Great Bras d'Or Lake), though a few individual prominences (e.g., Kellys Mountain across from Boularderie Island) are named. In this area, Lewis Mountain at the left and Northside Mountain in the middle rise above and to the northwest of the Trans-Canada Highway. The swaths of cleared land that one observes in this photo part way up these mountains are used for power transmission lines. These mountains are central to the great natural beauty of this peaceful bucolic scene.
The land on which this photo was taken is part of a large peninsula whose northern coast continues all the way along the south side of Whycocomagh Bay and St Patricks Channel to Washabuck across from Baddeck. Thus, the ferry landing in Little Narrows village is on land directly connected to the land on which this farm stands. Portage Road is so named because it crosses this peninsula, which shrinks to a narrow isthmus less than .5 km (.3 mi) across about 1 km (.6 mi) east of here here before widening out again. This thin neck of land allowed the easiest portage when travelling by canoe from the Bras d'Or Lake on the south to Whycocomagh Bay on the north.
Portage Road offers several fine views of Whycocomagh Bay and the mountains around it that are well worth the drive; it is accessed by taking the Orangedale Road at Exit 4 on the Trans-Canada Highway in Iron Mines and following it for 2.9 km (1.8 mi) to Portage Road (at GPS 45°55.370'N 61°07.537'W, it is the first left hand turn off the Orangedale Road and is marked, if I remember correctly, with a sign for Iona and for the Highland Village). Although it has no provincial route number, Portage Road is a paved road in quite good condition that ends at Highway 223 just after Portage Road crosses the narrowed isthmus of the peninsula.