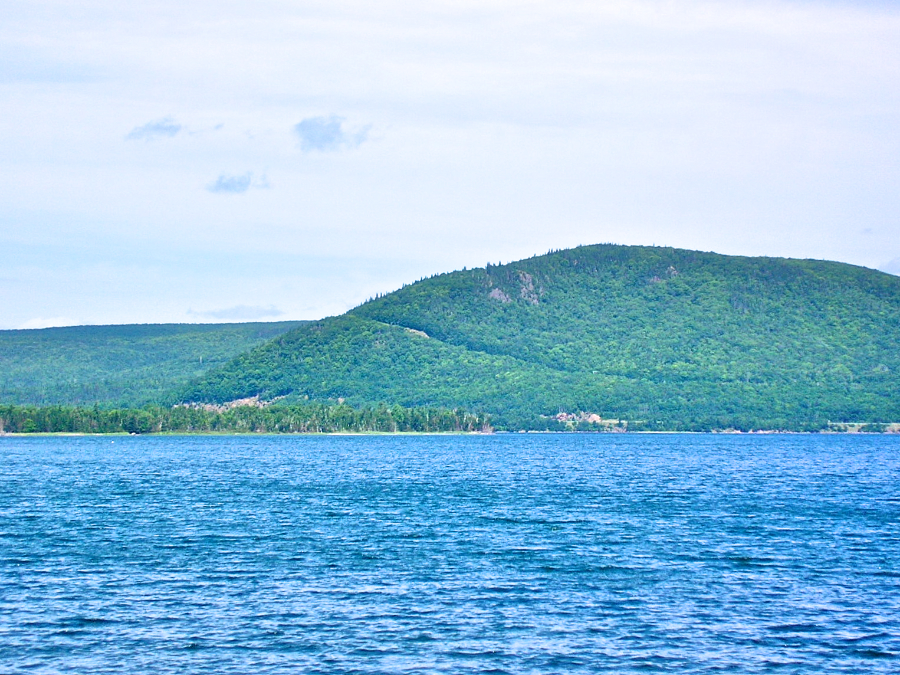 This photo was taken at the back of a bay on Portage Road 3.2 km (2.1 mi) from its junction with the Orangedale Road. The mountain directly across is named Salt Mountain and the mountain behind it is Whycocomagh Mountain. The portion of Whycocomagh Bay seen here is about a third of the way from its western end.
The scar halfway up the left side of Salt Mountain that descends to about a quarter of the way up as it moves to the right is a result of the power transmission lines. The Trans-Canada Highway (Highway 105) is also visible in this photo close to the water at the far right and continues to the left at roughly the top of the trees which border the water (well below the scar); at the middle left of the photo, one can see some rocks that were exposed when the road was built.
A 2.4 km (1.5 mi) trail leads from the Whycocomagh Provincial Park to the summit of Salt Mountain, from which one can see all four of Cape Breton's counties; the views are said to be very fine (I haven't yet made it there, but it's definitely on my to-do list). See this web site for information about this hike, which involves a steep climb.
I have hiked a trail that begins on Mountain Road in Whycocomagh (I parked by the water tower) and leads up to the plateau on top of Whycocomagh Mountain. There are lots of trees and some blueberry fields, but no views of Whycocomagh Bay. Once past the upper end of Mountain Road, which is in pretty poor shape for a car (though I've twice made it through with only a couple of minor bottom scrapes), there is a fine network of gravel roads (used primarily as snomobile trails and logging access roads) on which one can easily travel by car all the way to the Trout Brook Wilderness Area east of Lake Ainslie and beyond it to Egypt Road which comes out on Highway 395 north of Scotsville, a distance of some 40 km (25 mi). But be forewarned there is no help if you run into any trouble—I neither saw any other vehicles nor any dwelling anywhere along the entire way from Whycocomagh to the Pipers Glen Road (a short distance before Highway 395). Nor is there much by way of useful signage unless you have a snowmobile trails map.
[2012] I have since made it to the summit of Salt Mountain twice; the views are fabulous on a clear day. They are especially helpful in understanding how the terrain is laid out, which, given the meanders of the Bras d'Or Lakes, can be hard to grasp without this bird's-eye view. See here, here, and here in my later Fall Colours—2006 Edition photo essay for three views from Salt Mountain.