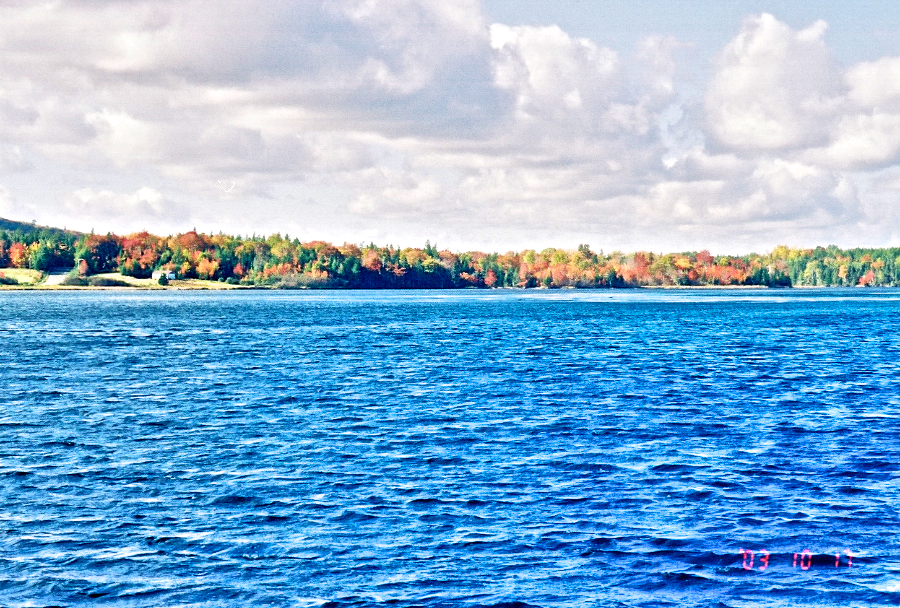 A beautiful trip affording superb views of the River Denys Basin, West Bay, and the Bras d'Or Lake starts at Exit 4 off the Trans-Canada Highway (Highway 105) at Iron Mines, to the west of Whycocomagh. The road continues on to Orangedale (site of an interesting railroad museum described here) and thence to Valley Mills. After leaving Orangedale, the paved road turns to gravel and, just before it reaches Valley Mills, crosses over the mouth of the River Denys. This fall photo, looking west, was taken close by that bridge. To the east of the bridge, the River Denys widens extravagantly, forming the River Denys Basin, which eventually flows into the Bras d'Or Lake.
In the fall, as this photo shows, the foliage can be gorgeous; in my experience, the colours here are the equal of any place on Cape Breton Island.
River Denys is named for an important figure in the early history of Cape Breton Island, the French explorer, entrepreneur, administrator, and author Nicolas Denys, 1598(?)-1688; you can find a biography of this very interesting man here.