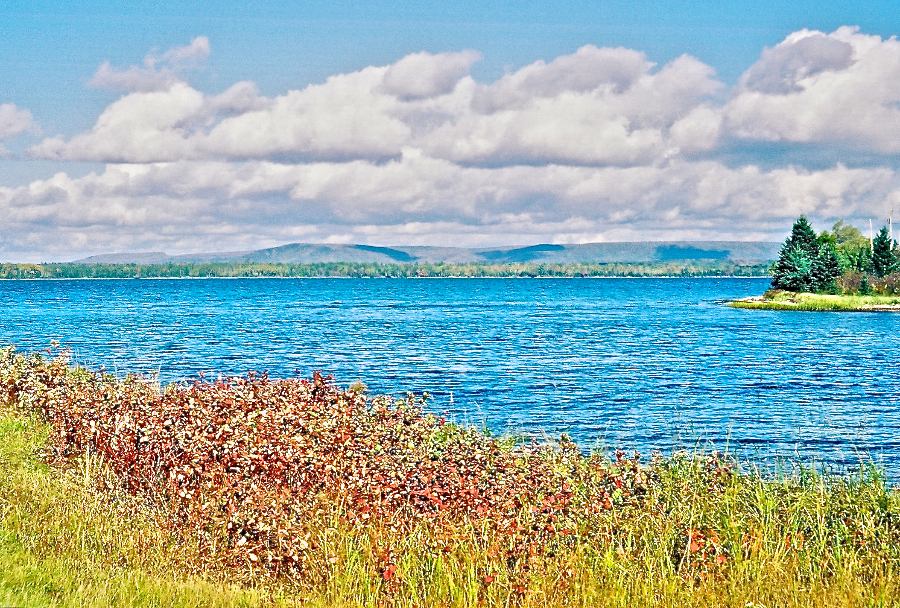 In this gorgeous view looking north across the River Denys Basin, running across the photograph from far left to middle right, one sees the peninsula whose north coast Portage Road follows; behind the peninsula, the mountains on the far side of Whycocomagh Bay rise on the horizon, decorated with alternating patches of sunlight and shadow cast by the clouds above. I again do not have the precise location of this photo taken from the Marble Mountain Road.
Marble Mountain Road continues eastward on the south coast of the River Denys Basin for some distance until it reaches the end of the peninsula whose north coast it has been following, after which it turns first south and then west along West Bay. Malagawatch is at the point where it turns to the west and is the site of the church that was recently moved to Highland Village across the Bras d'Or Lake by barge.
Last year, a friend took me to the Cape Breton Smokehouse, described here and here, a restaurant run by a couple of German extraction that offers fine dining from a varied menu in a beautiful setting on Little Harbour off West Bay (in warm weather, you can dine on the patio, and in cool weather, in front of the fireplace). It is at 7004 Marble Mountain Road just before you get to Malagawatch; I point this out because I had several times driven past it without knowing it was there and it is the only restaurant I know of in the area. I suspect it gets as many customers from the pleasure craft which ply the waters of West Bay—it has docking facilities—as from cars travelling the road. The restaurant is open from 12h to 21h each day in the summer and fall and is an ideal spot to stop for a good meal as you drive the Bras d'Or Lakes scenic drive.
[2012] I am not sure what the current status of the Smokehouse is; each time I drove past it in 2011, a chain blocked its entrance road; however, its web site is still active and says it's open.