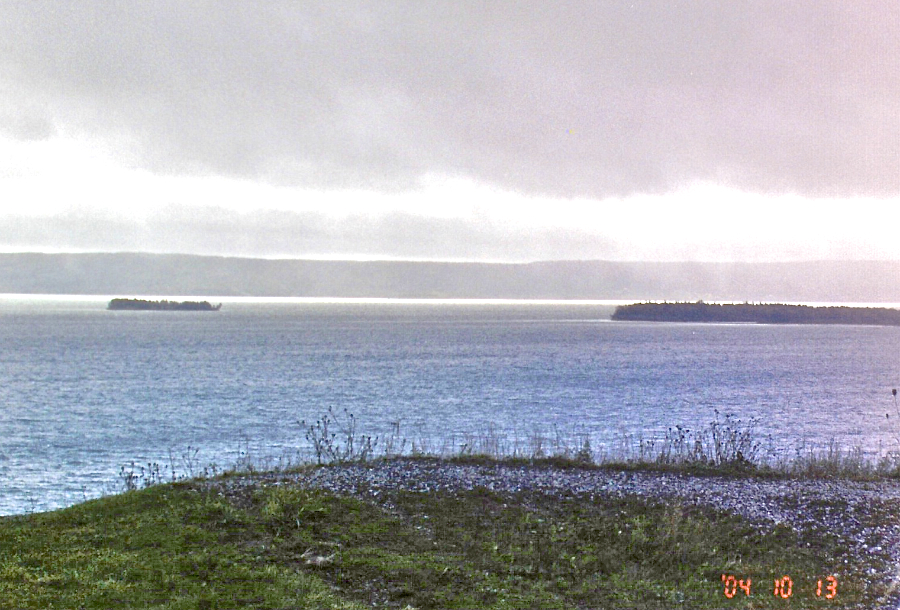 This is essentially the same view as the preceding one, but on an altogether different day! At the look-off, it was pelting rain and rather windy, while the sun was out over West Bay, shining brightly on the waters below! This squall had come up fairly suddenly, interrupting what had been a beautiful day with puffy white clouds in the sky when I had set out. Unfortunately, the squall brought others behind it and most of the rest of this trip was rainy with only intermittent patches of sun breaking through the clouds.
From Marble Mountain, the Bras d'Or Lakes scenic trail follows the coast of West Bay to its upper end, passing through Lime Hill (apparently named for its limestone, not for the lime-coloured leaves one sees on the trees there in the fall) and eventually reaching the community of West Bay. There are many good views along the way (though some are shrouded by trees), making it a pretty trip, especially in the fall.
The area at the head of West Bay has produced several excellent traditional Scottish musicians. The famous MacLellan trio, Donald, Marie, and Theresa (only Theresa is still living) had their roots in this area. Wally Ellison, piper and naturalist, is often seen performing at various venues, including Highland Village. And Shelly Campbell, a very fine energetic young fiddler, is often seen at dances and cèilidhs along the Cèilidh Trail in Inverness County. Last year's Celtic Colours featured a tribute concert to Theresa and Marie MacLellan, a wonderful part of which were the reminiscences by Jackie Dunn MacIsaac (another fine fiddler) and Shelly Campbell. Theresa was Shelly's bus driver when she was in school and Shelly regaled us with some experiences with Theresa in that context, which placed her in a light that was completely new to me. This wonderful concert, reviewed here and heard in part in Cape Breton Live broadcasts (shows #13 and #14)) is not to be missed—you can listen to these shows here. Theresa can also sometimes be heard at various cèilidhs and concerts, as she was that night last fall.